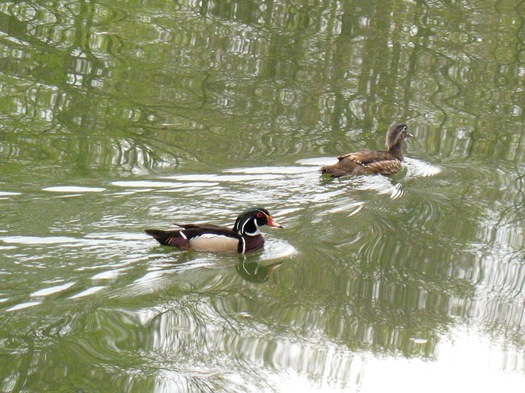 By Julie Madsen
The Capital Region is a very wild place -- and not just on Lark Street around 2 am.
Many colorful and fascinating birds call this place home. And spring is a migratory season for birds, a time in which a lot of our noisy old friends rejoin us from the south. If you take a closer look you'll get to know quite a few avian residents.
A great place to start birding is Washington Park, right in the middle of the city of Albany...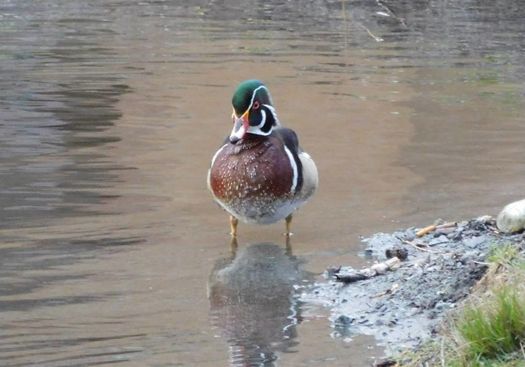 Wood ducks
If you take a walk around the lake in the park you'll surely see some waterfowl, usually mallard ducks and Canada geese. But sometimes the lake holds special visitors. This year a pair of wood ducks are on the scene. They are smaller in size than mallards and the male has a more strikingly detailed coloration.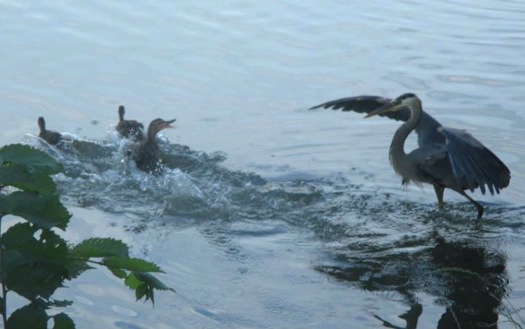 Herons
Last year a great blue heron appeared at the Washington Park Lake to the dismay of fish and mother ducks. This bird is a hunter and will eat just about anything it can gulp down its long neck. It caused a lot of mayhem and was attacked frequently by other birds -- then it disappeared one day.
Pied-billed grebe
There was one other type of bird I spotted at the lake last year for the first time. It was very small and every time I tried to get a closer look it swam away, quickly! I was able to notice one detail about it: a white beak with a black stripe. If you can pick out a unique detail or two -- along with the color, size, and environment -- you have a better chance of figuring the type of bird via tools such as a bird book or web searches. And that beak led me to the conclusion this bird was a pied-billed grebe, characteristically secretive. I am curious to see if this bird -- and the heron -- will return in the coming months.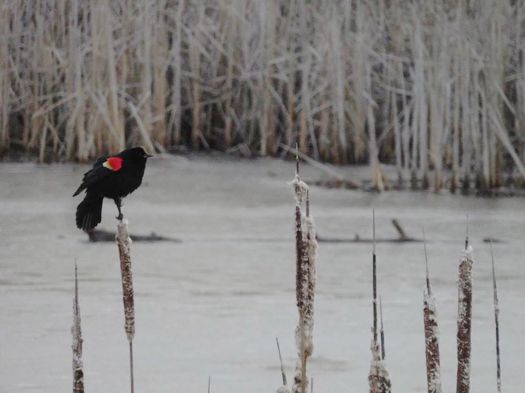 Red-winged blackbird
Close to the lake, perched in the reeds or shoreline trees, you'll find a bunch of chattering birds. When I first became interested in birds, I went to my dad, the expert, and asked: "What is the black bird with red on its wings?" He replied: the red-winged blackbird. Sometimes it's easy like that. This quirky bird is numerous and has a distinctive squawking call.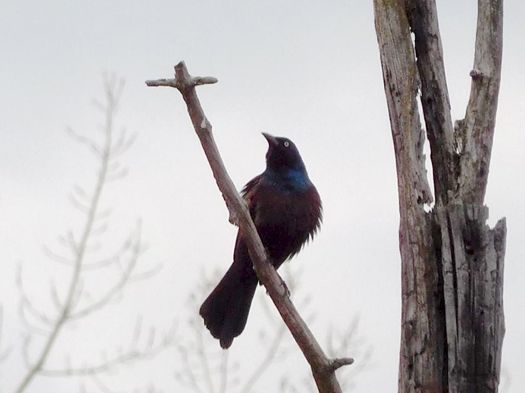 Grackles
Another bird you might spot alongside the lake is the grackle, which has a subtle beauty. At first glance its feathers might appear uniformly black -- but if you look closer you will notice an iridescent blue-black coloration. They ruffle up their feathers when performing a whole array of calls.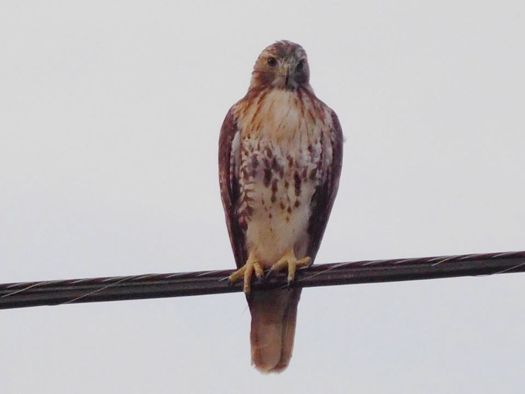 Red-tailed hawks
While you're in the park -- and many other parts of the city -- look up. There's a good chance you'll be able to spot a red-tailed hawk gracefully circling above open spaces. And if you're lucky you might see one dive toward the ground after prey. (Not so lucky if you're a squirrel.)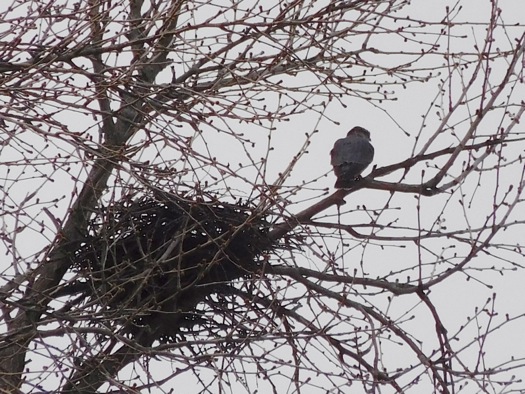 A juvenile peregrine falcon.
Peregrine falcons
There's a pair of peregrine falcons in the park this year. I heard their shrill cry when walking up the hill beside the lake house seating and discovered a pair guarding their nest. I have returned day after day to see them loyally at their post. Peregrine falcons are the fastest animal on the planet, capable of reaching speeds of 200 mph during their dives after prey.
Another pair of these falcons lives under the Dunn Memorial Bridge by the USS Slater. They have been known to frequently ride the spinning radar on top of the mast of the ship.
Other nearby spots for birding
If you find that you love birding, there are so many places other nearby places to do so! Here are a few that are close to the city of Albany: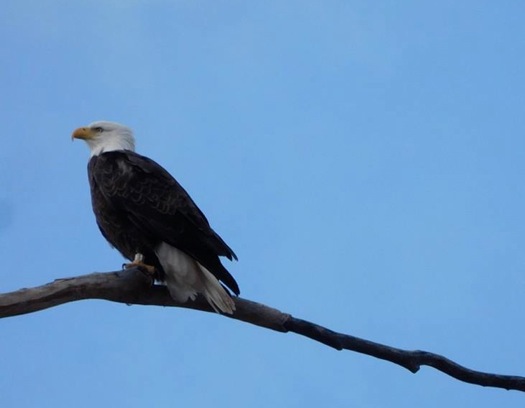 Bald eagles along the Hudson River
On a quest to see our national bird the bald eagle? This area is full of them. Take a visit to nearby Henry Hudson Park in Bethlehem where to eagles nest across the river. A little farther south on the eastern side of the river, Schodack Island State Park is a frequent spot for eagles (one was spotted nearby this week).
Other places for spotting bald eagles:
+ I have seen one fly over Thompson's Lake State Park every time I've been there.
+ A drive out into Schoharie is promising and the eagles are known to frequent Mine Kill State Park. However, I spotted one right above the creek on the side of the road -- so always keep a look out for those popping white heads.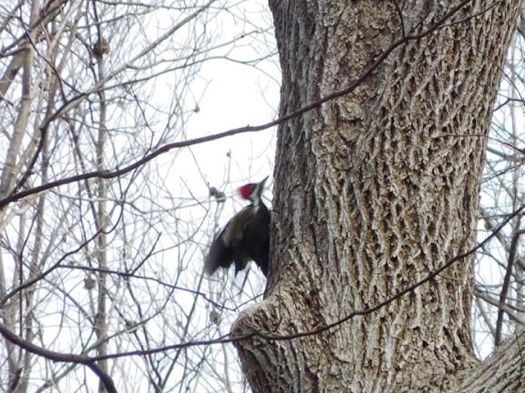 Woodpeckers at the Albany Pine Bush and Normanskill Farm
Another thrilling bird to see is the pileated woodpecker, the largest in North America. You'll likely hear them before you see them with their cackle. Remember Woody the Woodpecker's laugh? It was based off of a pileated. You can find them in the woods of the Albany Pine Bush Preserve or the city's Normanskill Farm off Delaware Ave.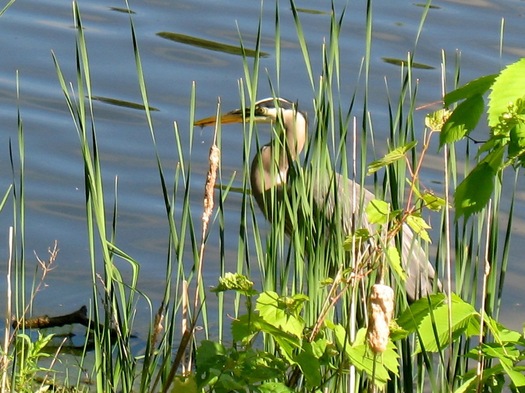 A heron hunting at Buckingham Pond a few summers ago.
Buckingham Pond
Another spot right in the city is Buckingham Pond, tucked into an uptown Albany neighborhood. You can often spot many of the birds that also show up in Washington Park: ducks, geese, herons, red-winged blackbirds, grackles, and hawks.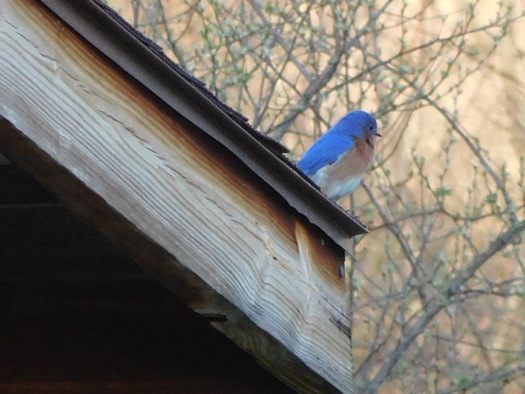 An eastern bluebird.
All sorts of birds at Five Rivers
Overall fantastic birding can be found at Five Rivers Environmental Education Center in Delmar. This is my favorite spot to go when the ducks and geese have their chicks because of the plentiful ponds. There is a great diversity of birds (and other animals) here, ranging from kingfishers to waxwings and our state bird, the vibrant eastern bluebird.
Julie has got the travel-bug. Whether it's day trips, weekend getaways, or wandering around the world -- she's always up to something. Read more about her adventures at juliejourneys.com.
Say Something!
We'd really like you to take part in the conversation here at All Over Albany. But we do have a few rules here. Don't worry, they're easy. The first: be kind. The second: treat everyone else with the same respect you'd like to see in return. Cool? Great, post away. Comments are moderated so it might take a little while for your comment to show up. Thanks for being patient.