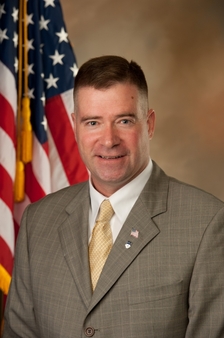 In a bit of a surprise, Chris Gibson announced today that he will not be running for governor of New York in 2018. From a statement emailed to the media Monday afternoon:
"The last year has also brought into greater clarity what our next steps should be as a family. Mary Jo and I have three teenagers who are in their last years at home. In addition, I was just offered and accepted a position with Williams College as a Visiting Lecturer on Leadership beginning in February 2017, and anticipate accepting other academic positions shortly. Ultimately, for our family, the opportunity to spend increased time together balanced with a return to academia was one we could not pass up.
"Therefore, I will not be running for Governor in 2018. At the conclusion of my term in the U.S. House of Representatives, I will be leaving politics and starting this new direction with my family. In the near-term, I will be closing my exploratory committee. For our donors to that committee, we'll be refunding contributions we've received.
As you know, Gibson is a Republican and currently represents the NY-19 in Congress (he lives in Kinderhook) -- that's the district that starts in Rensselaer County wraps around the southern end of the Capital Region core around to Montgomery County. He announced a year ago that he would leave Congress when this current term ends. And he had been publicly touring on the idea of maybe/probably challenging Andrew Cuomo during the next cycle.
Republicans have not fared well in the last three gubernatorial elections in New York. And Andrew Cuomo, with two terms of incumbency and a mountain of campaign cash, would be a tough opponent.
But Gibson had the look of someone who might make a formidable candidate. A retired US Army colonel, he got elected -- and re-elected twice -- in a Congressional District that both times went for Barack Obama in the presidential election. While in Congress he managed to plot a moderate path. And his public persona very often reads as a thoughtful person. (Jimmy Vielkind wrote a good profile of Gibson last fall over at Politico NY.)
This past April a Public Policy Polling poll reported Andrew Cuomo led Gibson in a hypothetical 2018 matchup 49-26 -- with 80 percent of respondents saying "not sure" to whether they had a favorable or unfavorable view of Gibson.
Gibson Congressional portrait via Wikipedia
Hi there. Comments have been closed for this item. Still have something to say? Contact us.