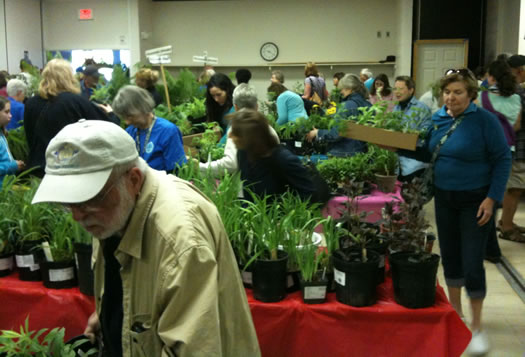 May has arrived and that means it's prime time for garden planning and planting. And there are a bunch of plants sales around the Capital Region coming up over the next few weeks to help you fill out your garden (or container on a deck, or window box, or wherever).
Here's a quick list of some upcoming plant sales...
May 6-7: Bethany Reformed Church Flower & Plant Sale
The Bethany Reformed Church in Albany hosts an annual flower and plant sale (now in its 29th year). "We will be selling beautiful hanging baskets, patio pots, annuals, such as marigolds, impatiens, geraniums, & petunias, perennials, and vegetable plants." The church is at 760 New Scotland Avenue. May 6 8 am-6 pm and May 7 8 am-3 pm
May 7: Fort Orange Garden Club Annual Plant Sale
The annual Fort Orange Garden Club plant sale is at the Pruyn House in Colonie. "Annuals, perennials, tomatoes, herbs, Mother's Day baskets." May 7 9 am to 2 pm
May 14: Capital Roots
The annual Capital Roots spring plant is sale is at the org's Urban Grow Center in Troy (594 River Street). We've also shopped this sale in the past and we were able to score good plants. (It's not as intense as the cooperative extension sale.) It typically has veggies (including heirloom tomatoes), flowers, and perennials. May 14 9 am-1 pm
May 14: Greenbush Garden Club Plant Sale
The Greenbush Garden Club organizes a plant sale at the Rensselaer Elks Club Pavilion in East Greenbush (683 Columbia Turnpike). "The plants are dug from members' gardens, so you never know what bargains you'll find. The proceeds of this sale are used to fund children's gardening grants, garden therapy at Van Rensselaer Manor, civic beautification projects and free horticultural programs." May 16 9 am-11 am (or until sold out)
May 14-15: Washington Park tulip dig/sale
The annual Washington Park tulip dig/sale is (usually) the weekend after the Tulip Festival. Sometimes it gets pushed back because of weather/slow-blooming tulips -- watch the Washington Park Conservancy FB page for details. If you want your pick of the tulips, the day to go is Saturday as volunteers dig up the bulbs and get their pick of limited quantities. If you go to the Sunday sale, go early -- the tulips sell very quickly. May 14 and May 15 9 am
May 14-15: Landis Signature Spring Plant, Book, and Bake Sale
The Landis Arboretum in Esperance (Schoharie County) hosts a spring plant, book, and bake sale. "Out of the ordinary trees, shrubs, and perennials are the hallmark of this annual event. New this year: a limited variety of unique and mostly heirloom vegetable seedlings." May 14 and 15 10 am-4 pm
May 15: Siberian Iris & Perennial Sale
The Capital-Hudson Iris Society's annual Siberian Iris & Perennial Sale from 9 am-noon in the parking lot of Main Square Shoppes in Delmar (318 Delaware Ave). "We have more than 300 Siberian and species cross irises (which are like Siberians) all potted and ready to plant and they're only $5 each! We also have a wide selection of perennials, many from our member's gardens, from $3 up. In addition, there will be some special perennials from a wholesaler that we sell below retail cost." May 15 9 am-noon
May 21: CCE Albany County Garden Education Day & Plant Sale
The Cornell Cooperative Extension Albany County's annual Garden Education Day & Plant Saleis at the cooperative extension facility in Voorheesville. Master gardeners will be there for tours and advice, but the big draw is the plant sale. We've been in past years and it's popular. There are a bunch of high-quality garden plants -- including both vegetables and flowers -- for low prices. And people start lining up before it starts in order to get their pick of the offerings. So, get there early and have in mind what you're looking for. May 21 9 am-1 pm
May 21-22: Thacher Park Native Plant Sale
The Friends of Thacher State Park organizes the annual Native Plant Sale at the park's overlook. "Provide food and habitat for birds and insects by adding 'Biodiversity All-stars' to your garden! These choice native plants are easy to grow and highly valuable to wildlife. We have a selection of species adaptable to a full range of garden conditions, and some cold tolerant, drought tolerant, and deer resistant. Our preselected kits make planning easy, and make thoughtful and unique gifts." May 21 and 22 10 am-3 pm
Saratoga Tree Nursery
This isn't a sale exactly, but the state DEC's Saratoga Tree Nursery sells seedlings during the spring. You can order seedlings, subject to availability, through mid May and then pick them up at the nursery in Saratoga Springs. Details are at that link.
____
Earlier on AOA: A row of upcoming gardening classes
Hi there. Comments have been closed for this item. Still have something to say? Contact us.