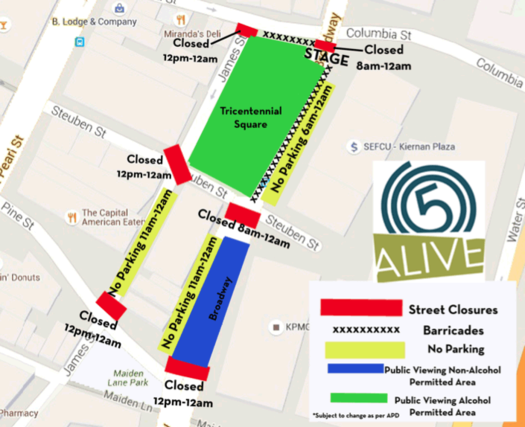 Though it's not official yet, it looks like the Alive at Five concert series will be relocated to the Tricentennial Park area of downtown Albany for this summer. The city of Albany has a press conference scheduled for next week in the park to talk about the venue change and this year's lineup.
Word of the relocation has been circulating this week after tenants of buildings near Tricentennial Park started getting notices about street closures for the concert series. A letter from the city explains that construction on the the bicycle and pedestrian upgrades project at Corning Riverfront Park prompted the switch from the typical amphitheater at Jennings Landing. Here's a clip from a copy floated our way this week:
After extensive research and consultation with the City's Police, Fire, General Services and Special Events Departments, it was determined that the ideal 2016 venue for Alive at Five is the block on Broadway between Columbia & Pine Streets. The series was successfully held in this location for more than a decade before the construction of the Jennings Landing amphitheater, and the layout allows for minimal disruption to traffic and businesses. It is a location that has been tested for this purpose and is well-known to the public. Bringing the series temporarily to Broadway will continue the positive cultural and economic force of Alive at Five on downtown Albany, bringing thousands of Capital Region residents to the area for performances by world- renowned musical artists of all genres.
The letter goes on to explain the planned setup -- the stage will be at Broadway and Columbia, facing south -- along with planned road closures and parking restrictions. And it also emphasizes that the city sees this as a temporary, one-year relocation. A copy of the letter and an accompanying map are after the jump.
This summer's Alive at Five series starts June 9. Keep an eye out for the lineup after next week's city announcement.
Letter
Alive at Five Letter Tricentennial Park by alloveralbany
Map
Alive at Five Tricentennial Park Map by alloveralbany
____
(Thanks, everyone.)
Hi there. Comments have been closed for this item. Still have something to say? Contact us.