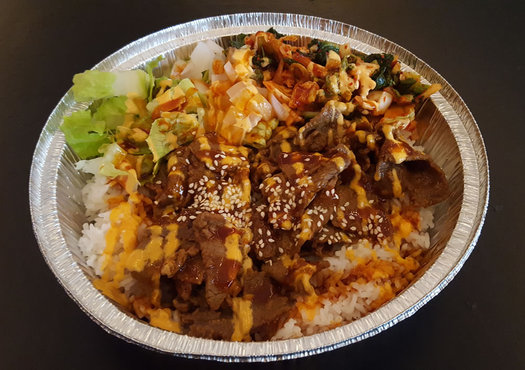 By Deanna Fox
I love the idea of a food court. Part of my college decision came down to the schools with the best cafeterias. There is something so American about being offered a plethora of food options without having to walk too far to explore them.
Sadly, most food courts are depressing. Just look at most malls. It almost gives the term "food court" a biased, bad reputation. Unless -- like me -- you grew up in a magical land shaped by the mythos that is Wegmans and its epic food court, there is little hope when one hears that term.
We have no Wegmans here (yet), but there is light in the dark tunnel of "food courts." Galleria 7, on Troy-Schenectady Road in Latham, is part of it. As is Troy Kitchen, the food court that recently opened in the old Pioneer co-op grocery building on Congress Street in Troy.
As much I love options, I'm basically ruined from trying most things that are offered at the handful of food stalls within Troy Kitchen. Because the Hot Plate, from K-Plate Korean BBQ, is my new go-to.
I'd be hard-pressed to recommend a more delicious or filling lunch for $6, which is the cost of the Hot Plate.
K-Plate builds off traditional Korean barbecue flavors and beef bulgogi, which translates literally to fire meat. Marinated in soy sauce, sugar, sesame oil, garlic, pepper, scallions, and ginger, the beef is thinly sliced into tender morsels then quickly cooked. It is served on a bed of shredded lettuce, rice, and pickled radish. One could stop here and have themselves a K-Plate, the namesake menu item, but why leave good enough alone?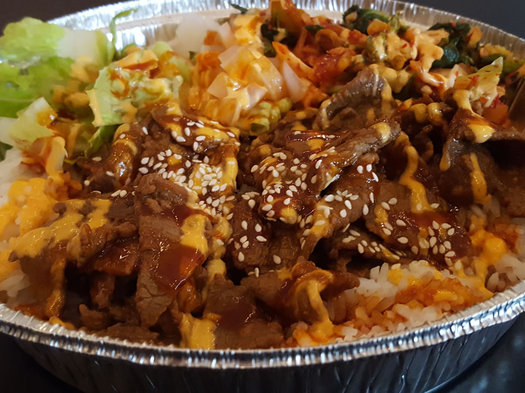 The Hot Plate takes the K-Plate concept and incorporates spicy beef with a drizzle of bulgogi sauce and sriracha mayo, sprinkled with sesame seeds, for a mouth-watering, nicely seasoned (hot, but not aggressive) taste of Korea.
Usually the Hot Plate is too much for me to finish off in one sitting, but I make myself sick by eating just one more bite, over and over again. Don't follow my footsteps, though: Take your leftovers home. It's great cold, too, after a spell in the refrigerator that allows the ingredients to meld together for even deeper flavor. Better yet, order a second Hot Plate to go, and have it for breakfast the next morning. (Not that I've ever done that or anything.) For an extra $2, try a side of housemade kimchi.
The approach K-Plate takes to its menu is something I'd like to see more of at restaurants of any size. A few good ingredients and techniques executed to near-perfection. I don't need 100 items on a menu, and if I wanted that, I'd go somewhere like TGIFridays, where most things come cryovac'd and frozen so as not to go bad.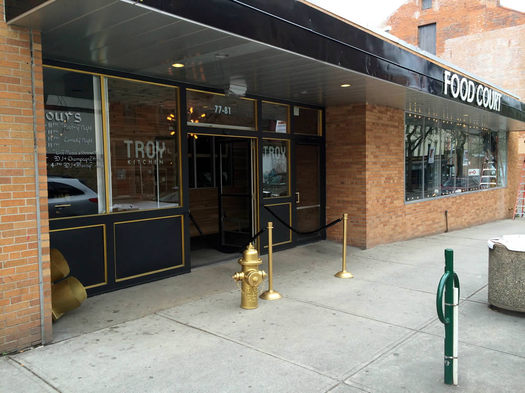 K-Plate has origins as a food cart, which makes its approach to the menu sensible. Most items include beef, cooked in a similar style, accented with a few different accouterments as needed to give items their own identity. No frivolity or superfluous touches. Just a few great dishes that keep people returning.
Deanna Fox writes about many things, mostly about food. More can be found on her website, Twitter, or Instagram.
More Eat This:
+ Ice cream slider at Kurver Kreme
+ Pastrami from Chester's Smokehouse
+ Caribbean food at Trinbago
+ Mexican street corn at Ama Cocina
Earlier on AOA: A look at Troy Kitchen
Find It
K-Plate Korean BBQ at Troy Kitchen
77 Congress Street
Troy, NY 12180
Hi there. Comments have been closed for this item. Still have something to say? Contact us.