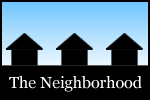 Among the topics in this most recent spin around the Capital Region's online neighborhood: wildflower finds, locks, 39 miles in Maine, the early days of motoring, running a restaurant, opening a restaurant, upstate vernacular BBQ, pizza, The Tap House at Catamount Glass, Villa Tuscan Grille, lunch at the ESP farmers' market, Savoy Taproom, Berben and Wolff's, fried cheese curds, Ron, puke, and BABY GOATS.

Jackie collected a weekend of local wildflower finds.
Julie got a side of history with a serving of nature at Schoharie Crossing State Historic Site.
Jen ran a half marathon and a full marathon along the ocean in Maine.
Carl recalled a time from the early days of motoring in the Capital District.
Silvia shared a restaurant lesson learned during commencement season.
Greg K. on being involved with the opening of a new restaurant: "Its like when you first dump all the puzzle pieces on the table. You don't even know where to begin. Then, you start sorting your colors. You build your border. And before you know it, the final image begins to appear before your eyes."
Mr. Dave on Upstate New York vernacular BBQ and Cornell chicken.
Daniel and a crew of people tried pizza from PJ's, said to be Albany's oldest pizzeria.
Steve N. checked out The Tap House at Catamount Glass in Bennington.
Lori and Zena ventured to Villa Tuscan Grille.
Melinda on the lunch she got from Fin at the ESP farmers' market: "I don't think I can rave enough about how delicious and fresh and wonderful my meal was."
Steve got a look at the new-again Savoy Taproom on Lark Street.
Randal got an early sample of Berben and Wolff's.
Jerry stopped in at the new Dairy Queen Grill & Chill -- and tried some fried cheese curds.
Jon's quest for a backyard pizza oven has a new friend named Ron. They met on Craigslist.
Everyone has a barf story -- this is Stephanie's.
And Chuck photographed A CRATE OF BABY GOATS.
Hi there. Comments have been closed for this item. Still have something to say? Contact us.