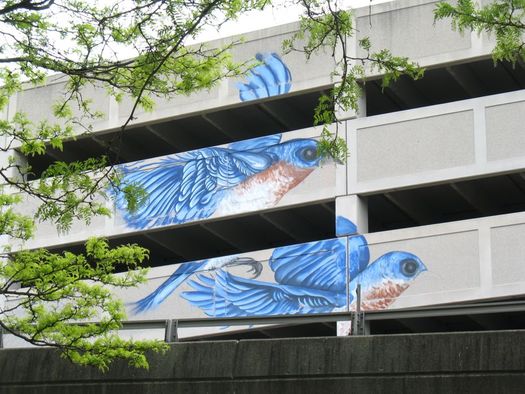 Quick, in-progress update on that new mural project in downtown Albany: We stopped by for a few minutes Thursday afternoon and it looked like artist Michael Conlin had already made a lot of progress.
The mural will eventually depict a group of Eastern Bluebirds flocking toward downtown. There are a few pics after the jump if you're curious.
The Albany Parking Authority commissioned Conlin to create the mural on the side of the Quackenbush Parking Garage on Broadway (alongside the 787 off-ramp for Clinton Ave) as part of an effort to make its garages more welcoming. He told us earlier this week the mural would probably take a few weeks to complete, depending on weather conditions.
Look up
Photos are above in large format -- click or scroll all the way up.
Hi there. Comments have been closed for this item. Still have something to say? Contact us.