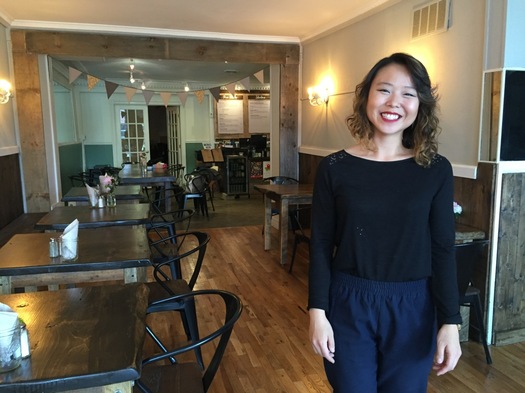 By Cristin Steding
Sunhee's Farm and Kitchen is a new Korean restaurant in downtown Troy with a three-part approach: farm, food and community engagement.
The family farm supplies the restaurant with eggs (and soon, produce), and the restaurant assists and employs recent refugees. It's a family endeavour, with owner Jinah Kim's mother and a longtime family friend as chefs, and her father completing the renovations to the restaurant space.
Sunhee's just recently opened, but Kim has big plans for the future. She's trying a new business model and isn't afraid the blur the line between for-profit business and social service agency.
I got together with Jinah Kim to talk about the new restaurant, her passion for social service, and her favorite Korean foods.
What led you to decide to open a Korean restaurant in Troy?

I've always had a desire to come back to the Capital Region and I've always thought food was a great way to bring people together to share their culture in a really natural, organic way.

I worked with refugees and immigrants in social services for the past three years and everyone talks about their food. They bring their food and they share it and there's something so beautiful about that.

One moment that really had an impact on me was when I met a North Korean refugee. He was talking about farming and agriculture and how he used to milk goats in North Korea. There was so much joy and free spiritedness [when he was talking about that]. It was so different from how he usually was. And I thought, 'Wow, that really brings something out of people -- talking about food and eating together.'
Especially with Korean food, there's a lot of investment that goes into it. There's a huge time investment, a special method to it, so even if you have the recipe, you have to pass on the process from generation to generation. Not just the ingredients but how it's done.
That's something I really wanted to share with our community in the Capital District. I felt it's something that's been lacking.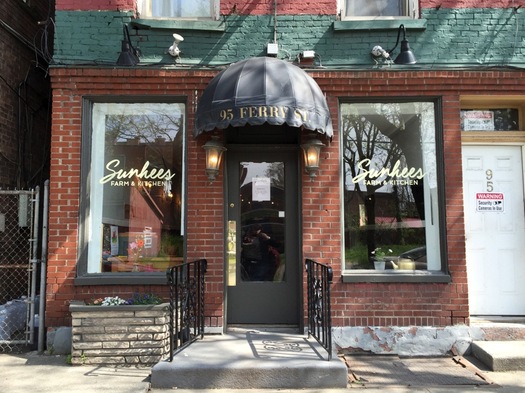 I saw on your website you have a three pronged approach: food, farm and community engagement. How do those things fit together?
With everything there's an investment in people.
Especially with refugees and immigrants -- going back to that story of that North Korean boy -- there's a lot of potential for growth and healing in a natural setting. Refugees often go through very traumatic experiences: conflict, war, loss. Especially for people from North Korea, the stuff they go through is just insane. That boy had to leave his mother behind and he has nightmares because he misses her.
Being able to invite people to a natural, agricultural setting calms the person. Gardening has been proven to be very therapeutic. Even when I was working in NYC there were urban rooftop farms. It's a sanctuary in the middle of chaos. They do internship programs with refugees to farm one day a week. I thought that idea was brilliant. They would farm and have employment workshops, prepare resumes, prepare for job interviews.
As long as you create an environment that's welcoming, inclusive and reflective of those values, people will be drawn in and they can take away practical things.
It's interesting, when I first saw Sunhee's is a restaurant that's also involved in refugee assistance, it didn't seem like a natural fit. But when you explain it, it makes so much sense.
Right. Kitchen work doesn't require proficient English. And that's always a very practical issue for newly arriving refugees. They come, they want to work, but their English is not there. They can't do customer service or sales, so it's really good to start in a restaurant.
The staff speaks different languages in their home countries, but here they are shouting English at each other. It's a beautiful thing.
I hired some Burmese guys and some of their English is still on the low side. My parents, too. The staff speaks different languages in their home countries, but here they are shouting English at each other. It's a beautiful thing.
Let's talk about the food. You have a pretty focused menu. Is that an intentional choice?

Oh yeah. Korean food is so expansive. People think it's just one thing but within Korean food there's ten million different branches.

I wanted to go back to the more traditional cuisine, but simplify it so it's easy to understand and people aren't overwhelmed by the choices. I selected what I thought was one of everything but focused specifically on the rice bowls.
I'm hoping throughout the summer as we get produce from the farm, we can make seasonal specials too.
Did you stick with the original Korean recipes or did you Americanize them?
It's all original Korean recipes. Not just the ingredients, but the methods are all passed down from previous generations. For example, the kimchi is so authentic. Some newer businesses will put in vinegar to give it that sour taste. It emulates it, but it's not the actual fermented taste. We try to stay away from those quick fixes.
If someone had never tried Korean food before, what you recommend they try?

Oh, the bibimbap for sure. I always tell people to try it; it's my favorite thing.
The bibimbap is great because it's very beautiful with the different colors of vegetables. You can add sunny side egg or beef or whatever you want to it. There are a lot of different options. It comes with a traditional side sauce that we use it in a lot of different marinades.
A lot of Korean food is veggie focused and it's so easy for us to be gluten free or vegetarian, not even because we're trying to be like that, but that's how the food is.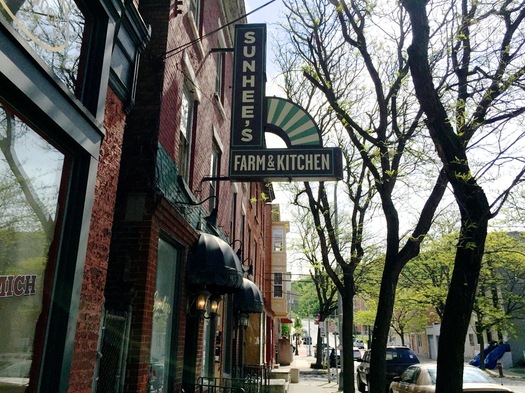 What are your plans for the future?
I really want to make the space a hub for social services. That's the original intention. It's about being sustainable first and then moving into that. I'm working with my staff with the resources I have now to help them with reading letters they don't understand and signing up for programs. But I'm hoping I can expand and help develop resumes. I have a lot of high school students working with me, so working on college applications, too.

We have an office space in the corner and I want to turn that into a full-fledged classroom. I want to host beginner English classes -- not just for refugees and staff but people in the community too.

That sounds like a really sustainable plan.

The problem with non-profits is they don't have their own funding so they depend on government sources where there's a lot of bureaucracy involved. It's a lot of red tape, you have to document everything to the point where you're spending 75 percent of your time doing documentation.

I always thought, 'That's a waste of our time. I want to make my own money and spend it however the hell I want!'
[In a non-profit] you can't spend money the way people really need it sometimes. I think having a business with the employee/staff support system is better.

It's still in the works.
This interview has been lightly edited.
____
Cristin Steding lives in Troy and spends most of her free time eating and driving to the High Peaks. You can find her on Twitter and Instagram
Find It
Sunhee's Farm and Kitchen
95-97 Ferry Street
Troy, NY 12180
Hi there. Comments have been closed for this item. Still have something to say? Contact us.