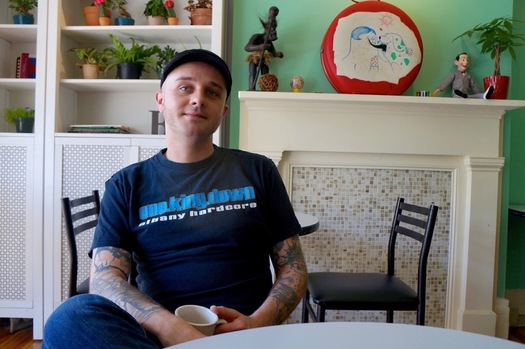 By Cristin Steding
To say the guys at Berben and Wolff's are busy is an understatement.
"I've got to go make 20 pounds of seitan after this," says a smiling Joey Berben at the end of our recent interview. And that's on his day off. He and his business partner, Max Wolff, just opened a new restaurant on Lark Street, but they've been supplying seitan to a bunch of other local restaurants long before theirs opened.
Berben and Wolff's is a vegan deli, which sounds like an oxymoron. But according to Berben, "The definition of deli, as far as we're concerned, is more like specialty foods. It's specialty prepared things. It's going to be along the same lines of a typical deli -- pre-made salads, to-go things. We're selling things by the pound too, like the seitan products that we make."
What sets Berben and Wolff's apart from other vegan restaurants, is that they actually downplay veganism in the business.
"You'll notice the word vegan isn't in here anywhere," says Berben. "We're trying to disconnect from people's misconceptions about vegan food or vegan restaurants. It's just good food. Vegetable forward, plant-based food."
Food for everyone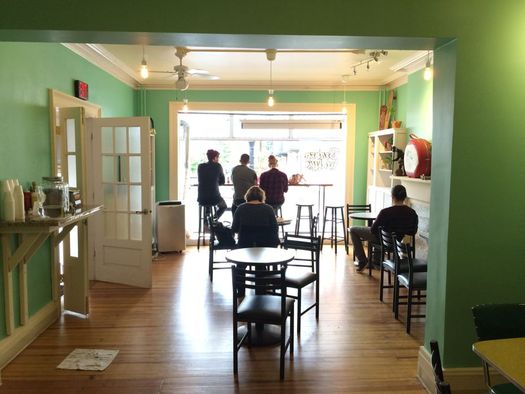 In fact, the sign on the window says simply "Berben & Wolff's" and the word "vegan" is conspicuously absent from the menu. The woman behind the counter, Rachael, told me she's not vegan and Wolff, the other half of the business partnership, isn't either.
They're looking to please a larger audience than just vegans, and don't want to alienate anyone who might otherwise feel awkward walking into a vegan restaurant. It's a departure from some vegan restaurants who -- consciously or not -- exclude meat eaters.
"We've actually had people who came in and ate and didn't know it was vegan and complimented the food," says Berben.
It seems to be working so far. At 2 pm on a recent Wednesday, there were several customers despite the in-between meal time, and the deli case was almost completely wiped out.
"We did brunch [this past Sunday]. It was slammed. We opened at 10 and we had people here at 9:50 waiting outside," says Berben, "We thought we would just be getting friends and family at first, but we've had people in here who have driven from places like Poughkeepsie, Western Mass. It's crazy."
Made in house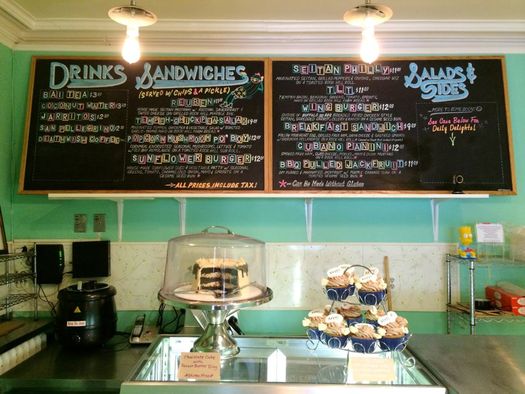 One reason for the intense interest from vegans and non-vegans alike may be the obsession with quality, homemade (sometimes handmade) products that's at the forefront of the business model. Berben explained that if he feels the mixer isn't doing a good enough job mixing up seitan, he'll stop it and stir by hand.
When I asked what's house-made on the menu, he named off practically every ingredient. The Russian dressing for the reuben? Yes. The sauerkraut? Yes. The baked goods in the case? Yes. How about the mayo on the sandwiches? You guessed it -- made in house from an emulsion of canola oil, silken tofu, lemon juice, garlic powder, onion powder, sea salt, and black pepper.
Practically the only thing that isn't made on-site is the bread, which is locally sourced from Rock Hill Bakery in Glens Falls. "They even have locally sourced wheat, which at one point was almost impossible to get," says Berben of Rock Hill. "That is amazing, the stuff he does up there. It's real and it's quality. I think those things really shine through."
For now, Berben and Wolff's is also using pre-packaged Daiya cheese for their sandwiches, but not for long. They'll soon be making their own nut cheese for menu items as well as for purchase by the pound.
"I actually have probably 20 pounds of cheese at my house right now," says Berben, "With that it's a little trickier. You actually have to culture it, and it's a lengthy process. You take sprouted grains -- sprouted wheat berries or quinoa -- and let it ferment for a few days. It starts to grow good bacteria and it cultures similar to dairy cheese. So it has a really cheesy smell. It smells really bad, actually. And depending on how sharp you want it, is how long you culture for. Then you soak cashews or almonds or whatever nuts and process it in a food processor. Let that culture for a few days and it puffs up. Then you salt it and hang-dry it. So it's a process. It's really good quality cheese. But we didn't want to put it on the menu and have it sell out. It's all about being consistent."
Menu, price, and portion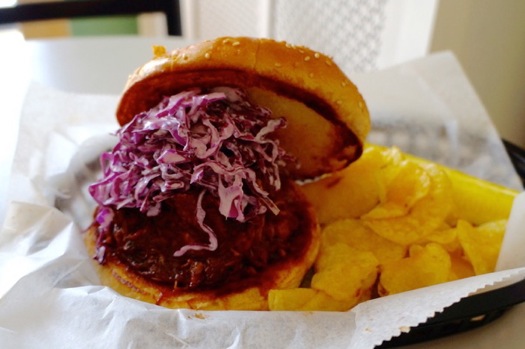 The barbecue pulled jackfruit sandwich.
With so much labor involved in creating the food, you might expect outrageous prices. But everything on the menu is in the $9-$12 range. How do they manage to keep prices reasonable?
"One thing that really helps us is that so much is housemade that we can kind of steer away from [the cost of] having things shipped here," explains Berben, "What's really saving us is that we're making almost everything in house."
The menu is focused on traditional sandwiches and burgers one might expect to find at a lunch counter, but everything is plant based. Things like reubens, wing burgers, and cubano panini are all veganized.
When asked why they chose to focus on imitating meat, Berben explained it this way: "I guess because I haven't eaten meat in so long, I don't really look at anything as imitation meat. It's seitan-style pastrami. Nutritionally, there's more protein per ounce than beef. So it's something hearty and has the same flavor profile as something you'd expect."
And how does it all taste? This is not your typical faux meat. Take the pulled jackfruit sandwich, which was filling and delicious. Served on big, soft bun, it was sweet and tangy like any good barbecue, with a red cabbage slaw on top for added crunch. The jackfruit is slightly softer than actual pork, but otherwise it's almost impossible to tell it's a fruit and not meat. Compared to actual pork, it's a very close dupe.
And the portions are hearty. One person would have a hard time finishing the sandwich, chips, and pickle in a single sitting.
They've only just opened, but Berben and Wolff's is already planning for what's next. That home-made cheese is on its way, as well as a full brunch menu.
"We have some other things we're plotting to put on the menu too, that we're excited about," says Berben.
Cristin Steding writes the Veg Out feature for AOA. She lives in Troy and spends most of her free time eating and driving to the High Peaks. You can find her on Twitter and Instagram
Earlier on AOA:
+ A quick look around Berben and Wolff's
Find It
Berben and Wolff's Vegan Delicatessen
227 Lark Street
Albany, NY 12210
Hi there. Comments have been closed for this item. Still have something to say? Contact us.