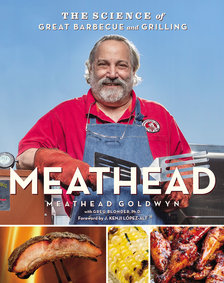 Barbecue and grilling expert Meathead Goldwyn will be at the HGS Home Chef June 12 for a talk and signing of his new book MEATHEAD - The Science of Great Barbeque and Grilling. Blurbage:
Meathead will debunk the misinformation that surrounds Grilling and Barbeque techniques in a talk called "Old Husbands' Tales: BBQ & Grilling Myths That Need to Die."
Meathead's book is a fount of information that will help you achieve succulent results every time, explaining why nothing is more crucial than understanding the science behind the interaction of food, fire, heat, and smoke. This is the definitive guide to the concepts, methods, equipment, and accessories of barbecue and grilling.
If you've ever looked up info online about making barbecue at home or some about grilling, you've probably come across Goldwyn's popular site AmazingRibs.com.
Goldwyn's new book comes highly recommended from J. Kenji Lopez-Alt of Serious Eats The Food Lab fame (he also wrote a forward for the book): "Far more than a recipe book alone (though there are tons of bulletproof recipes), this text will teach you the hard-tested fundamentals of outdoor cooking, giving you the confidence to cook anything, even without a recipe. The myth-busting and equipment tips alone were enough to get me hooked."
The event at the HGS Home Chef is Sunday, June 12 at noon. Tickets are $35 and available online.
HGS Home Chef -- which is related to the Hillsdale General Store -- is in Hillsdale, New York in Columbia County.