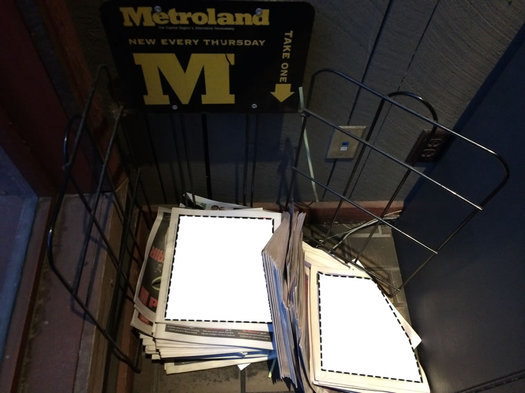 It's been about six months since Metroland stopped publishing, leaving a hole in the local media scene. And this week came official public word of a new effort intended to fill that left-behind niche.
The Daily Gazette, Proctors, and Overit announced Tuesday that they've joined together to back a new weekly publication called The Alt. From a Proctors press release:
This collaboration between for-profit and not-for-profit groups reflects the best practices of the creative economy and will be a well-curated, thought-provoking and constantly updated portal to goings-on in the eight county Capital Region; enticing new visitors and speaking dynamically to young locals and travelers alike with a vibrant, irreverent and tech-savvy flavor.
An article in the Daily Gazette includes a bunch of other details. They're expecting to launch this fall.
As you might expect, we have a few thoughts about all this. So here they are, along with a notable disclosure.
The disclosure
We'll mention this right from the start: We've known this publication was in the works for months because for a time earlier this year there was some possibility that AOA might be involved in some way. We had long talks with the Daily Gazette about potentially working together, but ultimately those discussions didn't lead to anything. And in our view, the episode ended amicably.
So, do we see this publication as competition? Sure. Everything is competition now, from other publications to every other sort of media. That said, we think there's room for all sorts of media orgs in the Capital Region. And having more coverage of what's going on is better than less.
A few thoughts
Possible strength in combination
One of the interesting aspects of The Alt is that it's backed not just by The Daily Gazette, but also Proctors and Overit. And there could be some real benefits from that.
The hardest part of starting a new publication isn't the content -- it's selling the ads and generating revenue. The Gazette has a lot of experience doing that sort of thing, so it won't have to start from scratch. Likewise, the Gazette also has a lot of experience printing things.
A skill that a lot of traditional media companies have struggled with, though, is web development. And in that regard, Overit -- which has a whole collection of people who do that everyday -- should be a big help.
And, of course, Proctors is Proctors. It has a ton of experience staging events, and it has tremendous influence in the region.
But the non-traditional backing could also be an issue
The potential downside to this group of backers is that their other businesses prompt questions about conflicts of interest. If The Alt is dedicated, in part, to covering the local arts scene, it's not unreasonable to be at least a little bit wary about the area's premiere arts organization owning a third of the publication (and providing office space and accounting services for the publication). The same goes for Overit, which has a robust marketing and PR shop -- what are people going to think when one of the firm's marketing clients is featured prominently in The Alt?
That is not to say there will be conflicts of interest. Media companies have for many years erected organizational walls (that are mostly solid) between their business and content sides. But the appearance of conflict is something they'll all have to address at some point.
Paper still lives
Launching a new alt weekly is swimming against the tide in the media industry. And planning to print 25,000 weekly copies of the publication is almost retro in direction, given the trends and the way publications have been trimming their print products. But, again, the Gazette has a lot of experience with this part of the business. And it owns its own printing press, so presumably The Alt will be getting a good deal.
What's the niche?
The Alt won't be the first publication trying to fill this space. The Spot 518 -- from the Spotlight News -- has been trying to claim some of that ground. So it'll be interesting to see what sort of niche The Alt will be aiming to fill. Here's a clip from the Gazette article Tuesday:
The weekly, to be named "The Alt," will cover stories in Albany, Saratoga, Schenectady and Troy that the newspapers in the region, like The Gazette and The Times Union, aren't touching, said Gazette President and Publisher John DeAugustine.
At the same time, DeAugustine said he doesn't believe The Alt will directly compete with the other newspapers in the area. Rather, it will feature stories that push the boundaries with quirky topics and strong opinions.
"This will truly be an arts and entertainment alternative news publication," he said. "We will go after controversial topics in the region. We're not going to shy away from topics that may be uncomfortable for others. If they had a porn expo at the TU Center, we would cover it, while the Gazette would probably pass on it."
Alt weeklies around the country were, in some sense, a response to how old-school metro dailies covered their cities. And the critique was that the dailies were too staid and too focused on traditional news.
It's worth thinking about whether that's still the case. To use DeAugustine's example of the porn expo, that's something not difficult to imagine being covered by the Times Union. (Also, two words: SEEN gallery.)
That's not to say there aren't important stories that currently go un-covered or under-covered -- not at all. But the tide in media, even local, has been toward many of the alt-weekly staples -- food, entertainment, sex -- and away from the staid (but often important) stuff like local government meetings.
Adding to the challenge will be staffing. According to the Gazette article, the plan is to hire one editor, one web editor, and one reporter. That's not a lot of people, especially when you have to put out a print product. (The work of filling the calendar section they're planning will soak up a lot of hours just on its own.) And doing in-depth work on the sorts of topics mentioned in that article -- "the changing face of employment and industry, the activity of downtowns and social rights and transparency" -- will be difficult with that number.
[T]he fact that Metroland left some sort of hole in the local media landscape doesn't necessarily mean whatever comes next should try to fill that spot exactly.
The new niches
Zooming out a bit, there's the bigger question about what sort of niches or audiences aren't being served in the Capital Region. Because the fact that Metroland left some sort of hole in the local media landscape doesn't necessarily mean whatever comes next should try to fill that spot exactly.
So, let's throw a few ideas out there for new niches or viewpoints to focus on or serve:
+ An explicit focus on the urban areas of the Capital Region.
+ A publication largely directed by, and prominently featuring, the voices of minorities.
+ An approach that frames stories and issues by looking at their potential solutions.
+ Media products to serve the area's growing multi-cultural immigrant population.
+ The area already has a stand-alone publication focused on business, but its coverage often approaches issues from the perspective of business owners and executives -- so how about coverage that looks at business issues from the perspective of labor or workers?
+ A focus on tech and science and health.
+ A publication based on the perspective of the over-65 crowd, of which they are going to be a lot more people here in the future.
Some of these perspectives already get coverage. And there's also content popping up in non-traditional forms that give voice to some of these perspectives. But these all seem like potential growth areas in one way or another.
Are there robust media businesses to be built on them? In some cases maybe not. But backing them with resources and giving them a shot would help diversify the media landscape here.
Earlier and elsewhere
+ AOA: Every local publication is Metroland now
+ A few years back at Reuters, Jack Shafer wrote a good overview of how the alt-weekly industry has crumbled during the last decade
Say Something!
We'd really like you to take part in the conversation here at All Over Albany. But we do have a few rules here. Don't worry, they're easy. The first: be kind. The second: treat everyone else with the same respect you'd like to see in return. Cool? Great, post away. Comments are moderated so it might take a little while for your comment to show up. Thanks for being patient.