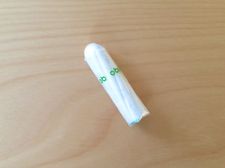 The Cuomo admin announced Thursday that Andrew Cuomo has signed a bill that will exempt tampons and other related items from state and local sales tax.
The bill passed earlier this past May after being sponsored by Linda Rosenthal (D-Manhattan) in the Assembly and Sue Serino (R-Hudson Valley) in the state Senate. From the bill memo:
New York State exempts certain items from state sales tax, including drugs and medicine, medical equipment and certain medical supplies as well as prosthetic aids. Feminine hygiene products, such as tampons, sanitary napkins and panty liners, are an undeniable necessity, yet they are subject to sales tax.
This bill would correct the fundamental imbalance that currently existing in New York State by exempting certain feminine hygiene products, including but not limited to, sanitary napkins, tampons and panty liners from sales and use tax.
The Cuomo admin figures the sales tax exemption will collectively save women in the state $10 million a year. It's set to take effect September 1.
There's been a push in many states recently to exempt tampons and similar items from sales tax. Maryland, Massachusetts, Minnesota, New Jersey, and Pennsylvania have already done so, and Connecticut is scheduled to do so 2018. And a few other states are moving in that direction. [Providence Journal]
Hi there. Comments have been closed for this item. Still have something to say? Contact us.