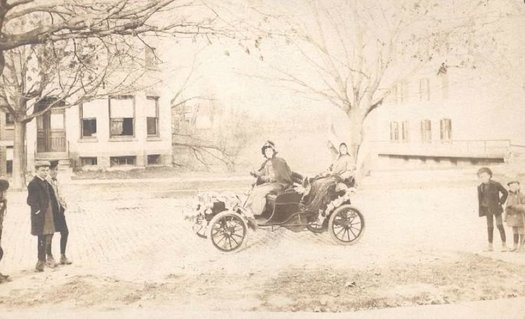 Cars are so ubiquitous and ingrained in our culture now that it's hard to imagine a time when they were a new technology -- something cutting edge that inspired new dreams.
That was one of the thoughts we had while reading through an interesting new publication from the State Museum: Weebermobile: Christian F. Weeber, Jr. Inventor, Entrepreneur, and Manufacturer by Geoffrey N. Stein.
Christian Weeber was born in Albany in 1872 and would go on to operate a bike shop in Albany before building his own brand of the car, the Weebermobile, in the late 1890s -- which, according to at least one account, may have been the first automobile on the streets of Albany.
A clip from Stein's chapter on the Weeber's early auto work:
Weeber's first auto building venture was most likely in 1898. Documentation survives for Weeber's experimenting with the construction of a "gas engine" in late 1899, but whether for automobile or stationary use is not clear.63 It appears as early as 1900 he was intent upon producing cars commercially. At year's end, The Bicycling World said, "The C. F. Webber [sic] bicycle works, Albany, N.Y., is the outcome of a retail business conducted by C. F. Webber. [sic] The new concern will engage in the manufacture of bicycles and automobiles on a small scale, a building having been leased for this purpose."
The Cycle Age and Trade Review also took note of the Weeber enterprise: "Albany, N.Y. is congratulating itself on the addition to its industries of a bicycle and automobile factory, to be operated by the C. F. Webber [sic] Bicycle works. The principal says it is his intention to make both forms of vehicles and to make all the parts of his horseless carriages."
Pauline Weeber gave one complete and two partial early Weeber automobiles to the New York State Museum in 1933 and 1935 from Weeber property on Central Avenue in Albany. The most primitive of the three vehicles is incomplete and consists of a chassis, wheels and portions of the body. It may well be from 1898, the year which has been attributed to the construction of the first Weeber-built car. As early as 1908, the C. F. Weeber Manufacturing Works advertised, "We are the pioneers in the auto business in Albany. We built the first complete automobile that dates as far back as 1898."
The business of building whole automobiles didn't pan out for Weeber, but he'd go on to invent and manufacture various car parts (as well as other devices). And he'd later become a car dealer. Weeber also apparently had a long interest in building a helicopter. Later in the The Weebermobile:
In the late 1920s and early 1930s, he sought to develop helicopter flight, a system he called "Utilizer." Marion Weeber [Weeber's daughter] wrote:
He stressed the economy of this approach to flying. That it would make use of, [sic] to the utmost all properties involved and contribute a useful and needed service. He mentioned rescue operations at sea, in remote areas, and forest fire fighting. He saw the roads becoming conjested [sic] with traffic and wanted to fly home and land in his own back yard, or on the flat rooftop of his garage. [AOA adds: Earlier Stein mentions that Weeber lived on Manning Boulevard, in a house he designed and built.]
He had a passion for helping people, making life happier, more comfortable and mobile. Strange how he worked around the clock, all his life, and sacrificed his own comfort and fortune for this purpose. I do believe however that he was completely happy in his work and accomplishments.
Weeber apparently had a model by the late 1920s, but struggled to find funding for the project. A few years later Weeber would died during hernia surgery at age 60.
Stein's account of Weeber's life and work is full of interesting bits about the history of both this area and the early automobile industry, stories of inventions and road races and auto shows.
Say Something!
We'd really like you to take part in the conversation here at All Over Albany. But we do have a few rules here. Don't worry, they're easy. The first: be kind. The second: treat everyone else with the same respect you'd like to see in return. Cool? Great, post away. Comments are moderated so it might take a little while for your comment to show up. Thanks for being patient.