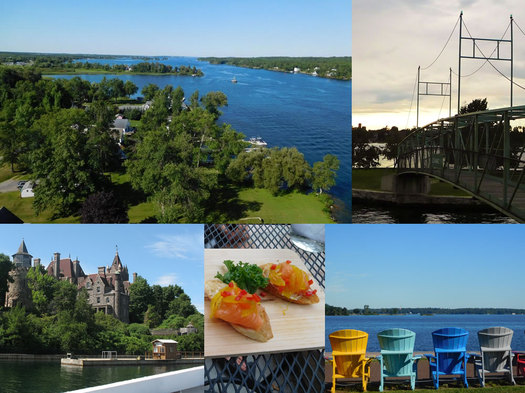 By Julie Madsen
Why: nature, water sports, romance
How far: 3.5 hours
The origin of Thousand Island dressing can be controversial, but legend has it that it was the wife of a fishing guide in the Thousand Islands region of New York who first served the condiment during dinners for her husband's tours. Prominent visitors from New York City tried and loved it, and it spread from there.
Of course, the Thousand Islands area is more than simply a famous salad dressing -- it's also a place of beauty and adventure. And close enough for an easy weekend trip.
To be precise, there are 1,864 islands in the Saint Lawrence River, which separates New York from Ontario. In the summer months it is a water lover's playground with options including fishing, swimming, boating, and diving. And on land there's a castle paired with a love story, many wineries -- and pirates!
Where is it?
The Thousand Islands region is on the western side of northern New York (just north of Watertown). You could take I-90 to I-81 at Syracuse and head north that way. But I-90 to NY-12 N/NY-26N also works nicely. Either way, you're looking at about a 3.5 hour drive.
Explore Alexandria Bay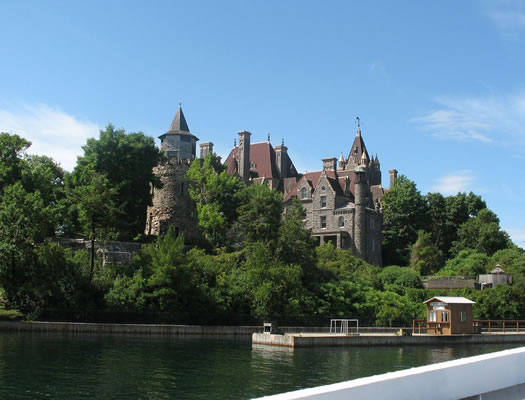 photo: Flickr user Gary Stevens (CC BY 2.0 -- cropped)
Boldt Castle, Heart Island, Alexandria Bay, NY
A tragic love story surrounds the construction of the famous landmark. In 1900 George Boldt (who was the general manager of the Waldorf-Astoria Hotel in NYC) directed a six-story castle be built as a present to his wife. Four years later the work would end as Boldt's wife passed away. He never returned to the island.
Today you can admire some views of the castle from the shore or take a boat ride out to Heart Island and learn more on a self-guided tour.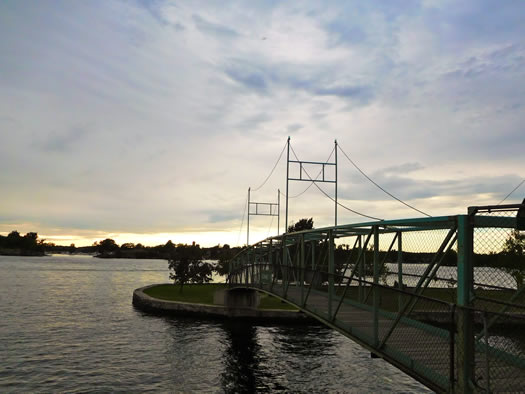 Scenic View Park, Sisson Street, Alexandria Bay, NY 13607
Just outside the hubbub of the tourist strip sits a special little park with a lot of surprises. A swimming area and playground. A pavilion with picnic tables. A bridge leading to a little island. Views of Boldt Castle and Sunken Rock Lighthouse. It's a most lovely location to watch the sunset.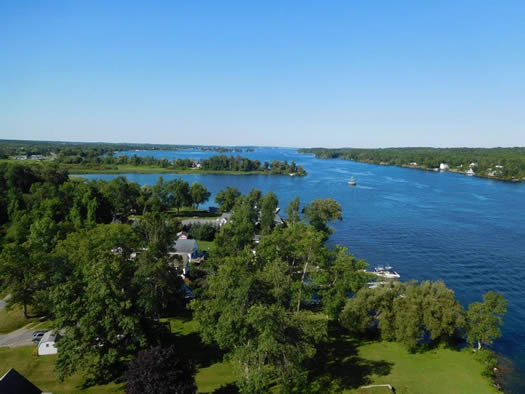 Thousand Islands Bridge, 43373 Collins Landing Rd, Alexandria Bay, NY 13607
Arching high in the sky, a walk over the bridge will provide stunning and unique views of the Saint Lawrence River. The pedestrian walkway is one mile long and the path is narrow, coming into close contact with cars driving by. Steel your nerves and enjoy the view!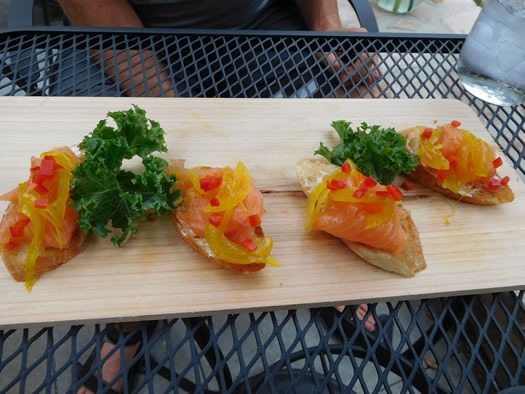 The Kitchen, 2 Church St, Alexandria Bay, NY 13607
Just around the corner from the main drag, this restaurant is a world away from the fried foods and fudge usually found in tourist spots. Located in the Captain Visger House bed and breakfast, it offers a garden like-patio and locally-sourced food. From the house-cured salmon to the brisket burger, the food was scrumptious on my visit.
Pirate Days
Every summer pirates attack and invade the streets of Alex Bay! Ships fire off cannons and muskets while the village tries to fend them off, but they cannot win against the devious sort. The mayor surrenders the key to the town and everyone becomes a pirate! Don't forget to pack your eye patch and have a great time. This year the festival runs August 12-21.
Nightlife
+ There are many bars on the main strip in town and evening cruises on the river to choose from
+ See what's playing on the big screen at the Bay Drive-In Theater, NY-26, Alexandria Bay, NY 13607
+ Indulge in a tasting and tour at the Thousand Islands Winery, 43298 Seaway Ave, Alexandria Bay, NY 13607
Hike Wellesley Island State Park, 44927 Cross Island Rd, Fineview, NY 13640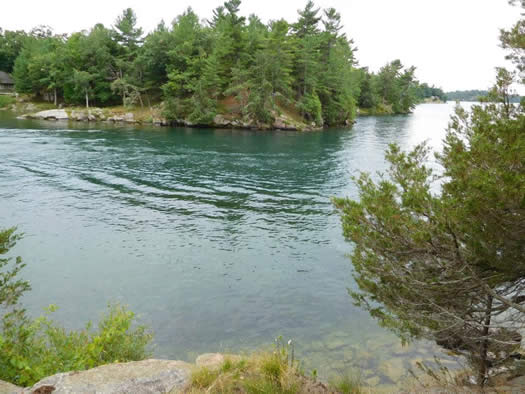 Head west from Alexandria Bay to the far side of Wellesley Island and you'll find Wellesley Island State Park. Start in the nature center where you can check out the educational displays and grab a map. Pick your route and admire the turquoise water, pink rocks, and island views. In summertime you'll likely find wildflowers, frogs, and maybe even a loon. In addition to hiking, there are other activities including boating, swimming, and golfing. This is the largest campsite in the Thousand Islands, so you might even consider making it home base.
Explore Clayton
If you prefer a quieter getaway, Clayton -- farther down the shore of the Saint Lawrence -- is your spot. The quaint streets will remind you of times gone by.
Koffee Kove Restaurant, 220 James St, Clayton, NY 13624
A solid breakfast choice with a local feel, worth the ten minute wait at peak hours. Decorations within are picked carefully and reflect the region well. The coffee is strong and the food is as wholesome as the mural outside.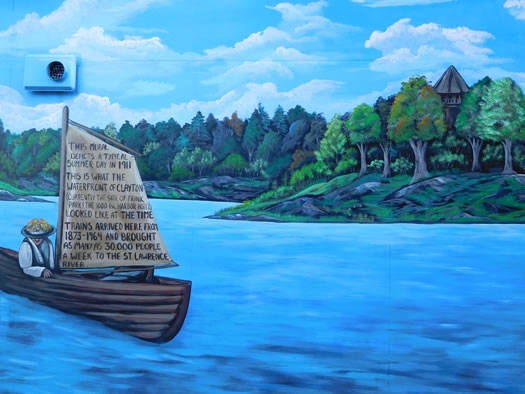 The Bayside Marina, 1044 State St. (Route 12E) Clayton, NY 13624
Get out on the water and take in the view of the town. Powerboat, paddleboard, canoe, and kayak rentals are available.
Antique Boat Museum, 750 Mary Street Clayton, NY 13624
Speedboats, houseboats, and canoes -- you name it! There are 300 preserved boats and even more recreational boating artifacts. Take a tour of George Boldt's houseboat or row through the French Creek Bay in a traditional skiff -- all included in admission price. This year the Antique Boat Show runs from August 5-7.
International Adventure
Wolfe Island is the largest of the Thousand Island islands, and it's located in Ontario. Take a ride on a horse-drawn carriage, visit a lighthouse, or relax at Big Sandy Bay. From New York, take the ferry at Cape Vincent to enjoy all the island has to offer.
Julie has got the travel-bug. Whether it's day trips, weekend getaways, or wandering around the world -- she's always up to something. Read more about her adventures at juliejourneys.com.
Earlier on AOA: Weekend Destination: Finger Lakes
Hi there. Comments have been closed for this item. Still have something to say? Contact us.