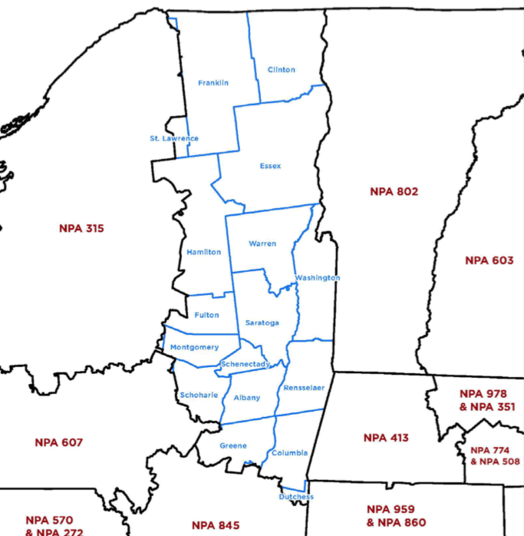 The 518 area code has had a good run. It was one of the original area codes, and it's made it almost 70 years without being broken up or having to share its expansive geographic area with other digits.
But finally, after all those years, it's running out of numbers. The current projection is that its supply of phone numbers will be exhausted by early 2019.
So what now? Here are the two options...
Split the 518 in two
One of the options on the table to divide the current 518 geographic area into two sections. One would get to keep 518, the other would get a new area code. Here's the project map for the split -- it hasn't been determind which side would keep 518.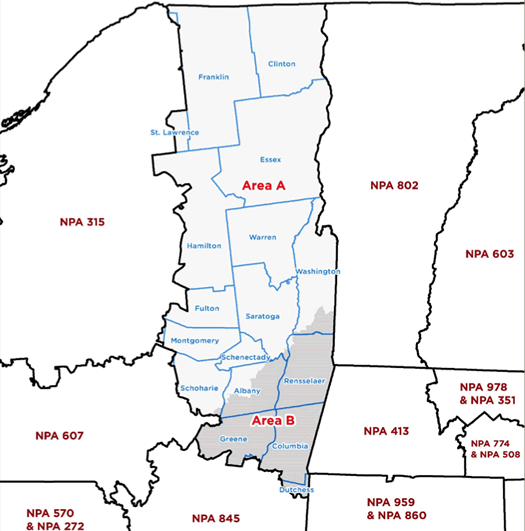 The goal in drawing the dividing line is to create two geographic sections that would have roughly the same expected future area code life span -- the "A" area would be projected to have 47-year supply of new phone numbers and the "B" side would 51 years.
The upside
Everyone on the side of the split that stays 518 would get to keep their full 10 digit phone numbers as is. And people on both sides of the split would still be able to dial just seven digits when calling within that area code.
The downside
Well, you can probably spot one of them. Because the southern part of the 518 area code is much more populated than the northern end, the split line has to go right through the Capital District in order to create two new zones with roughly half-century supplies of numbers. So, for example, Albany and Troy would be in one area code and Schenectady and Saratoga Springs would be in the other.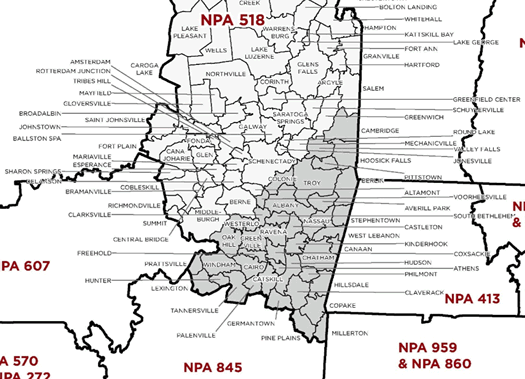 A closeup of the possible area code split by "rate center."
Further complicating the geographic aspect of such a split, the "rate centers" of the phone system aren't set up according to municipal boundaries. (It's sort of like how ZIP codes cross town and city lines.) So, again for example, the town of Colonie would have sections in different area codes.
Another large complication: Everyone in the non-518 side of the split would essentially end up getting a new phone number. So any system or material with their numbers -- databases, advertising materials, whatever -- would have to be changed.
Overlay a new area code on the current 518
The other option up for consideration is to create a new "overlay" area code for the current 518 area. So, after some point, probably 2019, anyone getting a new phone number would be assigned number with the new area code. (This has happened many other places -- Manhattan and its 646 overlay is probably an example with which you're familiar.)
An overlay is expected to create a 49-year supply of new numbers.
The upside
Everyone who currently has a 518 number gets to keep that number. Nothing involving current numbers would have to change.
The downside
With the overlay, every time you dial a phone number here it would ave to include the area code -- even if dialing old 518 numbers. (Otherwise the phone system won't be able to tell which number you're calling because there could be duplicated seven-digit numbers in the area.)
What's likely to happen?
The final choice about how to proceed hasn't been made, yet -- that's expected to come sometime late this year. But it very much looks like we're heading toward an area code overlay. For a few reasons:
+ Both the company that serves as the "North American Numbering Plan Administrator" -- it's called Neustar -- and the staff of the state's Department of Public Service have recommended an overlay as the best choice. (That link is to a white paper by the department's staff.)
+ When faced with this same choice, most other states have also gone the overlay route because it was easier for everyone with an existing number.
+ There hasn't been an area code split about a decade. And the last times it was picked -- in West Virginia -- the resulting uproar from government and business officials resulted in the decision being overturned in favor of an overlay. (The last place to go through with a split was New Mexico.)
+ The fact that an overlay would require 10-digit dialing isn't as big an issue as it used to be cause many people use some sort of mobile or digital phone system which essentially does the dialing for them. In a lot of ways these sorts of devices have moved actual phone numbers to the background as people just "dial" by name.
How to offer input
The state's Department of Public Service is accepting public input about the area code choice through August 19 (details at that link). And it's been holding a series of public meetings about the topic. There was one at the Colonie town hall Thursday -- there were a handful of people there, and the few public speakers were in favor of an overlay.
Bonus bit
Like pretty much every other area code, 518 was bound to run out of numbers at some point, whether because of population or new tech. And one of the things that's resulted in burning through numbers is that every device with a wireless data connection (3G, for example) -- an iPad, a Kindle, those OnStar systems in cars -- also has a phone number assigned to it.
All maps via the state DPS staff white paper.

Say Something!
We'd really like you to take part in the conversation here at All Over Albany. But we do have a few rules here. Don't worry, they're easy. The first: be kind. The second: treat everyone else with the same respect you'd like to see in return. Cool? Great, post away. Comments are moderated so it might take a little while for your comment to show up. Thanks for being patient.