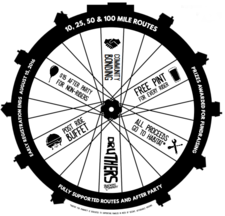 The Tour de Habitat cycling event returns September 17 in Albany. It's a fundraiser for Habitat for Humanity Capital District.
The tour offers four different routes in lengths of 10 miles, 25 miles, 50 miles, and 100 miles. The routes will be supported with rest stops and aid stations All routes start and end at Druthers on Broadway in north Albany, and there's a free after-party there as well.
Early registration fees start at $25 for the 10-mile ride and increase from there. (They jump to $100 and up after September 2.) Of course, this is a fundraiser, riders are encouraged to raise money from supporters for the entry fee (and more).
Habitat says last year's event raised $11,000 for the org.