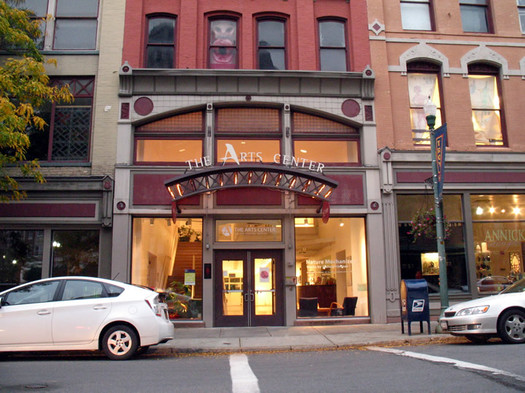 The fall catalog of classes at the Arts Center of the Capital Region is out. And as we were (virtually) flipping through it, there were a handful of classes that caught our eye because they seemed interesting or unusual or fun.
And here they are...
This is not a comprehensive list. Some of these classes repeat on other dates. All blurbage from the Arts Center's website.
Computer game design bootcamp for teachers or adults that want to be cool
August 22-August 26 - Jamey Sevenson - $375
"Tired of not being able to communicate with your students, children or grandchildren when they talk about computer games? Want to learn how accessible making your own computer games is for anyone these days? Want to find ways to incorporate gaming into your teaching? This bootcamp is focused towards adults, be they teachers, parents or just curious, who want to learn how to create a computer game. Taught by patient and knowledgeable instructor Jamey Stevenson, one of the founders of Tech Valley Game Space, this intense week will be centered around guided creation in the form of lab activities that are designed to introduce the basic skills required to create games using Construct 2. The earliest lab activities will consist of building a few simple games inspired by well known examples such as Pong and Angry Birds. Each example game will be chosen for its suitability in terms of helping you build upon your understanding of key concepts in game development."
Repainting to repurpose with Funcycled
August 17 - Sarah and John Trop - $145
"Do you love watching makeover shows? Have you been wanting to spruce up your furniture? One fun way to create the new furniture trend is with a coat of paint! Come let us step you through the painting techniques to help you fall in love with your furniture all over again! You will prep and paint a furniture piece that you bring along and we will step you through the basics of specialty finishes like distressing and glazing. You will bring home your own upcycled creation with a one of a kind story! Materials include one quart of paint and a brush to take home. Sarah and John Trop owners of FunCycled, a custom furniture repurposing store, have garnered a loyal customer base locally and throughout New York State. John and Sarah showcased their upcycling talents on HGTV's Flea Market Flip and out sold their competition to win the grand prize!"
Terrarium workshop
September 11 - Maria Silverstein - $137
"Build your own mini, living ecosystem with hands-on guidance from experienced terrarium maker, Marla Silverstein. In this course you will learn tips and tricks for maintaining a healthy terrarium for years to come. Expect to leave with a one of a-kind piece of living art and the skills to create more in the future!"
Staging your home for sale
Wednesdays, September 14-September 21 - Lynda Caccamo - $57
"Highlight your homes strengths through Home Staging. Part one will cover the basic steps to prepare your home for MLS photos and Open Houses. Part two will examine class participants room photos and make suggestions for individual staging needs."
Drawing for the terrified
Wednesdays, September 14-October 12, Wednesdays - David Dowd - $150
"This is a class for anyone who has ever said, 'I can't draw' (but wished it were otherwise!). In this introductory drawing class for new students as well as those looking to build on a little experience, you will develop and refine skills and increase your powers of observation. Students will learn at their own pace while following a structured course with emphasis on self-discovery and skill development, as they investigate a broad range of drawing materials. Students leave with a greater confidence and the skill to move on to more drawing or painting classes."
"You can do a graphic novel"
Saturdays, September 17-October 22 - Barbara Slate - $188
"Express yourself through art and story! Described by comic book legend Stan Lee as "titanically talented", Barbara Slate teaches how to write and draw graphic novels using her critically acclaimed textbook "You Can Do A Graphic Novel" (Britannica). Find a personal drawing style regardless of artistic ability, create memorable characters, develop a plot and subplots, and write compelling dialogue. Come receive the inspiration and know-how to get the stories you want to tell out of your head and onto paper by creating an original graphic novel. Materials fee covers cost of the textbook and drawing materials."
Fall fermentation: cider and mead
October 19 - $77.50 - Adam Elabd
"In this introductory brewing workshop, you'll learn the fundamentals behind making various alcoholic beverages including mead (honey wine), hard cider, ginger beer, fruit wine and maple wine. We'll be making a batch of hard cider together and everyone will take home their own 1/2 gallon jug of actively fermenting cider along with an airlock and all the knowledge needed to age it to completion over the next few months."