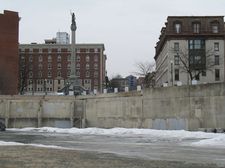 What sort of development should happen at the 1 Monument Square site in downtown Troy?
The city of Troy has scheduled a public meeting for August 24 to gather public input in an attempt to answer that question. From a city press release:
[The meeting] will provide residents and city stakeholders an opportunity to participate in a community conversation regarding the future redevelopment of the vacant site and provide their input and ideas in a public setting.
"The One Monument Square site is one of Troy's more high-profile properties and an important part of the future of our downtown," said Mayor Patrick Madden. "By further engaging the public on the redevelopment of the property we can foster an important dialogue between business owners, residents, community members and public officials that will be utilized in the development of a new RFP expected to be released this fall."
There is, of course, a lot of history and drama involving the development of this site. The most recent turn was this past spring when a proposal to build a mixed-use residential project got as far as the city's planning board before meeting organized opposition from members of the public -- the developer dropped out, blaming what it said was the city's failure to properly identify underground infrastructure that complicated construction and pointing the finger at the organized opposition.
That was the third major effort to redevelop site since the former city hall was demolished in 2011.
The public meeting is Wednesday, August 24 at 6 pm at the Bush Memorial on the Sage Troy campus.
Hi there. Comments have been closed for this item. Still have something to say? Contact us.