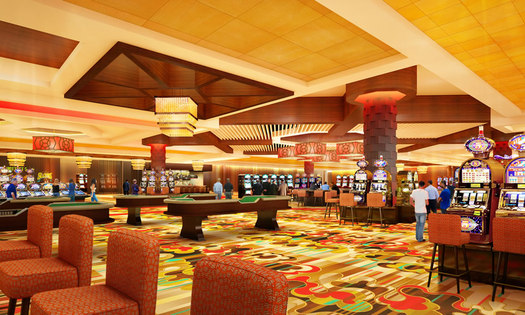 The Rivers Casino & Resort in Schenectady announced Thursday that it's now accepting applications for all the positions at the new casino set to open along the Mohawk River early next year.
The company says it's planning to ultimately hire for 1,200 positions. Press release blurbage:
Rivers Casino & Resort will be hiring in stages for all positions leading up to an early 2017 opening of the facility. Job seekers are encouraged to apply as soon as possible, and to visit the website for job descriptions. Training programs, including the Rivers Casino & Resort Dealer School, will be starting in the coming weeks.
The casino has a web portal set up for listing the positions and gathering applications. The listed jobs range (alphabetically) from banquet coordinator to warehouse supervisor, and include many jobs you'd probably expect -- like cooks and table game dealers. In a way the job application portal is also glimpse inside the operation of the casino -- it's a listing of the types of positions necessary to run machine, so to speak.
So, we can scanned through the list of jobs and here are a few that struck as interesting in some way...

Cage cashier
The "cage" in a casino is the place where many of the financial transactions happen, among them money is exchanged for chips and vice versa. So the "essential job functions" list includes items like "Handles financial transactions including exchanging cash for slot tickets, performing credit checks, and cashing checks." But it also includes: "Complies with all aspects of the Anti-Money Laundering (AML) Program and its regulations including, but not limited to, Title 31 Cash Transactions, Suspicious Activity Reporting and Customer Identification requirements."
Count room attendant
Job summary: "Performs tasks, according to strict internal controls, related to the collection, transportation and counting of cash and tickets from the gaming floor to the Count Room." Among the physical and mental demands listed: "Frequently required to push or pull up to 300 pounds."
Database analyst
Among the job functions: "Assists Database Marketing Manager in analyzing effectiveness of programs and promotions by utilizing data mining, proformas and any other effective methodology." Also: "Create statistically based predictive analyses to support business and marketing strategy and consumer behavior conclusions."
Executive host
It sounds like this position is basically a point of contact for VIPs. Job functions include: "Identify and cultivate premium players with emphasis on developing relationships with VIP patrons." And: "Establish and maintain goodwill, relationships, utilize contact strategy through a variety of in-bound and out-bound channels; handles and resolves problems, questions, and PR concerns of targeted VIP patrons."
Director of surveillance
Job summary: "Directs all personnel involved in surveillance of gaming operations in accordance with internal and external controls in an effort to maintain the integrity of casino operations." The job functions list for this position is long and basically boils down to: watch everything.
Wardrobe supervisor
This position oversees all the people who work in the casino's wardrobe room (related: casinos have a wardrobe room) -- basically, all the various uniforms that people working at the casino wear. Among the job functions: "Ensures the upkeep of all uniforms to include sewing of new uniforms or special uniforms, alteration, fittings, and mending."
Hi there. Comments have been closed for this item. Still have something to say? Contact us.