By Julie Madsen
When I was a child, we practically lived in the arcade, playing pinball. It was the one place my brother and I could agree on -- and get along. But life happens, you grow up, and you find other hobbies (like travel). And more than a decade passed since I had last touched a pinball machine.
Then I found myself in Budapest at the Flipper Museum, an interactive pinball exhibit. I excitedly entered the space. The blinking lights, the clinking sounds, the focus in the players' eyes as they were completey immersed in the moment... the nostalgia. I was in a foreign country and felt completely at home.
Just like that I was hooked again, remembering how fun it is to play.
Now I'm happy to combine my past and present pastimes everywhere I travel, always on the hunt for pinball machines. Here are a bunch of places around the Northeast...
A few things to get you started
Perhaps you think of the game as retro, and truly its heyday was the '70s, but pinball is still alive and well today. You will find machines with newer themes such as Game of Thrones and The Walking Dead right alongside classics. Other than TV shows, you'll find machines that display your favorite bands, movies, games, and more obscure topics.
So, where can you find machines? Usually not at shiny, new places. You've gotta look in old-school arcades (or even pinball museums) and less obvious spots like laundromats, bars, and highway rest stops.

A few tips before you get started playing pinball:
+ Don't hit both flippers at the same time. The space between them will be bigger if you do and it's easier to lose the ball.
+ Cradle the ball. Pinball is a fast-paced game, if you catch the ball you have the ability to slow it down and strategize.
+ Tilt, nudge, shake -- but not too much. If done with finesse, you can save your ball. If done recklessly, you'll lose control of the flippers.
+ Follow the rules. Many machines will tell you where to shoot the ball so you can get a higher score.
OK, on to those pinball places...
Capital Region
McGeary's, 4 Clinton Square, Albany, NY 12207
One machine: Addam's Family. Also a great place to grab a beer and some pub food, maybe before a show at the Palace Theatre.
The Flying Chicken, 122 4th St, Troy, NY 12180
One machine: Monster Bash. You will also find the Tekken arcade game, seriously good fried chicken, and sometimes live music.
Footsy Magoos, 17 1st St #1, Troy, NY 12180
One machine: Monopoly. Plus skeeball, foosball, arcade games, and a great bar scene.
Lake George
Fun World Arcade, 127 Canada St, Lake George, NY 12845
On a summer vacation there is nothing better than a dip in the lake, a cream soda at A&W -- and a trip to the arcade. Along with the rest of the classic games, there are nine pinball machines. It would be worth it for a pinball fan just to drive up for the day to play!
Hudson Valley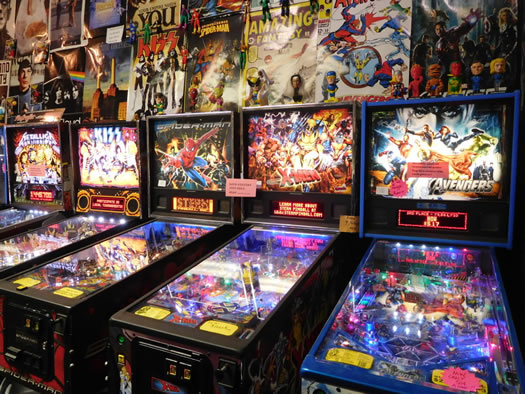 Rock Fantasy, 75 W Main St, Middletown, NY 10940
A little seedy, but a whole lot of fun. In an unassuming locale, this places includes one part rock music/memorabilia, one part smoke shop, and one part pinball room. Pass through the hallway with the black light psychedelic posters, jam out to some tunes, and enjoy playing on more than 20 machines.
Central New York/Southern Tier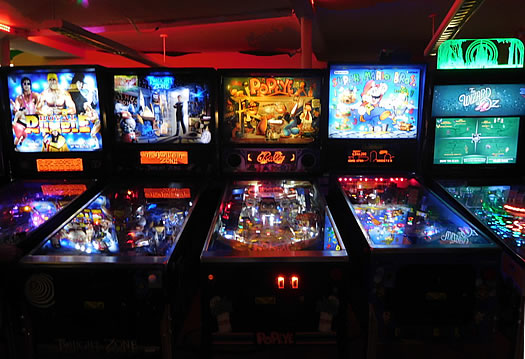 Robot City Games and Arcade, 126 Clinton St, Binghamton, NY 13905
I love the electric colors and lights on the walls and the 26 pinball machines don't hurt either. Plus you'll find a bonus of more than 100 arcade games. No matter what game or era is your favorite, there are gems such as 1978 Space Invaders, 1984 Duck Hunt, 1991 Simpsons, all the way up to a brand new 2016 Medieval Madness Remake pinball. An adjacent store sells video games.
Moonwalker Arcade, 253 Vestal Pkwy E, Vestal, NY 13850
If you plan on making it out to Binghamton, you should really take the 15 minute drive for some more fun. There are over a dozen pinball machines, many of them from more recent years, along with a few arcade games, pool tables, and air hockey.
Cloud City Comics & Toys, ShoppingTown Mall, 3649 Erie Blvd E, Syracuse, NY 13214
It's predominantly a gaming store with a few pinball machines and arcade games in the back. There are also tables for playing games. On the day we visited there was a Magic: The Gathering tournament in progress.
Bonus: Fairmount Glen Miniature Golf, 210 Onondaga Rd Syracuse, NY 13219
If you're looking for more fun while you're in the Syracuse area, there is a mini-golf course which has a pinball machine themed hole!
New York City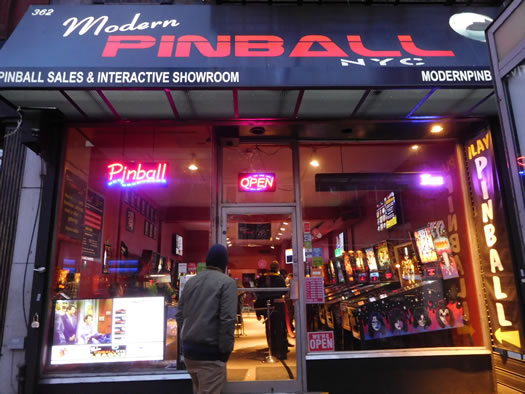 Modern Pinball NYC, 362 3rd Ave, New York, NY 10016
While most games have tokens or quarters, some spots you pay general admission or an hourly rate (in this case $12 an hour). These are my favorite because I am definitely not a pinball wizard, and I can get a whole lot more pinball for my buck. There are more than 20 pristine pinball machines including The Who's Tommy. If you plan on going back again and again, inquire about their punch card.
Sunshine Laundromat, 860 Manhattan Ave, Brooklyn, NY 11222
In this generation, who doesn't love multitasking? Do your laundry. Drink a beer. Play some pinball! There are plenty of machines of all kinds. Open daily, early, and late.
Massachusetts I-90 rest stops
If you are cruising along I-90 in Massachusetts, break up your trip by stopping to play pinball!
+ Lee service area has Ripley's Believe It or Not
+ Blanford service area has Star Wars Episode 1
+ Charlton service area has World Poker Tour
New Hampshire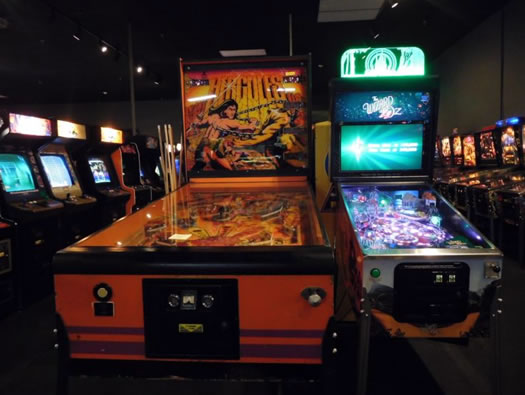 Pinball Wizard, 150 Bridge St, Pelham, NH 03076
Located in a strip mall in a quiet town there are more than 100 pinball machines (including many classics from the early 70s), nearly 200 arcade games, plus pool tables and other games. You could spend hours and not play through everything here! If you plan on staying awhile, be sure to buy $20-worth of tokens because you'll get a discount.
Funspot, 579 Endicott St N, Laconia, NH 03246
Looking for more pinball in New Hampshire? You'll find it nestled among rides, bumper cars, bowling, mini-golf, bingo, and more at what's said to be the largest arcade in the world!
New Jersey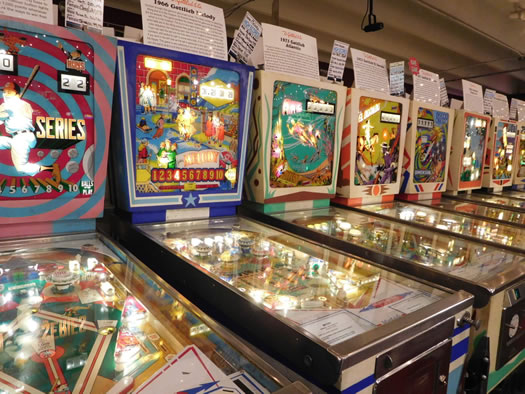 Silverball Museum Arcade, 1000 Ocean Ave, Asbury Park, NJ 07712
A great beach town complete with boardwalk, the Stone Pony music venue, some great food options (try the Speakeatery), and best of all, pinball! Step off the beach and into the arcade. There are half-hourly, hourly, all day, afternoon, and evening rates. You'll find older machines from the 1930s to present day. I love how each individual machine is tagged with a blurb telling the year they came out and a bit of history.
____
This is not a comprehensive list. So, know of more places located around the Northeast (or around the world) worth mentioning? Please share!
Julie has got the travel-bug. Whether it's day trips, weekend getaways, or wandering around the world -- she's always up to something. Read more about her adventures at juliejourneys.com.
Hi there. Comments have been closed for this item. Still have something to say? Contact us.