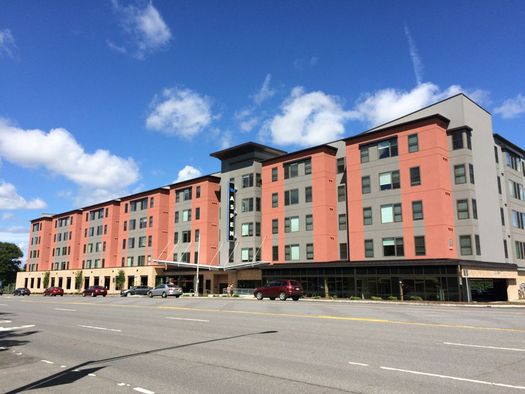 Updated
You've probably noticed that new private dorm built along Washington Ave in Albany -- it's right across from the UAlbany uptown campus, and it overlooks I-90. It's hard to miss.
We were kind of curious about the place and figured you might be to, so stopped into the official ribbon cutting for the building Friday to gawk a bit. Here are a handful of details and pics, along with a few thoughts...
Photos
They're above in large format -- click or scroll all the way up.
Details
The Aspen Albany is a private residential building aimed at college students. The $28 million project was backed by a group that includes the developer GSX Solutions and the building's operator, Aspen Heights, which has built and managed other private student housing in other cities. It got incentives from the Albany IDA that included payment in lieu of taxes arrangement in which it will pay roughly $1.5 million in property taxes over seven years (saving it an estimated $1.4 million).
The project is not affiliated with UAlbany or SUNY.
The building includes 277 bedrooms distributed among 14 different suite configurations that range from 1BR to 4BR. Each bedroom has its own bathroom. The bedrooms for each suite connect to a common living area that includes a kitchen and laundry. The suites come with furniture. The building also two fitness rooms with equipment and machines, a terrace, game room, and group study space.
There are 145 parking spaces in the garage located underneath the building.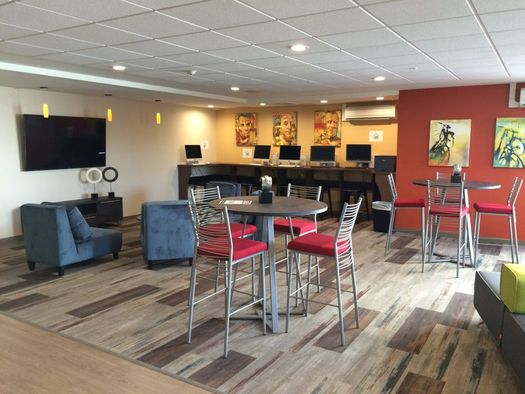 Rents for this school year ranged from $895-$1335 per bedroom. Each bedroom is leased separately. Aspen says the building has a 97 percent occupancy rate.
Apartments in the building are available to, in the words of Aspen Albany general manager Stefany McBrady, "anyone who applies and qualifies." The qualification process includes a background check and security deposit or guarantor. McBrady says they have to follow all New York State fair housing laws. (We asked if anyone who's rented so far is not a student, and she said she could think of one person who's living there who's a partner of a student.)
A second private dorm project -- University Suites Albany, with 322 bedrooms -- is currently planned just down the road at the site of the former Red Carpet Inn. Jon Grant of GSX Solutions says they're aiming for an August 2017 opening of that project. He said the site is currently being prepared for demolition.
Grant said GSX has been been scouting locations all around the Northeast for similar projects, often looking for sites -- like the one the Aspen Albany sits on, tucked between Washington Ave and I-90 -- that other developers might overlook. He said the location right across the street from UAlbany made it very attractive.
The shifting student population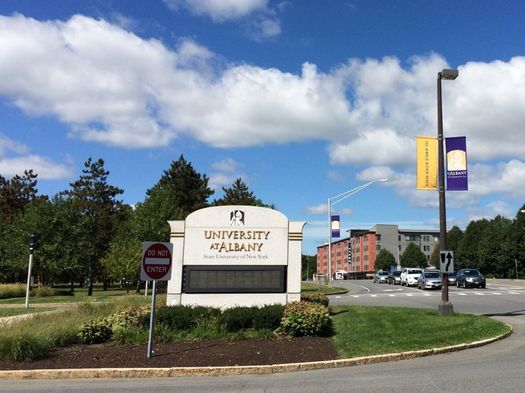 One of the things that came up during the ReZone Albany downtown UAlbany campus corridor series of events was the idea that, at least anecdotally, it seemed like the construction of new dorms and apartments on the uptown UAlbany campus over the last decade or so had pulled students out of the neighborhoods near the downtown campus. And if that is happening, the Aspen and planned University Suites project will probably continue that shift.
The topic came up in conversation today with Stefany McBrady, the Aspen Albany general manager. She said she guessed that some of the students renting there probably would have ended up living around the downtown campus if they hadn't chosen to live in the new project. And she pointed to a few instances in which students who had planned to live downtown ended up changing their plans at the start of this school after they (and their parents) had arrived to move into off-campus housing.
So that's something to think about as the city and other groups plan for the future.
And for UAlbany? Karl Luntta, the director of media relations for UAlbany, speaking generally about new off-campus housing options, said to us today: "Expanding options for our off-campus students is a positive thing."
In some sense the private dorms are competition. Reps for the Aspen said they thought what they were offering was very competitive when it came to price and amenities compared to UAlbany's on-campus apartment-style housing.
But there might be upside, too. UAlbany's current enrollment is around 17,500. And it's aiming to grow that to 20,000 by 2020. All those new students have to live somewhere. And given that money always seems to be tight for SUNY, having someone pick up the cost of adding new student housing capacity nearby could end up working out for everyone. It's something to keep an eye on.
Luntta said UAlbany as about 7,500 students who currently live on campus, and about 10,000 who live off-campus.
That section of Washington Ave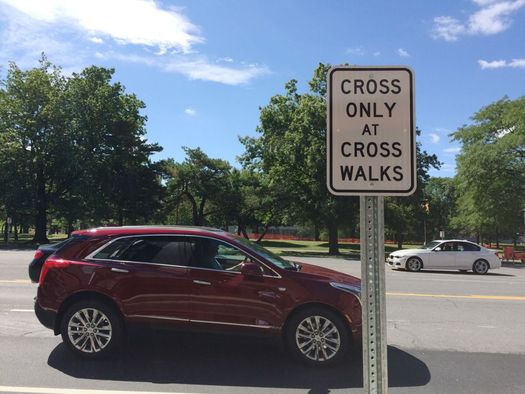 Another thing to keep an eye on: The safety of that section of upper Washington Ave. There are already a handful of hotels along that stretch, but the addition of residential units aimed at college students almost certainly will result in more pedestrian activity.
And that stretch is not pedestrian friendly. It's wide, with two lanes in each direction with a turn lane, and it carries a heavy volume of traffic. There are crosswalks and pedestrian signals (including one at the western end of the Aspen), but they're spaced far apart. And while there is a sidewalk on the north side of the street, the area along in places could use some maintenance.
The city recently changed the speed limit along the portion of Washington from Brevator to the I-90 ramp by UAlbany from 45 miles per hour to 30 miles per hour. But the design of the road -- the width and the way buildings are set back -- very much encourages going faster than that. Or to put it a different way, driving 30 mph along there feels very slow, and it's easy to go faster than that if you're not paying attention close attention to your speed.
UAlbany's Karl Luntta said the university had brought up the issue of pedestrian safety with the city when the project was first proposed. And he said it would be supportive of any measures that increase traffic and pedestrian safety.
So this is an issue to watch. In five minutes watching traffic near the Aspen midday on Friday, we saw four people cross mid-block, dodging traffic, outside a crosswalk. So it won't be a surprise if the design of this portion of Washington Ave becomes a topic of discussion.
Hi there. Comments have been closed for this item. Still have something to say? Contact us.