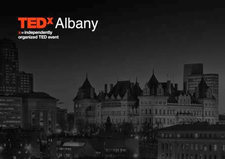 TEDxAlbany -- the local, independently-organized version of the TED talks series -- is set to return to Overit in Albany December 1.
And the call for speakers is also out. From the speakers application page:
When solidifying your idea, ask yourself: What's a controversy in your field that a general audience would understand? What's a common misconception you'd love to clear up? Why is this idea important, and to whom? Who would disagree with you, and why? How did you carry out this idea in your own work?
We hear that organizers this year have an interest in talks that are based on research or a specific focus on some subject or work, and are less interested in the how-to-find-your-passion type of talks.
Here are the talks from last year's event.
Tickets for this year's event will be available later this fall.