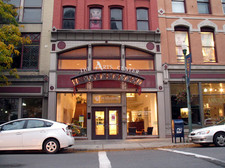 The Arts Center of the Capital Region has a new series of events that pairs drinks with DIY art projects. Blurbage for the series, called "Social Media":
Visit the Arts Center on the third Tuesday of every month to meet new people and try making art in a different medium. Every event starts with an hour-long workshop designed for everyone to enjoy - from beginners to life - long artists - and ends with a specialty prepared cocktail or seasonal beverage that has been paired with the art form we'll be experimenting with. Please bring your ID - we'll also be serving beer, wine and soft drinks!
For added fun, Star Bartenders Institute will be sending bartenders in training, so let's all learn together! We'll send you home every time with the work of art you created!
The events are from 5:30-7:30 pm are $25 to attend. That includes arts supplies and a drink.
The first event -- "Pottery & Mudslides" -- is tonight (Tuesday), and it's sold out.
The upcoming schedule for the fall is after the jump. If they continue to be popular, it's probably worth signing up sooner rather than later if you'd like to attend.
October 18: Fall Foliage Arrangement & Cider
"Who doesn't love flowers? Bring your friends or make some new ones at the Arts Center and make a beautiful fall arrangement to brighten up your home. Plus, you can enjoy locally-sourced cider!"
November 15: Letterpress Printing & Colored Martinis
"Drink Ink (not really) with colorful martinis, then venture into the print studio to explore this centuries old art. You'll print a short phrase to take home and hang on your wall!"
December 20: Taffy-Pulling & Spiked Eggnog
"'Tis the season to indulge your sweet tooth! Join us to make and pull your own taffy. Showcase your culinary art at your holiday soiree, or give it as a hand-made gift from the hear! Enjoy spiked eggnog, and go home to celebrate the holidays!"