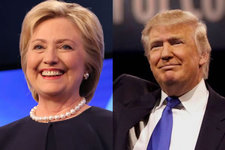 A few bits from the new Siena poll out Tuesday morning:
If the 2016 election for President was held today, who would you vote for if the candidates were:
Hillary Clinton: 51%
Donald Trump: 30%
Gary Johnson: 8%
Jill Stein: 3%
The numbers for upstate voters: Clinton - 42% | Trump - 36% | Johnson: 11% | Stein 4%
[T]ell me whether you have a favorable opinion or an unfavorable opinion of each person or institution I name.
Hillary Clinton 52% favorable | 46% unfavorable
Donald Trump: 29% favorable | 68% unfavorable
One of the many remarkable things about this presidential election is how much many people seem to not like either candidate.
Do you think Hillary Clinton/Donald Trump is honest and trustworthy or not?
Hillary Clinton: 39% Yes | 58% No
Donald Trump: 29% Yes | 67% No
If Andrew Cuomo runs for re-election as Governor in two years, as things stand now, would you vote to re-elect him or would you prefer someone else?
Re-elect Cuomo: 45%
Prefer someone else: 49%
____
The Siena Research Institute says this poll was conducted September 11-15 and included 600 likely voters in New York State. Margin of error is +/- 5.
candidate photos via their campaign websites: Clinton | Trump
Hi there. Comments have been closed for this item. Still have something to say? Contact us.