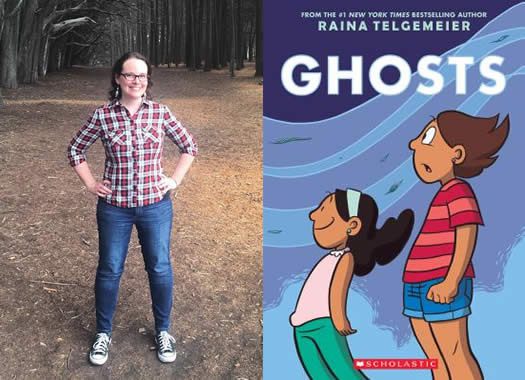 Best-selling, award-winning cartoonist/author Raina Telgemeier will be in Saratoga Springs for an illustrated talk and Q&A October 21. The Northshire Bookstore-organized event is at the Bethesda Episcopal Church (41 Washington Street).
Telgemeier won the 2015 Eisner Award -- it's like the Oscars of comics -- for best writer/artist for her graphic novel Sisters. Her latest work -- Ghosts -- was released earlier this month and is already a best seller. As she told NPR this month about how the book deals with the subject of death:
I think most kids -- most people probably -- have some sort of fear of death. Including myself. And the idea of making it not scary but something jovial has always appealed to me. And so in depicting the ghosts in this book, and the skeletons in this book, I wanted them to be friendly. I wanted them to feel like they were friends. And it really spoke to me. And I've been in a position in the past few years where I've dealt with a lot of loss and a lot of people exiting my life in various ways. And so it was kind of also just an opportunity for me to kind of make peace with that, I suppose.
The Saratoga Springs event is Friday, October 21 at 6 pm. Admission is $17 for one seat and one book / $22 for two seats and one book / $27 for three seats and one book.
Hi there. Comments have been closed for this item. Still have something to say? Contact us.