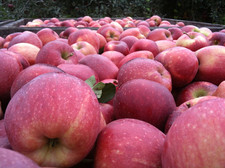 Sean emails:
I've had the pleasure of visiting a handful of different apple orchards already this season and have noticed that the taste / quality of the cider has varied significantly thus far.
Now I know there's been a lot of documentation done on the region's different cider donut offerings, but I haven't seen much of anything done on the cider itself. I was wondering if some of your readers could weigh-in with where their favorite local apple cider comes from.
Bonus points if anyone has knowledge on how much the flavor changes from month-to-month or year-to-year based on what kinds of apples go into the mix.
Sean's question makes us want to go out a buy a bunch of ciders from local orchards and have a taste comparison. (Hmm...)
We've heard that the flavor of an orchard's cider can change over the course of the apple season as the different varieties of apples are harvested and added to the mix. But we can't say we've had a "Hey, wow, this cider is so much more (something) than it was last month" experience. Maybe you have.
So, got thoughts on your favorite local cider? Or any insight on how the flavor of cider changes over the course of the season? Please share!
Hi there. Comments have been closed for this item. Still have something to say? Contact us.