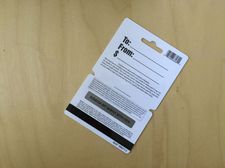 Newly-signed state legislation is changing the rules about fees and expiration dates for gift cards sold by retailers.
The state Assembly and Senate passed the legislation in June, and the governor signed it this week. The rules:
+ The time period in which fees can be charged to unused gift card balances increases from 13 to 25 months. And monthly service fees that are applied after that period must be waived if the consumer uses the gift card within three years of the issue date.
+ No gift card can have an expiration date of earlier than five years from the date it's issued or funds were last added to it.
+ The gift card's terms and conditions must describe exactly what the procedure is to replace a missing card.
The federal government changed the rules for both retail gift cards and bank gift cards in 2010, and this state legislation appears to piggyback on that. The five-year rule was part of the federal rules change -- the two-year waiting period for fees extends the federal rule's one year period. [FTC]
One of the problems with gift cards is that people tend to forget about them, or forget about the odd balance left on them. Cumulatively, that adds up to billions of dollars. [Barrons]
The new state rules take effect for cards issued December 24 of this year and after.