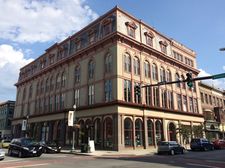 The Tech Valley Center of Gravity in Troy is hosting a clean tech hackathon October 15-16. It's free to attend if you'd like to gawk at what's been made. And if you have a team that would like to take part, registration is still open -- there will be $5,000 in cash prizes.
What is this hackathaon? Blurbage:
A hackathon is an event, usually lasting more than a day, where groups of computer programmers and other tech-oriented people collaborate intensely on projects using software. Hackers typically staying in the space the entire time working constantly. To help inspire the competitors, organizers of the TVCOG Clean Tech Hackathon have solicited problem statements from key players in the industry in the areas of Advanced Buildings, Renewables and Clean Transportation. Some problems hackers may tackle include: making solar photovoltaic and wind energy more predictable; innovations in "smart" building technology that can adjust energy usage based on intelligent predictions of the occupants' behaviors; and designing hardware/software solutions that use on-street installations to improve bike and pedestrian safety and comfort.
Participating teams will have mentors from NYSERDA, BessTech, The Wagoner Firm, New York State Mesonet, and Bette & Cring Construction Group. Also: "An abundance of high quality free food is available to all hackers and participants."
As mentioned above, it's free to attend or participate, but registration is required.
TVCOG advertises on AOA.