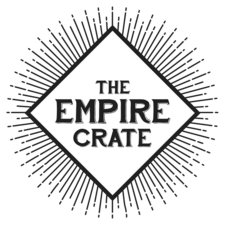 Filed under potential gift ideas: The Empire Crate, a service that sends out a pre-selected box of New York State products each month. The boxes include "An assortment of 5-7 delicious hand-selected food products from cities and towns across the great state of New York." More blurbage:
The diversity of our home state is truly exceptional-- the Adirondack State Park itself is larger than the neighboring state of Massachusetts. From Niagara Falls to Wall Street and from Brooklyn to Buffalo, The Empire State is teeming with talented, motivated artisans creating a wide range of unique, high-quality products that proudly represent that diversity.
Our mission is to travel the 54,000 square miles of New York State meeting these artisans, trying their products and delivering the cream of the crop to you, our subscribers, every month. Whether you're missing "home" or want to see what else The Empire State has to offer, we welcome you to join us on this delicious journey of discovery!
The people behind Empire Crate are Brianne and Brandon Dingeman, who live in Stillwater. Over at the Daily Gazette, Stephen Williams has a profile of them and the service.
One box is $39.95 (delivery included). There are also multi-month prepay options that offer a discount.