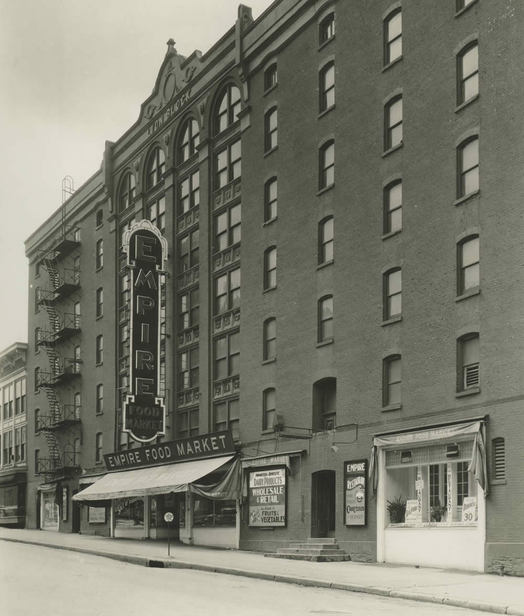 We stumbled upon this old Albany photo in the Albany Public Library History Collection online. It's the Empire Food Market that occupied a part of the big Lyon Block building on Hudson Ave that once stood alongside the public market space where the TU Center is now. The date of the photo isn't listed.
That big vertical sign -- "EMPIRE FOOD MARKET" -- caught our eye. Wonder what happened to it.
Empire Food Market was a local supermarket chain founded by Henry Schaffer in Schenectady in the 1920s -- it and would later expand to almost 200 stores around upstate and Western Massachusetts, and Schaffer would sell the chain to Grand Union.
Here's a 1932 full-page ad in the Times Union for the Hudson Ave location -- "Albany's Premier Food Center." (And here's another ad, which mentions Fort Orange Toilet Tissue.)
The Albany Muskrat has a post chronicling the history of the open air Albany Public Market area and the Lyons Block building. The building met its end in demolition for the Empire State Plaza project (which, at the time, most people called "The South Mall.")
And over at the Albany Postcard Project, there are cards depicting the old Lyon Block building and the market area.
Hi there. Comments have been closed for this item. Still have something to say? Contact us.