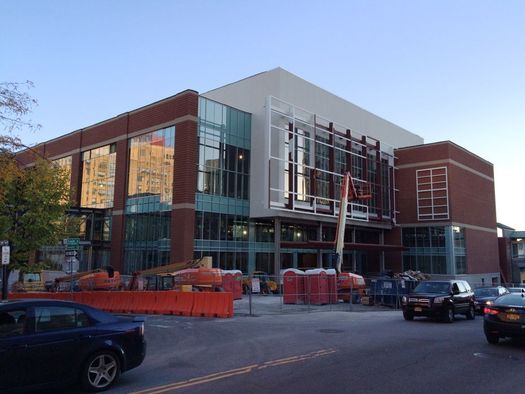 The Albany Capital Center doesn't open until next March, but the structure of the new convention center has taken shape and, from the exterior at least, it's starting to look like it's finished form.
The road to this point has been a long one, stretching back years. And it didn't event start at this site on Eagle Street -- the first proposed spot, for a much larger project, was on the south side of downtown.
So, we're curious to see how this is all going to turn out. (And we suspect you are, too.) Toward that end, we got a chance to tour the construction site this week.
Let's have a look...
Photo tour
A photo tour is above in large format -- click or scroll all the way up.
A few details
+ The Albany Capital Center site is on Eagle Street, about a block south of the Capitol. And it's roughly halfway between the Empire State Plaza and the Times Union Center. It will be connected to both facilities by an enclosed walkway. (It's the walkway that was already there -- it's getting some upgrades.)
+ The project cost is $66.5 million, the funding for which was allocated to the project by the state.
+ The convention center is about 60,000 square feet.
+ Its spaces include meeting rooms, a very large multipurpose space, pre-meeting spaces, and a 3,000-square-foot catering kitchen.
+ It includes an underground garage that will have 130 parking spaces.
+ The convention center will be able to hold more than 5,000 people at one time across all its spaces.
+ The opening date is March 22, 2017. (And there's an event booked for then -- the New York State Council for the Social Studies will be in town for a multi-day convention.)
The wider picture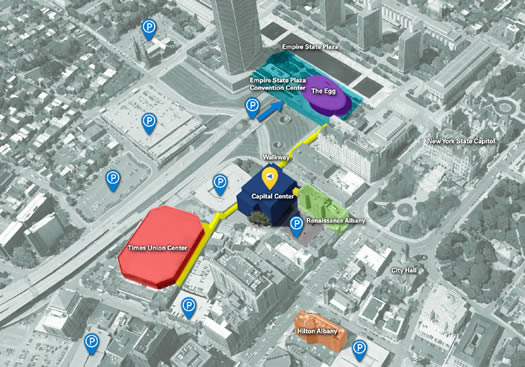 image: Albany Capital Center
Moving the convention center project to Eagle Street site meant reducing its size. But it also allowed the facility to be connected to the Empire State Plaza and the TU Center. When those three venues are considered together, they include 159,000 square feet of event space.
The idea is that this complex of venues will be big enough and flexible enough to attract a wide range of events, including the NCAA tournament and smaller national conventions.
Hi there. Comments have been closed for this item. Still have something to say? Contact us.