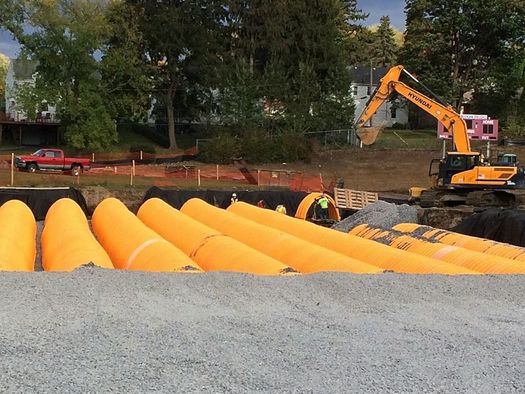 Quick photo follow-up on that big storm water project the Albany water department is building just off Woodlawn Ave, which is aimed at adding some new flexibility to the city's very old sewer spine...
The "infiltration gallery" part of the project is currently going in -- and when it's finished, you won't be able to see it.
This component is basically a series of very large underground pipes that will sit under the outfield of the baseball diamond at Woodlawn Park. They'll be able to hold about 750,000 gallons of water that will either slowly seep into the ground water or be allowed to empty into the sewer at a later time when there's capacity available. The water department will use underground sensors to monitor the capacity of the storm sewer and it'll be able to discharge the water based on the situation.
The infiltration gallery will be paired with a new constructed wetland/pond area right next to it. And the plan is that the $1.9 million project will allow the sewer that runs along the path of the old Beaver Kill/Creek to better handle large rainfall events. In recent years, areas along the sewer line -- such as Elberon Place, and the homes right near this park -- have been flooded with feet of water during very large storms because the storm water system hasn't been able to drain the water fast enough.
Here are a few more pics if you're curious...
Look up for photos
The photos are above in large format -- click or scroll all the way up.
Hi there. Comments have been closed for this item. Still have something to say? Contact us.