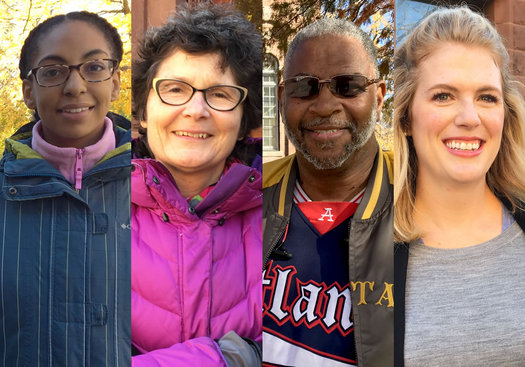 So, about this election. It's been tough.
On television, on social media, and face-to-face we've gotten the sense that a lot of people are discouraged right now. This election cycle has, for some people, brought out some challenging realizations about our differences. And whatever happens Tuesday night, the nation is going to have to find a way to pick up the pieces and move on together. We've been thinking about how hard it's going to be for people do that because of where the election has left people emotionally.
So we stopped outside a few polling sites around the Albany area Tuesday to ask people this question:
Based on everything that's happened this election season, how do you feel about our country right now?
Here's are some of the answers we got...
Washington Park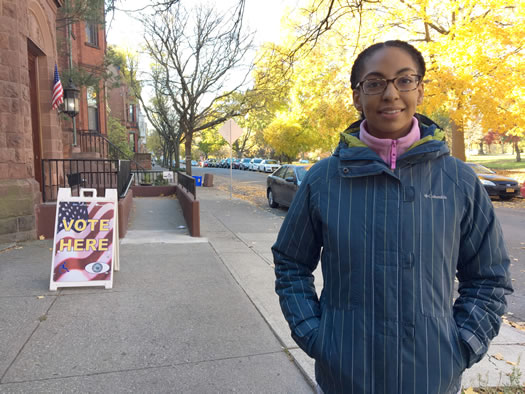 Keyessence
Terrible. I feel terrible about our country because we have Trump as one of the candidates. He's not even smart enough to be in the election and then Hillary is just a big liar.
With all the people we have in America it comes down to these two people?  We just need a revolution, that's it. America needs to care more about the people and less about money.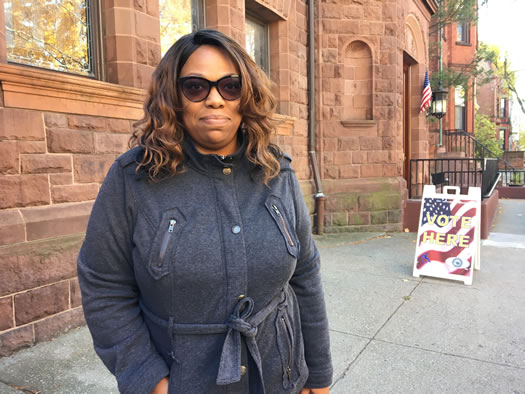 Angela
Most people are expressing that that there is no candidate that is really worthy at this point of running our country. It's more about who you want less as opposed to having a candidate that you are completely confident in. 
We definitely need unity. Trump's tactics have been extremely divisive. We need more unity and support. There are a whole host of issues to be addressed -- employment, health, infrastructure. People are not willing to accept the status quo anymore. We need to work on unity rather than bi-partisan tit-for-tat.
It's not about a particular party, it's about people as a whole. We need to figure out how to come together and improve this country. The violence is out of control. I feel like the morale of this country is very low. Very low. I think we need to stop depending on people of power to improve our lives -- people as citizens need to start being more proactive and making sure there is change in various areas.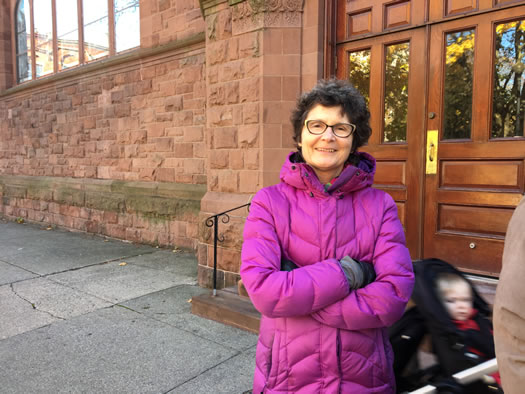 Christine
Hopeful. I think I feel hopeful because I think Hillary probably will win -- I hope -- and I think that we can come together as a nation. I don't know if that speaks to the power of the presidency or the lack of the power of the presidency but I still feel pretty hopeful.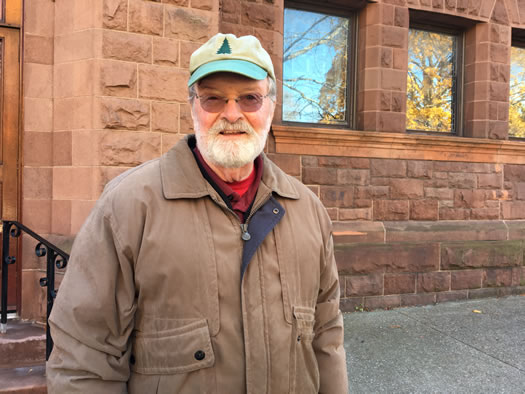 Jake
I feel very worried. I think nothing is going to get done. I think it's going to be a very divided Congress. I think both parties are very divided. And they're going to have to bring people together to get things done no matter who gets elected. The promises they made are beyond what they are going to be able to achieve.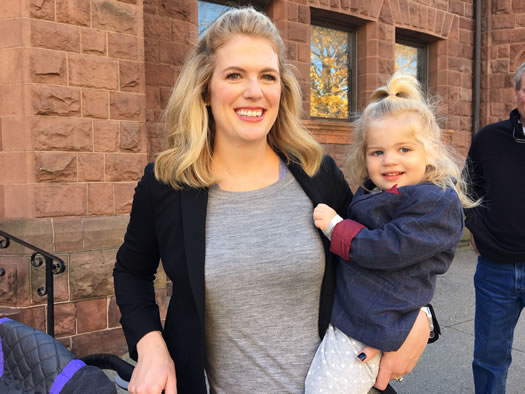 Kelsey
I guess hopeful. I'm hopeful that Hillary Clinton is elected and does something good -- brings us back to a good place.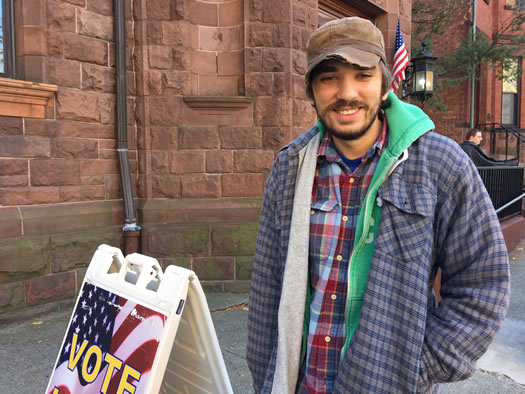 Dennis
Ummm... pretty good? I think in the long run it won't matter. I feel like everything is generally going to turn out OK.
Bleecker Stadium
Michael
Scared if Donald Trump wins. I'll feel much more hopeful if Hillary wins. It's scary that Trump got so far. Hopefully he will be stopped today.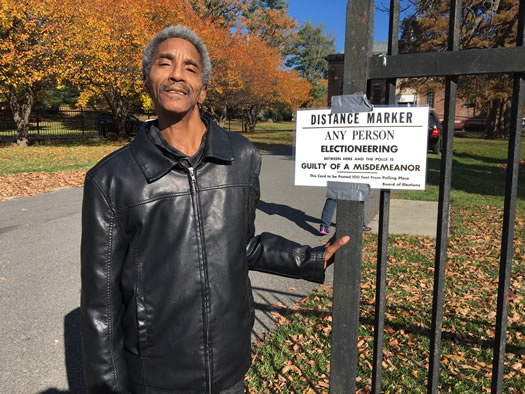 Alvin
Going to hell in a hand basket. But it can be better than this if we got the right people. I still have hope. I think it can turn better and I think it will because there is somebody out there that does care.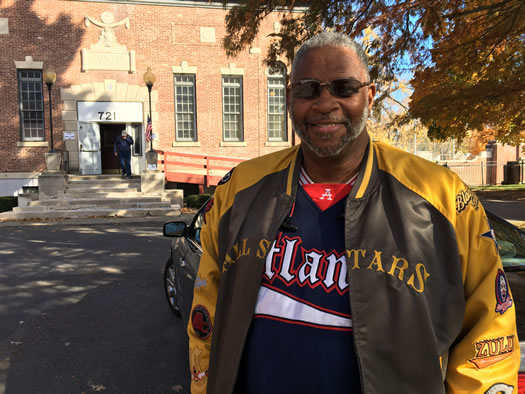 Anthony
Hillary is going to win because Donald Trump rubs the people the wrong way and we could be in World War III. So I'd rather not be in that. I'd rather be under the leadership of the Democrats for right now. Sometimes [the arguing] wakes up the country and makes people understand what they really stand for and what they don't, and gives them a chance to say, "Oh, I never thought of that." Sometimes we need that. Sometimes we do need to wake up and sometimes we do need to see what the other side looks like.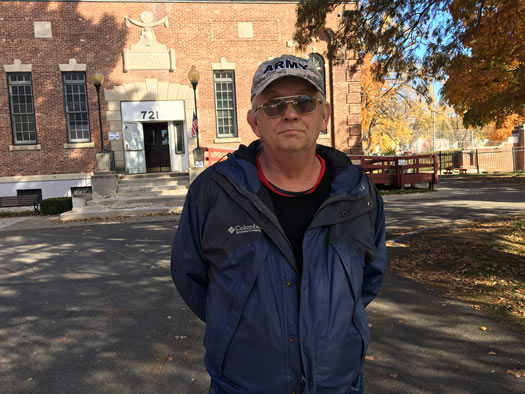 John 
It's kind of scary. It's like the working class people are going to be pushed down to the very bottom. We're gonna be working for food. If Trump wins everything will be a Republican, even the Supreme Court will be Republican
I've been around for 63 years and things don't get better, they just keep getting worse. 
Mater Christi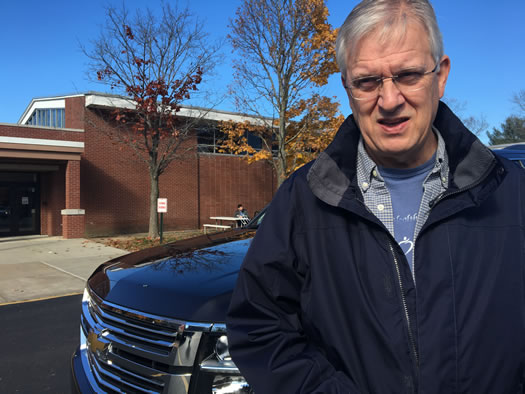 Tom
I am very disappointed, as probably a lot of people are. I just wish that it could happen with respect and cooperation, but I guess that's not to be expected anymore. Maybe that's a negative way to look at it, but it's frustrating. I'd like to hear people use another tactic other than put the other person down so much to make yourself look better.
I'd like to have hope, but I'm more on the negative side right now in terms of where I think we're going. 
Steven
I don't know, because you know there are people out there that have different opinions from you and I think the election sometimes exposes that. I mean this is a big place with a lot of people, so you're not really shocked or surprised, but this is the time when we deal with that, right? It would be an interesting question to ask tomorrow.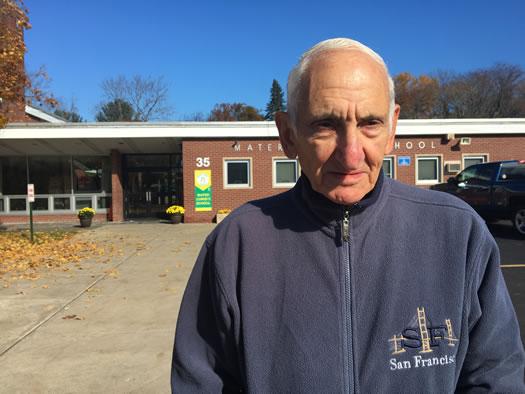 Angelo
I feel fine. The country is in good shape. I'm fully aware there is a con man involved and he will say anything, so it goes in one ear and out the other.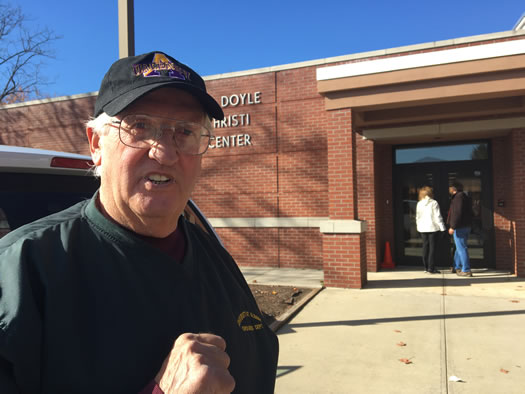 Frank
On a scale of one to ten, it's about a four. I've just come back from Chicago. Walk through Chicago sometime -- ya can't. Louisiana -- ya can't. This is where the money should be going. 
Obama just ignored the infrastructure. These cities are just falling apart. They give you a goody-goody feeling, but I have no faith in any one of them. I'm  72 and I just don't see anything good happening. And especially this treaty that we made with Iran is going to come back to haunt us. 
Elizabeth
I'm worried. I'm very concerned. I'm not sure either candidate will help our country get back to where it was... well respected, safe. 
Westmere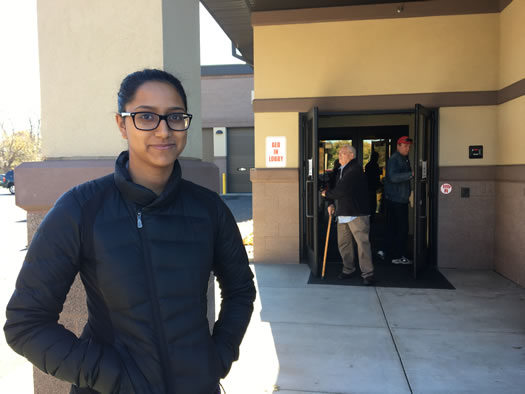 Tatyana
Scared, I guess. It's my first time voting. I don't know. I don't want our county to be in ruins or in shambles, but it seems like we are between a rock and a hard place -- so I just voted the best I could.
I see a lot more intolerance than I'm  used to. I grew up in a very tolerant home  so it's a little different. I'm not very fond of it at all so hopefully we'll have a winner and all come back together again.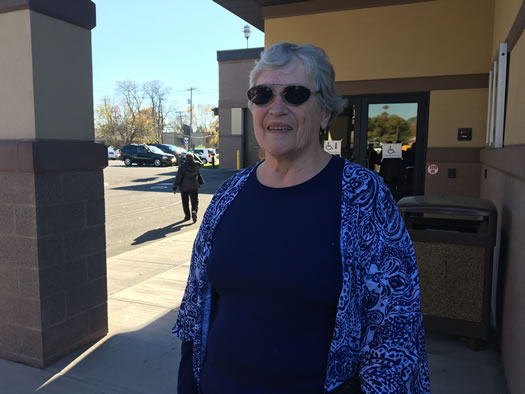 Nancy
Bad. It just feels like we can't come up with candidates that make sense. The elections have gotten dirtier and dirtier and dirtier and more and more negative and I don't feel like I'm voting for someone, I feel like I'm voting against them. 
Obviously I'm quite elderly and this is the worst I ever remember -- and I've been voting since 1960 and this is the worst I've ever seen it.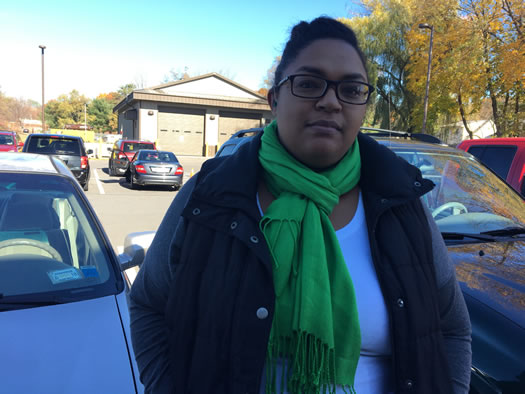 Cecily
Ummm... probably sad is the most accurate description. You realize how many people are so different than you might have thought in terms of their beliefs.
It's been polarizing. Some people supporting things that you might not have had any idea that they did and supporting such policies that don't seem forward thinking or positive. 
I'm definitely conflicted. I always have hope, but I think I almost feel like we are further from unity than we were before. It's hard. It's really hard. 
Guilderland Fire Department on Western Ave
Shelly
I'm not really sure about the country, but I have very, very strong feelings against news organizations. I think this election has shown nothing but the fact that they can be very one-sided and as a journalism major it bothers me terribly that opinions have been placed into television programs and papers and there is just no facts. You have a very, very hard time figuring out who stood for what in this election. 
I think people are leery of speaking to them [journalists] because everything is so misquoted and so talked about in such a negative way and nobody wants to really state there opinion. I know people who have been polled regarding who their vote was for and they've lied because they are afraid things are going to happen or whatever. 
What I also am shocked at with this election is how  many people are so negative with the other candidate and all we've heard about is garbage, we haven't heard about their stance.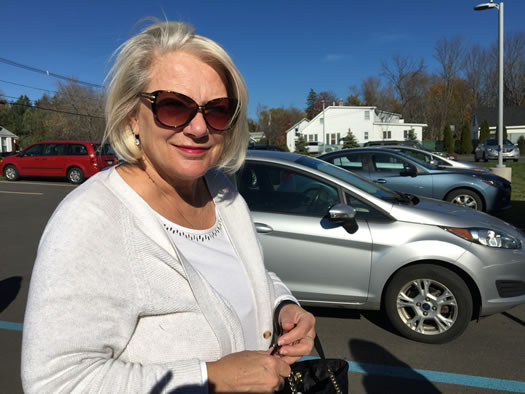 Karen
I love my country irregardless of how some people act.
John
I think it's in very poor condition right now. The election cycle has been tough, but it's not just that. The election cycle has torn off the scab and underneath is the wound. And the wound is a corrupt government that really isn't responsive to the needs of the people as far as I'm concerned.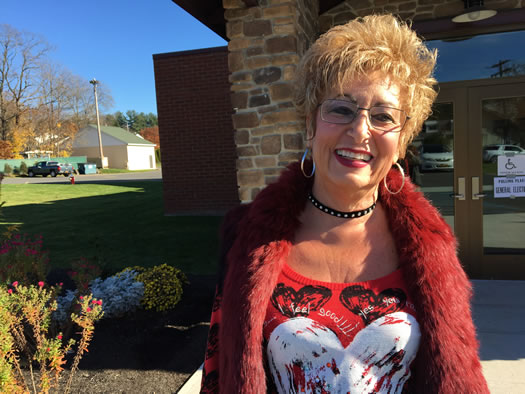 Helen
I worked for New York State government. I saw corruption up close and personal and what it's done to the state of New York. I've seen the deterioration of family, of government, of religion. I've seen the current president instead of uniting the country, create a more divisive country by dividing us into the haves and have nots, the blacks vs the whites, the Hispanics vs everybody, and so on and so on.
I think we are due for a change. I'd like to see the change go  back to the point where our fundamental institutions -- family, education, and church -- begin to mean something again. I don't think the citizens of any country can rely on government to solve 100 percent of their problems. And if they don't, I think individuals need to take responsibility for themselves -- economically, socially, and for education. And if they become an entitled society it goes to hell in a hand basket and that's where we are headed. 
Also, if you can't turn around and have civil discourse that is honest and heartfelt without feeling that there is going to be retribution from neighbors and strangers -- without putting yourself or your family or your property in danger -- it's an indication of just how far we have sunk. We really have lost as individuals our concern for each other and that is a shame. And that goes back to family, education, religion  -- no matter what you believe -- Christian, Hebrew, Islamic... whatever you believe.
Say Something!
We'd really like you to take part in the conversation here at All Over Albany. But we do have a few rules here. Don't worry, they're easy. The first: be kind. The second: treat everyone else with the same respect you'd like to see in return. Cool? Great, post away. Comments are moderated so it might take a little while for your comment to show up. Thanks for being patient.