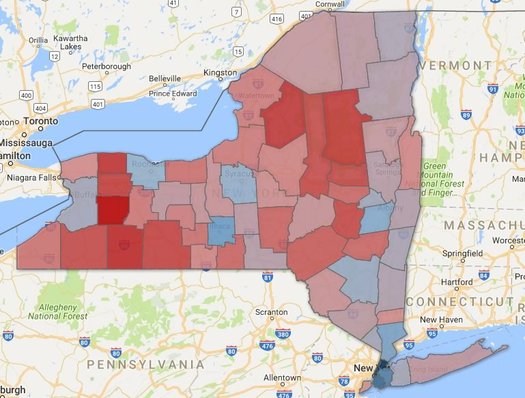 Updated
In a presidential election marked by polling surprises, the voting in New York State pretty much shook out as expected.
Here are county-by-county clickable maps of the results, along with a few notes about some geographic voting patterns around the state...
Look up
Maps are above in large format -- click or scroll all the way up.
Notes
Numbers discussed below and used for the maps above were gathered from the NYS Board of Elections website Wednesday morning, with 15,294 of 15,391 election districts reporting.
+ Hillary Clinton ended up taking New York State 58-37 over Donald Trump. That's a little bit larger than the margin forecasted by the last Siena poll, released this past weekend, which had her up 51-34.
+ Clinton won the largest vote total in 16 of New York State's 62 counties. But that relatively small group of counties made up more than 66 percent of the total votes cast in the state for the presidential election. And as you can see from the map, Clinton won victories in the state's large urban areas -- especially New York City.
+ One almost-exception to the urban/non-urban division of counties among Trump and Clinton: Erie County, which includes the city of Buffalo. Clinton won the county, but it was close -- 49.21-44.51.
+ If the Capital Region's four core counties were their own state, Hillary Clinton would have taken it 50-42 over Trump. And she would have done so in large part because of Albany County, where she beat Trump 58-34 (and the county represented 35 percent of the votes cast in the Capital Region).
+ Clinton lost to Trump in both Rensselaer (45-48) and Saratoga (44-48) counties.
+ Here are the Capital Region core results from the 2012 election: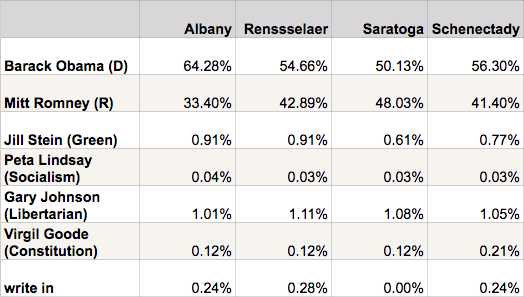 + If Upstate was its own state, Trump would have won it 48-44. (In this case, "upstate" is every county north of Rockland and Westchester.)
+ If the greater New York City area was its own state, Clinton would have won it 67-29. (In this case, the "NYC area" is Rockland, Westchester and everything south of there.)
____
Earlier on AOA: Quick-scan general election results 2016
Hi there. Comments have been closed for this item. Still have something to say? Contact us.