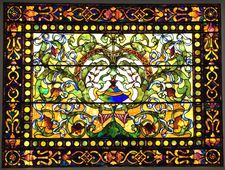 Susan emails:
I am looking for someone who repairs stained glass windows and don't know where to begin. I got name of one vendor, but they mainly work on large windows, such as those in churches.
We have a 1930 home with small stained glass windows. They are starting to come apart. It looks like a previous owner attempted some home repair on them. I don't know if the windows are salvageable, especially withe the bad repair job, but I really want to try to repair them rather than replace them with cheesy contemporary windows.
Do your readers have any recommendations?
There are a bunch of older homes around this area with small stained glass windows. In the city of Albany, at least, you can often find the windows on either side of the fireplace. So, there's gotta be someone who can repair these sorts of windows.
Got a suggestion for Susan? Please share! And a sentence or two about why you're recommending a person or service can a be a big help.
Hi there. Comments have been closed for this item. Still have something to say? Contact us.