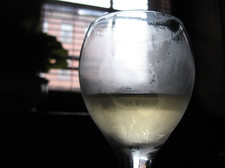 Next year it will become legal in New York State to operate what are essentially shared brewery/cidery/winery production facilities that home brewers will be able to drop in and use.
Legislation allowing these "custom centers" passed earlier this year, and the governor has now signed it, the Cuomo admin announced this week.
From the memo for the Senate bill, sponsored by David Carlucci, a Democrat who represents Rockland County:
[The legislation creates] a new custom beermakers' center license that authorizes the operation of a custom beermakers' center facility to provide individuals with rental space (to make and store homemade beer), the use of equipment and storage facilities, and/or beer making supplies for the production of beer for personal household use and not for commercial use or resale purposes. It defines beer making supplies as products grown or produced in New York in quantity amounts as determined by the State Liquor Authority. A custom beermakers' center licensee would be authorized, if permitted by the Federal Alcohol and Tobacco Tax and Trade Bureau,(TTB) to conduct training classes on how to manufacture beer and conduct certain tastings of beer produced on the premises.
The legislation does the same thing for cider and wine. From a Cuomo admin press release:
New York's craft beverage industry is one of the fastest growing in the nation, however many urban and suburban residents often cannot afford or do not have access to the appropriate space or equipment to make homemade beer, cider, or wine in their homes or apartments. These custom production centers not only provide space and lower the overhead costs of production, but they also provide amateur brewers and wine and cider makers with the local ingredients and expert training needed when first starting out.
The legislation takes effect in six months.
We hadn't heard about these sorts of production centers before, so we poked around online looking for examples and found a few that look somewhat similar -- including one in Boston, and another in New Hampshire.