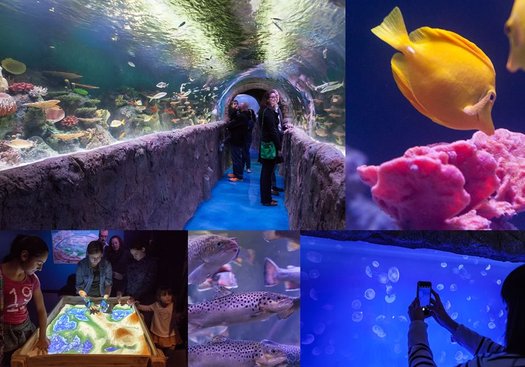 By Nicole Lemperle Correia / Photos by Paul Gallo
The new Via Aquarium opened this past weekend in the mall now called ViaPort Rotterdam. The 25,000-square-foot aquarium is the latest attempt to replace big box stores and retail anchors as mall attractions.
I admit, I was a bit skeptical about a for-profit mall aquarium. But after visiting, I believe this is a valuable addition to the area. It's not the New England Aquarium, but it's well done, provides a new educational experience, and there's nothing else like it around here.
There are a bunch of photos from the opening day of the aquarium above in large format -- click or scroll all the way up for them.
I hadn't been to the former Rotterdam Square Mall in decades. Like many area malls, it's been struggling to stay afloat. The Via Aquarium is intended to be a new anchor for the mall, an attraction to draw visitors who will hopefully also stay for shopping and dining.
The aquarium also fills a gap in the Capital Region line-up of family-friendly attractions. It's the only aquarium in the area (and really the only large-scale wildlife-focused attraction). The exhibits will engage kids of all ages, bring educational opportunities, and provide one more option for all of us during the long upstate winter.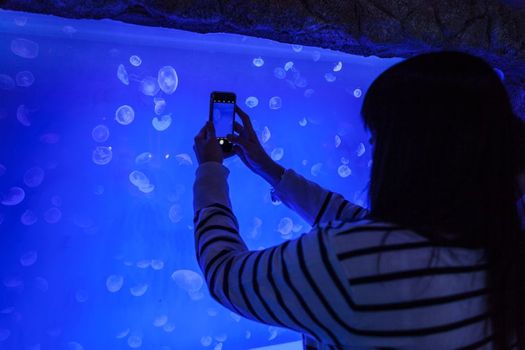 There's something about watching brightly colored fish swim among coral that is so calming - and doubly so in the dead of winter.
The aquarium is designed to be walked through in a self-guided tour. Exhibit descriptions are displayed on screens near each tank, and the aquatic animals are exhibited by region.
When you first enter the aquarium you'll see fish native to the Hudson, Mohawk, and Adirondack regions. Further into the aquarium, other regions are showcased. Along the way there are interactive exhibits, selfie stations, and several aquarium favorites: seahorses, jellyfish, clownfish, anemone, coral.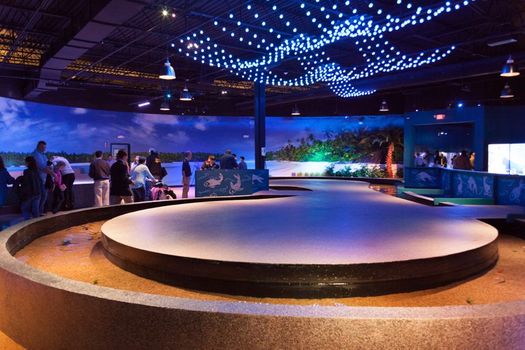 The center of the aquarium opens up to a larger space. The exhibits here weren't quite finished on opening day, but this space includes a sting ray petting tank, an intertidal touch tank (basically a tank modeled to be a tidal pool where visitors can touch star fish, hermit crabs, and horseshoe crabs), and "Koi Island" where visitors can feed the large orange Koi. There are plans for this area to include space for birthday parties and school groups.
The highlight of the Via Aquarium experience is the two tunnel tanks, which visitors walk through toward the end of their visit. Aquarium staff told us that the tunnel tanks would have sharks in them by the end of the year -- they are awaiting Black Tip Reef Sharks and Bonnethead Sharks. It is a unique experience to watch fish swim overhead, and the exhibit is beautifully done.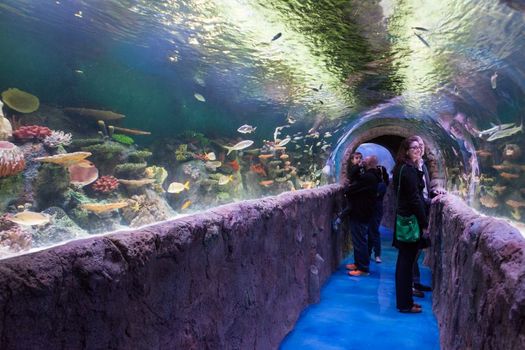 According to Breanna Berger-Tzabar, the aquarium's lab biologist, the staff includes aquarists (who hold marine biology degrees and are scuba-certified), as well as educators and a curator.
A day at the aquarium will cost more than a free visit to the New York State Museum, but the prices are doable for a special outing: Tickets are $16 for adults, $10 for children 4-17, and free for children 3 and under. An annual pass for a family of four is $100. There are discounted tickets for seniors, college students, and first responders.
Tickets are a good for a full day, which seems smart as a way to drum up mall business. I could see bringing my kids here for the morning, grabbing lunch at the mall, and returning for another visit after lunch.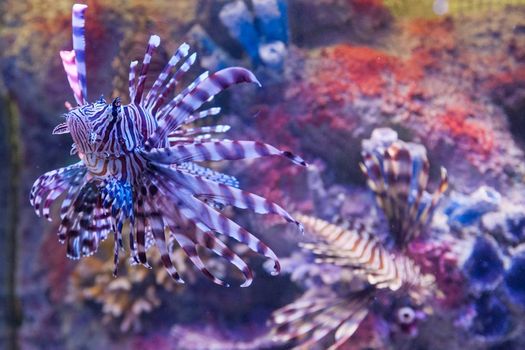 Prepare for long lines if you visit on a weekend. Capacity inside the aquarium is limited, and on Saturday the line to get in snaked through the mall -- I heard that people waited hours to walk through. For the immediate future, weekday or evening visits will be the least crowded. The ticket booth staff told me that they're working on getting online ticket sales up and running, and they are planning to sell tickets for specific time slots. That should help with long wait times.
Even though Via Aquarium is sure to be busy over the next few weeks, it's worth a visit. A couple of hours spent staring at colorful fish, standing in a shark tunnel, and communing with sting rays will spice up the gray winter days ahead.
Nicole Correia is a non-profit communications professional by day and freelance writer by night. She enjoys writing about the Capital Region, parenthood, food, and the places people call home. She can be found on Twitter and on her website.
Some of Paul Gallo's photos are at No3rdW.
Find It
Via Aquarium
93 W Campbell Road (Viaport Rotterdam)
Rotterdam, NY 12306
Hi there. Comments have been closed for this item. Still have something to say? Contact us.