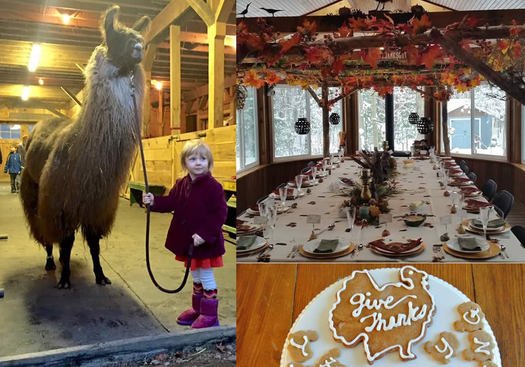 By Deanna Fox
I've been spending Thanksgiving the same way for nearly a decade: My parents drive to my house from Central New York, my mother brings chocolate pie, Finger Lakes Riesling and Martinelli's sparkling cider, dinner rolls, and squash, and I cook and bake everything else. My dad puts the snowblower on my tractor while the turkey cooks, and my kids, parents and I sit down in the afternoon to enjoy the meal together. Sometimes more friends and family are there, but usually it's the five of us.
Curious as to what Thanksgiving looks like in other parts of the Capital Region, I thought I'd ask around.
Here's how other locals celebrate the holiday...
Teri Conroy, Altamont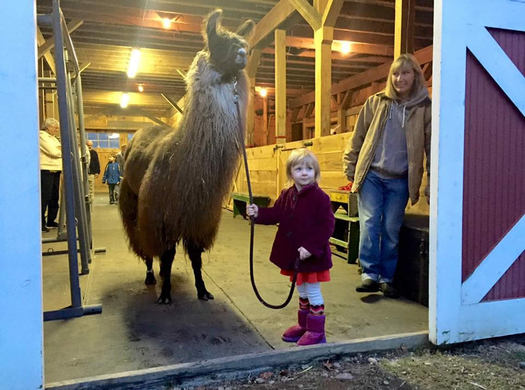 I have Thanksgiving here for family every year. I cook the turkey, and everyone else brings a dish or two or three. Mostly traditional, with a few vegetarian doubles (i.e. meatless stuffing).
This year is a record -- 32 people! If it was warmer, we'd eat in the big barn with the llamas!
Danielle Sanzone, Troy
We have always gone to my grandmother's. She's now 89 years old and she lives in Binghamton. She hasn't cooked in decades so we always have it catered by Phil's Chicken House. No real extravagant centerpieces and it's not a huge get-together (my immediate family, my grandmother, my uncle, and maybe a couple significant others). It's a nice tradition to have and to continue.
Jean S., Albany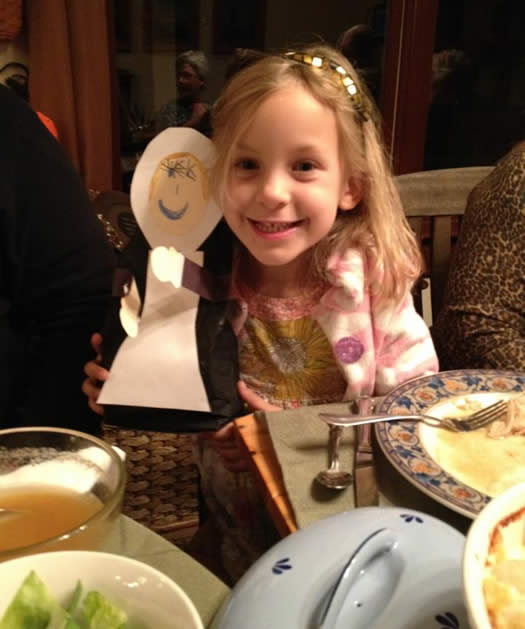 Typically at my sister's house and everyone brings the sides while my sister works on the turkey. My family is passionate about oyster stuffing and we fight over the leftovers.
With the exception of one brother-in-law, nobody watches football so we mostly drink cocktails and play lawn games.
Patricia Pendergast Novo, Saratoga Springs
I prepare hubster a small "to-go" container of a few apps that he can enjoy while working at (our wine) shop for a few hours. As soon as it is acceptable, I open a beautiful German Riesling and begin cooking. Mom comes up about 3. Hubster closes the shop as soon as people stop speeding into the lot, panic stricken that they may be without enough holiday hooch. He returns home and we turn on football and enjoy the traditional feast, and I switch from Riesling to Pinot Noir.
My sides vary from year to year, depending on what looks fabulous at the farmers' market. This year, it is peas, pancetta and pecorino, corn pudding and roasted acorn squash with maple balsamic (along with the traditional taters and dressing, natch).
Denis P. Meadows, Delmar
We're getting together at my mom's in Oneonta. We try to do this every other year, as it is logistically challenging to get all five of us and our families together. Our Thanksgiving dinner will be Saturday, due to the above mentioned challenges. Rumor has it my mom will be making her famous cassoulet. Everyone will contributing something, though I'm not sure what!
Suzanne Mangini, Saratoga Springs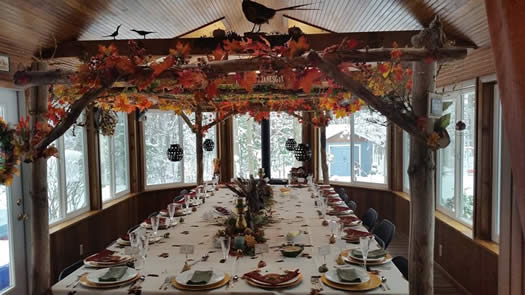 In my husband's family we each host a holiday. His brother and wife do Thanksgiving. Traditional Thanksgiving feast, usually 20 plus at the table.
Sara Regan, Loudonville
We will be in NOLA having a Cajun thanksgiving.... crawfish pie and boudin-stuffed turkey.
I am fasting until we get there.
Jefrey Meissner, Albany
My sister, and fellow musician, Lisa makes an amazing dish of wild mushrooms and bacon, sauteed in garlic, white wine, and horseradish. I wait every year for this dish.
I used to make creamed kale, but I'm thinking of a collards au gratin dish this year.
Craig Gravina, Albany
The day has to start with the Macy's Thanksgiving Day Parade, and usually I catch the first half hour or so of Miracle on 34th Street.
Then it's all about the food. I'm doing a maple-soy brined bird this year. Usually we're pretty traditional -- mashed potatoes, stuffing, cranberries (And yes we do the can stuff, too. Splurp!), roasted root veggies, pumpkin, and apple pie.
The only thing we will never be without is Amy's mom's broccoli puff casserole -- a creamy, cheesy, phenomenon topped with toasted Ritz crackers. It's 1955 Betty Crocker ALLLLLLLL day.
Hopefully it'll be chilly out too, because Turkey-day ain't Turkey-day without watching football by a roaring fire.
Kerry Toomey, Albany
I do Puerto Rican Thanksgiving at my friend Delilah's house with her whole extended family and my family of honorary Puerto Ricans. It's my favorite holiday. Some years they have 40 people. There is traditional Thanksgiving food plus tasty Puerto Rican food. Last year my brother John and his wife Natalie got engaged when we went around saying what we were thankful for.
It's such a fun day of love and family and food.
____
Deanna Fox writes about many things, mostly about food. More can be found on her website, Twitter, or Instagram.
Hi there. Comments have been closed for this item. Still have something to say? Contact us.