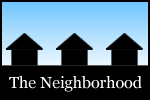 Among the topics in this most recent spin around the Capital Region's online neighborhood: differences in place, Yard Mountain, pink puddingstone, the sun-warmed sandy shore, your own pursuits, the holiday season through a child's eyes, a new charge, a long walk, Chester's Smokehouse, apologies, Dharani South Indian Restaurant, mole, and foolproof turkey.

A move to Voorheesville got Rob thinking about whether people who live just five miles apart can really be so different.
Jen was back in the Adirondacks, hiking Yard Mountain, Big Slide, and the Brothers Loop.
Julie scoped out some pink puddingstone in the Hudson Valley.
Jackie "strode the sun-warmed sandy shore of Moreau Lake."
Silvia on traveling and alone and taking time for your own pursuits.
A train ride helped Kristi see the holiday season through her daughter's eyes.
Chuck was irked by Verizon.
Randal detailed a day that started with a long walk to Wolff's.
Daniel got the VIP tour of Chester's Smokehouse.
A recent disappointing restaurant experience had Steve N. thinking about apologies.
Zena tried Dharani South Indian Restaurant in Guilderland.
Melinda enjoyed the mole at Destino in Chatham.
And Otis shared his secrets for foolproof turkey.
Hi there. Comments have been closed for this item. Still have something to say? Contact us.