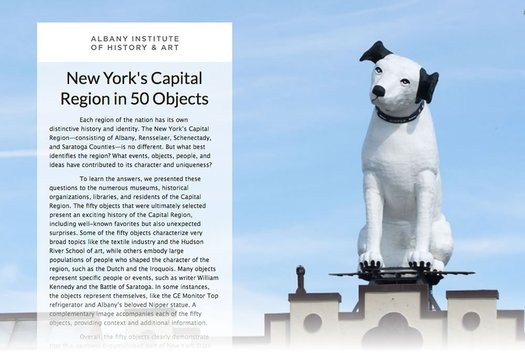 Check it out: The Albany Institute of History and Art has created an online version of the Capital Region in 50 Objects exhibit, which closed this past spring.
The exhibit is pretty much what it sounds like -- a walk through the area's history using 50 objects as markers. But while it includes some of the prominent stories you'd expect -- like the Erie Canal or Battle of Saratoga -- there are also quirkier items such as the perforated toilet paper invented here and the area's tobogganing craze.
The online exhibit includes quick histories and images in an easy-to-navigate format.
The Albany Institute is also publishing a book about the exhibit:
New York's Capital Region in 50 Objects book's stunning photographs and rich descriptive text make this popular exhibition come alive again. The 112-page, full color publication features a two-page spread for each object, which includes color illustrations and informational text.
It'll be available at the museum gift shop in early December for $18.95.
And there's a teachers' resource for the exhibit with 18 lessons.
Earlier on AOA: The Capital Region in 50 objects