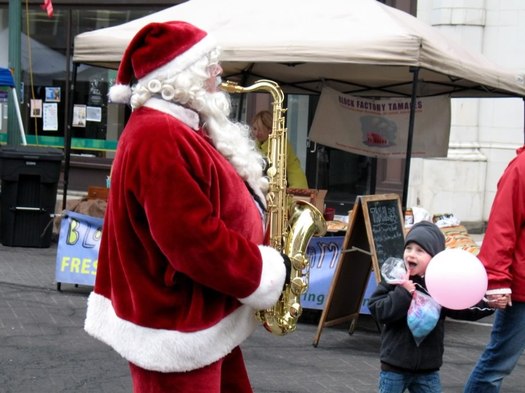 December starts this week and the Capital Region's schedule of holiday-themed events is full of tree lightings, Victorian strolls, concerts, screenings of holiday classics, and a bunch of other activities.
And here's a big, big list of them...
This isn't a comprehensive list. If there's something you think should be listed, please share in the comments.
Looking for local holiday markets? We also have a list of those.
November 30: City of Albany Holiday Tree Lighting
Holiday tree lighting in Academy Park, carillon concert, and city hall open house. 5-7 pm -- free
December 1: Saratoga Springs Victorian Streetwalk
Broadway in downtown Saratoga Springs will be closed from 6-9 pm for food, entertainment and all sorts of holiday stuff. The tree lighting is at 6 pm. 6-10 pm -- free admission
December 2: Ballston Spa Holiday Parade and Tree Lighting
Holiday parade down Milton Avenue to Wiswall Park on Front Street. Tree lighting, Santa, carolers, open shops. 6:30-9 pm -- free
December 2: Moscow Ballet's Great Russian Nutcracker at The Palace
"Enchant the whole family with larger than life puppets, magical winged clock, 60 foot growing Christmas tree and spectacular hand-made costumes and sets from Russia." 7 pm - $31 and up
December 1-4: Holiday Greens Show at the Hart Cluett House
The 60th annual Holiday Greens Show, organized by the Van Rensselaer Garden Club and the Rensselaer County Historical Society, is at the Hart-Cluett House in downtown Troy. It's a holiday display of decorations with "fresh trees, flowers, and greens." various times -- various prices
December 3: Hudson Winter Walk
"For one magical evening, thousands of area locals and visitors from throughout the region flock to our city to enjoy free, family-friendly festivities including a musical parade, live reindeer, a fireworks show, and hundreds of performers throughout town, including carolers, fire-throwing jugglers, and one saxophone-playing Santa Claus." 5-8 pm -- free admission
December 3-4: Northeast Ballet The Nutcracker at Proctors
Annual performance. December 3 at 7 pm / December 4 at 2 pm - $20 and up
December 4: Troy Victorian Stroll
All sorts of holiday whatnot in downtown Troy, including music, food, decorated store windows, and people in costume. 11 am-5 pm -- free admission
December 4: Holiday tree lighting at the Empire State Plaza
Music, ice skating, fireworks, a really big tree. The Taste NY Holiday Market is also that day at the State Museum ($5, cash). And the Great Train Extravaganza is in the ESP Convention Center from 10 am-4 pm ($7 / under 12 free). plaza events start at noon / fireworks at 5:30 pm -- free admission
December 4: Upper Union Street tree lighting
Tree lighting, carols, activities along Schenectady's Upper Union Street. 4 pm -- free admission
December 4: ASO Magic of Christmas at The Palace
Popular annual Christmas show. 3 pm -- $28 and up / $15.50 and up kids
December 4: The Zucchini Brothers at The Egg
Holiday show from the family rock band. 3 pm -- free admission
December 6: The Hip Hop Nutcracker with Guest MC Kurtis Blow at Proctors
"A holiday mash-up for the whole family. Visually exciting and bold, The Hip Hop Nutcracker re-imagines Tchaikovsky's classic score through explosive hip hop choreography--along with rap legend Kurtis Blow to BREAK it up!" 7:30 pm -- $20 and up
December 6: The Messiah at The Cathedral of All Saints
The 145th year of the performance by The Cathedral Choir of Men and Boys. "The concert, conducted by Director of Music, Woodrow Bynum, will feature guest soloists Sarah Brailey (soprano), Emily Marvosh (alto), Jonas Budris (tenor) and Nathaniel Webster (baritone) and will be accompanied by a period instrument ensemble led by the concert master of Boston's celebrated Handel and Haydn Society, Aysslinn Nosky." 7 pm - $25 / $20 seniors / $15 students / $10 under 12
December 7-8: Rudolph the Red-Nosed Reindeer the Musical at Proctors
"The beloved TV classic RUDOLPH THE RED-NOSED REINDEER soars off the screen and onto the stage this holiday season." 7 pm each day -- $20 and up
December 9-11: Sharon Springs Victorian Holiday Celebration
"Kissing beneath the mistletoe, Santa Claus or St. Nick, exchanging gifts, caroling, all wonderful traditions embraced by the Victorian Era, are some of our best loved traditions. " Starts the evening of December 9 with the Parade of Lights. various times -- free admission
December 9-10: The Santaland Diaries at The Linda
A Confetti Stage production of the David Sedaris classic. 7:30 pm each night -- $15 / $10 students
December 10: Santa Speedo Sprint
People dashing down Lark Street in scant, holiday-themed attire. For charity. sprint starts at 2 pm at Lark and Madison -- registration is $25 to run
December 10: Downtown Schenectady's City Hall-iday
Holiday-themed activities at City Hall, free pictures with Santa. noon-4 pm -- free admission
December 10: Chatham Winterfest
"Holiday sales throughout the village, free activities for kids, live music, visits with Santa, and more." 10 am-4 pm -- free admission
December 10: Miracle on 34th Street at Proctors
"A New Musical Adaptation of the favorite holiday tale made famous by the beloved 1947 movie of the same name!" 2 pm and 10 pm -- $20 and up
December 11: Historic Albany Foundation Holiday House Tour
"The tour moves from neighborhood to neighborhood highlighting the very best in Albany's architecture and ongoing preservation efforts." noon-4 pm - $25 / $15 students before December 7 | $30 / $20 students after December 7
December 11: Albany Pro Musica The Many Moods of Christmas at Troy Music Hall
"This year's program features Gustav Holst's beautiful "choral fantasy on old carols" and Robert Shaw's exhilarating collection, "The Many Moods of Christmas." Sing along with the voices of Albany Pro Musica in festive arrangements of favorite carols -- accompanied by the Orchestra Pro Musica. Featuring one of the most sought-after tenors of his generation, Rafael Davila." 3 pm - $25 and up
December 11: Albany Gay Men's Chorus: "The Most Wonderful Time of the Year"
Annual chorus concert of holiday music at the First Congregational Church in Albany (on Quail near New Scotland). 4 pm -- $12 / $9 students
December 12: Elf at The Palace
A screening of the modern classic. 7 pm -- $5
December 13: Live From WVL Radio Theatre: It's A Wonderful Life radio theater show at Proctors
"This fresh new adaptation of the film is set in the fictional studio of WVL Radio Theatre, which is struggling to stay on the air one snowy winter's night. The professional voice actors are unable to get to the studio, but the show must go on--and so a small but intrepid band of employees manages to create the story's dozens of characters and scenes using just their voices and some everyday household items for sound effects." 7:30 pm -- $30
December 13: A Christmas Story at Cohoes Music Hall
Screening of the classic Christmas movie. 7 pm -- $5
December 15: Cherish the Ladies "Celtic Christmas" at Troy Music Hall
"In their Celtic Christmas program, the Ladies put their signature mark on classic carols such as 'O Come All Ye Faithful' and 'Silent Night,' in arrangements that highlight the group's unique Celtic instrumentation, beautiful harmonies, and spectacular step dancing." 7:30 pm -- $29 and up
December 15-18: Melodies of Christmas at Proctors
Annual holiday concerts featuring the Empire State Youth Orchestra and Youth Chorale. various times -- $15 and up
December 16: Mendelssohn Club Holiday Concert at The Egg
"The Mendelssohn Club of Albany, now in its 108th season, presents its annual Holiday Concert, "Christmases Old and New" with a mix of traditional carols, classical and popular songs." 7:30 pm - $20
December 16: Mountain Snow Orchestra at The Egg
"For 24 years the support band for Bridget Ball and Chris Shaw's long running hit Christmas show 'Mountain Snow Mistletoe', Kevin McKrell, Brian Melick and John Kirk keep the tradition alive with a down home evening of holiday music, merriment and mischief." 8 pm -- $25
December 17-18: Production of A Charlie Brown Christmas at The Palace
"The classic animated television special, A Charlie Brown Christmas comes to life in this faithful stage adaptation in which Snoopy, Charlie Brown and the rest of the Peanuts Gang discover the true meaning of Christmas." Presented by the Park Playhouse. various times -- $20 / free for kids 12 and under
December 17: West Point Benny Havens Band at The Linda
Annual big band holiday concert. 7 pm - free (reservation required, and it's filled up in years past)
December 17: Albany Berkshire Ballet performance of The Nutcracker at The Egg
40th anniversary show. 1:30 pm / 5:30 pm -- $25 and up
December 17-18: Holiday Folk Show at Caffe Lena at Saratoga Arts
"The time when festive folks across the region come to Caffe Lena to enjoy a 'Candlemas-Hanukkah-Ramadan-Solstice-Christmas-Kwanzaa-New Year-Boxing Day-Epiphany Event.'" There's December 17 8 pm / December 18 3 pm - $20 / $10 kids and students
December 19: National Lampoon's Christmas Vacation at The Palace
A screening of the Chevy Chase classic. 7 pm -- $5
December 23: It's a Wonderful Life at The Palace
A screening of the classic film in the old movie palace. 7 pm -- $5
Hi there. Comments have been closed for this item. Still have something to say? Contact us.