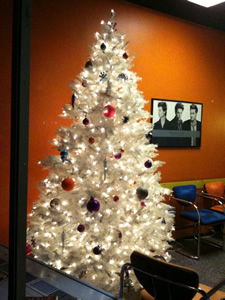 A few bits from this year's annual Siena holiday poll:
Amount planned to spend on gifts
The two biggest ranges:
+ $0-$299: 31 percent of respondents.
+ $1,000 or more: 24 percent of respondents
(This question had a large margin of error: +/- 7.4 percent.)
Online shopping
A third of all respondents said they planned to do no online shopping for holiday gifts -- 18 percent said they planned to do 75-100 percent online.
Types of gifts
+ "I try, as much as I can, to buy practical gifts, things that they need and will use more than impractical things that they may want": 62 percent.
+ "While I may give some items that they may need like clothes, this is the time to splurge on special or memorable gifts that they want more than they need": 31 percent.
(So, in other words, that's why you're probably getting socks.)
Charity and volunteering
+ Percent of respondents who said they planned to donate to charities that help people: 76 percent
+ Percent of respondents who said they planned to voluntee during the holiday season: 37 percent
Greeting
+ Merry Christmas: 51 percent
+ Happy Holidays: 38 percent
(The share of "happy holidays" respondents for Catholics and Protestants: 23 percent and 32 percent. For Jews and people reporting other religious affiliation: 76 percent and 53 percent.)
Type of Christmas tree
If people put up a tree, is it...
+ Real: 38 percent
+ Artificial: 61 percent
Santa
"Would you say you believe in Santa Claus or not?"
+ Believe: 32 percent
+ Do not believe: 65 percent
SRI says the poll was conducted November 7-21 with 800 respondents. Margin of error is +/- 4.
Hi there. Comments have been closed for this item. Still have something to say? Contact us.