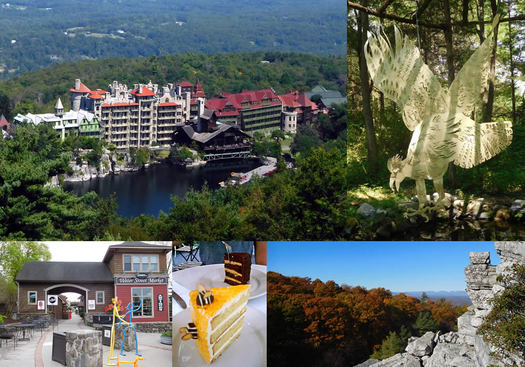 By Julie Madsen
An hour in any direction from Albany is bound to bring you somewhere interesting, but heading south down the Thruway to New Paltz has to be my favorite daytrip of all.
I love the funky, alternative vibe and there are so many options no matter what you are looking to do. And the location is almost equidistant between the Capital Region and NYC, so it can be a perfect middle ground meeting spot for friends who live in different cities.
After your first time visiting, you'll surely be planning your second...
Where to hike
The Shawangunk Ridge, affectionately dubbed the Gunks, is distinctively beautiful with its steep cliffs and large slabs of bright, grey-white stone. Many of the most stimulating trails are can be pricey to access, but the splurge is worth it for this bunch.
As with any hiking, especially if you during the winter, be sure to properly prepare and dress for the weather.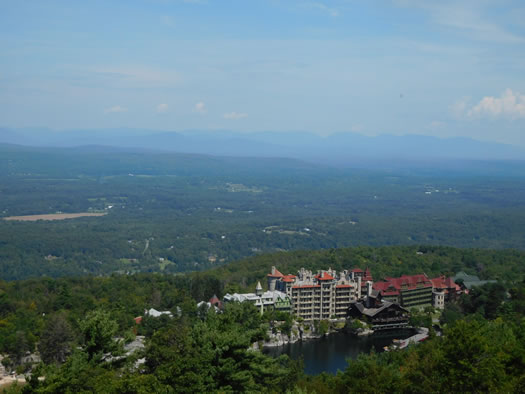 Mohonk Mountain House
This Mohonk Mountain House is a lavish Victorian castle resort with a spa, golf course, gardens, museum, fitness classes, ice skating rink, and water sports in the lake. For a hefty sum you can stay over night and enjoy all of these luxuries -- or get a day pass, which grants you access to the grounds and, most importantly, the hiking trails. The rock scrambling Lemon Squeezer to Sky Top Tower hike is quite the adventure, ending with panoramic views of the mountain house and Lake Mohonk (photo above). Day passes: $22 midweek, $27 weekends/holidays. 1000 Mountain Rest Rd, New Paltz, NY 12561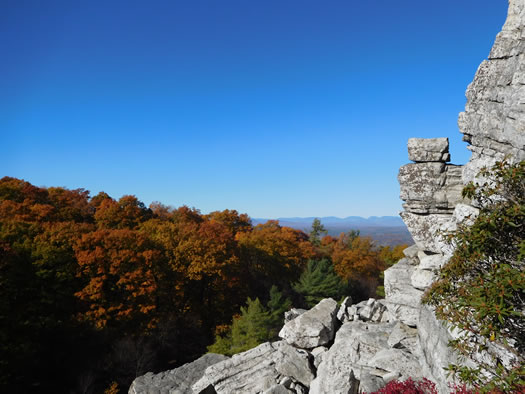 Mohonk Preserve
Although they share a similar name and a border, the Mohonk Preserve is a separate entity from the Mohonk Mountain House. Possibly one of my favorite hikes of all time, the Bonticou Crag trail is a three-mile roundtrip with rock scrambling (photo above). Extending the trip to view the truly bizarre formation Table Rock is highly suggested, creating a 5.5 mile loop. Park at the Spring Farm trailhead. Day passes: $12 for hikers. 3197 US-44, Gardiner, NY 12525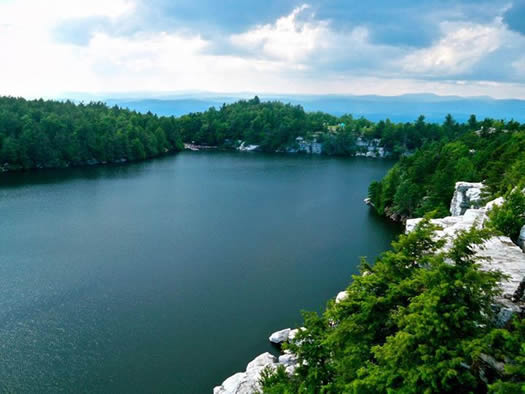 Minnewaska State Park
Try camping in the fall surrounded by the foliage at Minnewaska State Park. Rent snowshoes or go cross-country skiing in the winter. In spring while the rhododendron is in bloom the park is otherworldly, be sure to take the Awosting Falls trail, raging with snowmelt. Come in the summer you can take a swim in the lake -- not just any like, but a SKY LAKE: unusually clear lake fed solely from rainwater. There are four in the park, and you can swim in two of them. No matter the season, there are 50 miles of trails to explore. Free with Empire State Park Pass, otherwise $10. 5281 Rte 44-55, Kerhonkson, NY 12446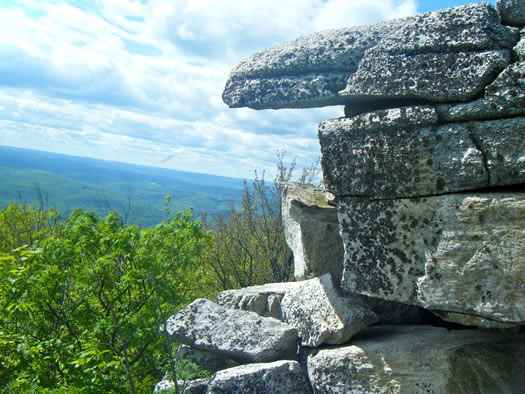 Sam's Point
Located on the highest section of the Gunks, Sam's Point is one of the coolest things about this preserve -- you can get extraordinary views with minimal amounts of elevation gain. There are so many amazing elements to see here, such as ice caves, a sky lake, waterfall, and rare high altitude pitch pine barrens. Recently acquired by Minnewaska State Park, now free with Empire State Park Pass, otherwise $10. 400 Sam's Point Road Cragsmoor, NY 12420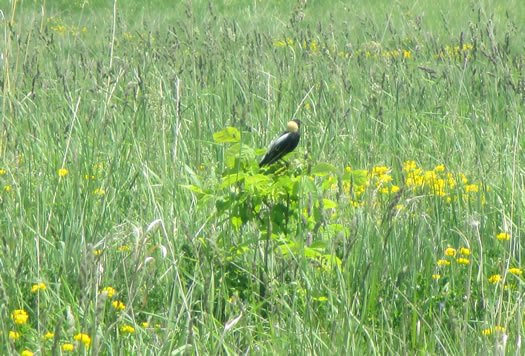 Shawnagunk Grasslands National Wildlife Refuge
If you are on a budget (it's free!), a birdwatcher, averse to elevation, or have hiked all the previous trails and looking for something new, Shawnagunk Grasslands National Wildlife Refuge is your spot. There are three miles of trails around a meadow. This is an important place for grassland-dependent migratory birds and wintering raptors. On a spring visit I was treated to viewing my first bobolink, a bird I never even knew existed until looking it up afterwards. 807 Hoagerburgh Rd, Wallkill, NY 12589
Where to eat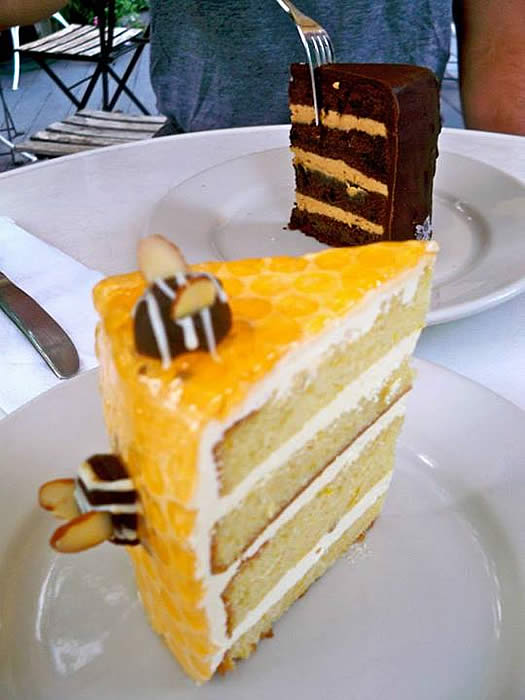 The Village Tearoom
I always like to try new places to eat, but there are a few spots I fall in love with that keep me coming back for more. The Village Tearoom is one of them. They use great seasonal ingredients, plus there are always healthy and delicious options. Whether you're coming in for breakfast, lunch, dinner, or tea... make sure you get dessert! Get the honey bee cake to be exact, it is made up of vanilla cake with honey butter cream and apricot preserves and topped with chocolate truffle bees that have almond wings. I have never seen anything like it, and it is so good I order it no matter what time of day. 10 Plattekill Ave, New Paltz, NY 12561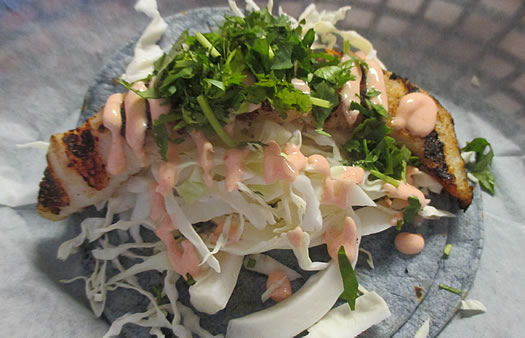 Mexicali Blue
Not just an awesome Grateful Dead song, Mexicali Blue is an awesome taco joint as well! Their cali catfish taco is killer, but there are plenty of options. Their motto is 'fresh fast food' which means there are no freezers, no fryers, and no cans. If you can snag a seat by the grill you get to watch all of the action. Be aware that this is a whole in the wall spot with very limited seating, there is an additional location in Wappingers Falls that is full service. 87 Main St, New Paltz, NY 12561
Mountain Brauhaus
If you are looking for something a little different, consider the Mountain Brauhaus for hearty authentic German cuisine. This is a family restaurant where the waitstaff dresses in traditional garb and there are many interesting choices on the menu. Start off with a comforting Bavarian pretzel and smoked gouda/horseradish dip or perhaps try something you've never had like head cheese. Moving on to entrees there are schnitzels, sausages, and lingonberry preserves. The apfel strudel is the real deal, made with local apples and rum-soaked raisins.
3123 Rte 44-55, Gardiner, NY 12525
Where to shop?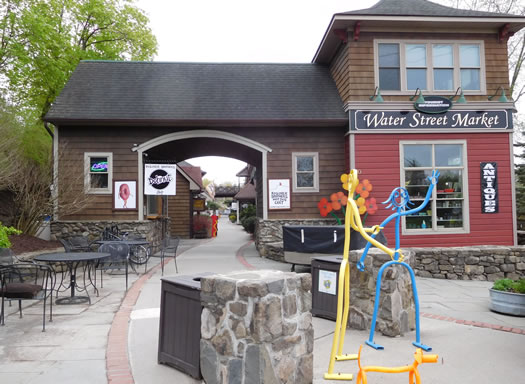 There are plenty of boutiques dotted along the bustling Main Street in New Paltz, but my favorite cluster is nearly at the base of the hill in the Water Street Market. There are antique shops, fashion shops, galleries, a coffeehouse, and Dohnuts (...I love shopping for donuts...) all in a lovely little alcove with chess tables, a fountain, and sculptures. My top place for getting gifts at the market is Maglyn's Dream, they support a lot of local artisans and have unique jewelry and crafts. 10 Main St # 501, New Paltz, NY 12561
History and art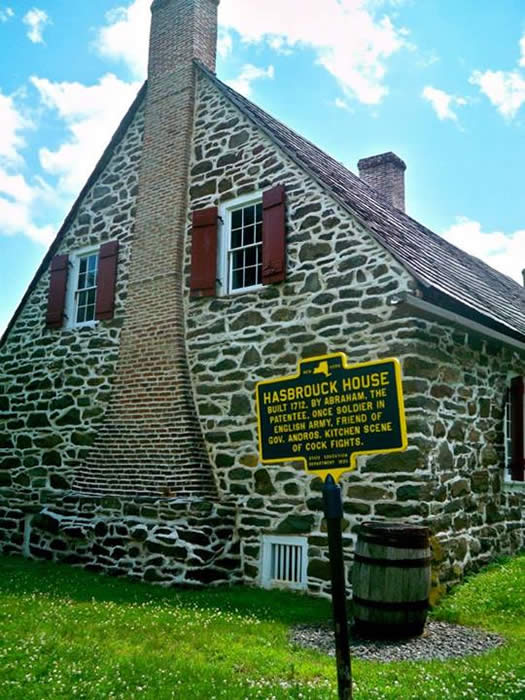 Huguenot Street
In the 1600s Huguenots fled Europe because of religious prosecution and settled in America, some in New Paltz. Walk around the streets Hugenot Street admiring the well preserved stone houses, learn more for free at the visitors center, or opt for a paid tour. 81 Huguenot Street, New Paltz, NY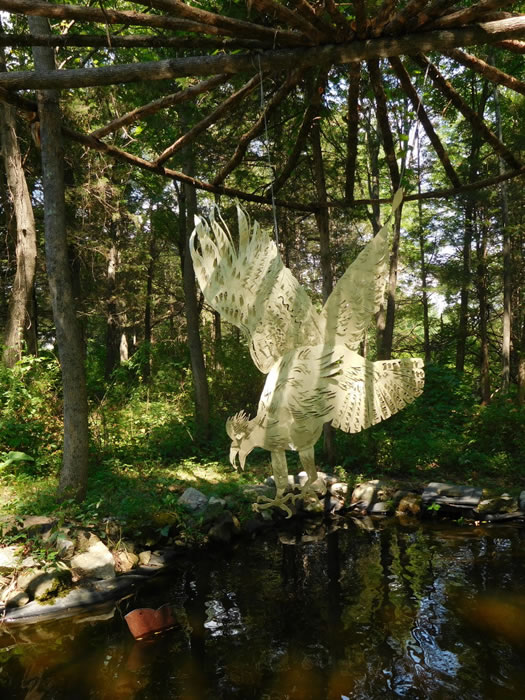 Unison Sculpture Garden
The newly-opened Unison Sculpture Garden is a gem. Wander the woodland loop lined with whimsical sculptures year round. Check out the calendar list of performances and workshops offered in the arts center, ranging from Tai Chi, to evening poetry classes, and Israeli folk dancing. 68 Mountain Rest Rd, New Paltz, NY 12561
Samuel Dorsky Museum of Art
There is always another reason for me to re-visit New Paltz, and the Samuel Dorsky Museum of Art on the SUNY New Paltz campus is at the top of my list for next time! 1 Hawk Dr, New Paltz, NY 12561
____
Julie has got the travel-bug. Whether it's day trips, weekend getaways, or wandering around the world -- she's always up to something. Read more about her adventures at juliejourneys.com.
Say Something!
We'd really like you to take part in the conversation here at All Over Albany. But we do have a few rules here. Don't worry, they're easy. The first: be kind. The second: treat everyone else with the same respect you'd like to see in return. Cool? Great, post away. Comments are moderated so it might take a little while for your comment to show up. Thanks for being patient.