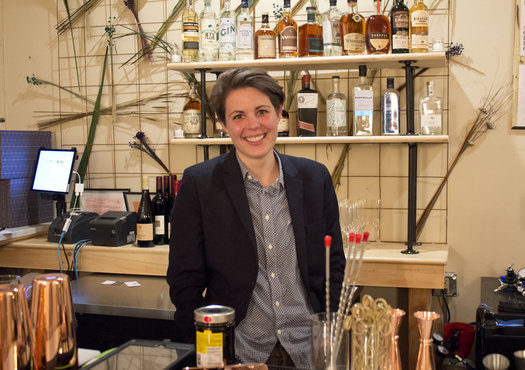 By Lauren Hittinger Hodgson
If you want fresh oysters daily, you'll soon have a new spot.
Heidi Knoblauch, an Emma Willard grad, recently returned to Troy after years in academia to open Plumb Oyster Bar. She's another young person investing in Troy, and she aims to create something a little bit different for this area -- while building a gathering space to serve both oyster lovers and the seafood-phobic alike.
We chatted about oysters, the motivations to leave academia, and why Troy is the right spot for Plumb.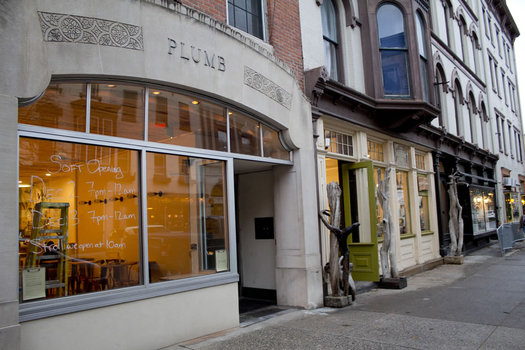 Why an oyster bar?
So, for me, oysters are really -- it's almost like wine. When you think about a wine bar, you think about a conversation and you think this type of wine tastes this way -- it's got these notes of cherry, or you know, whatever. It's the same thing with oysters.
Oysters are the only food that taste like what they consume. When you think about grass-fed beef, someone might say it's grass-fed beef, but you can't tell where the cow ate the grass. But for an oyster, you can tell if that oyster was growing in a bay in Washington, or if it was growing on the East Coast.
Even a blind taste test?
Yeah, absolutely. On the East Coast they taste very briny, very almost like salty. Then on the West Coast they taste very melon-y -- very like cucumber-y or cantaloupe-y.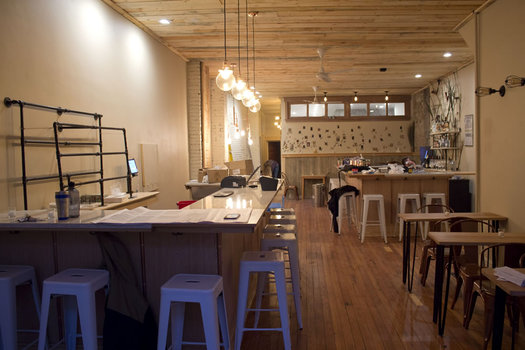 This photo, and the others included here, are from last week, ahead of the soft opening when final touches on the space were still coming together.
How long have you eaten oysters?
My whole life, but I probably got into them, I don't know, I can't pick a year exactly, but in my adult life I've been really into oysters.
For me, really, it's a point of conversation. When I created this space, and I hope you see it in this space, what I created was a place where people could talk about stuff.
So for instance, that wall back there that is slowly getting finished. I wrote my dissertation on clinical photography and 19th century American medicine, and so I am an expert on photography. I put some of the photographs on the wall. The ones that you see on the left hand side, those are all photographs of people from Troy that were taken on River Street, like right around the corner, in 1895, would be my guess, from the type of print.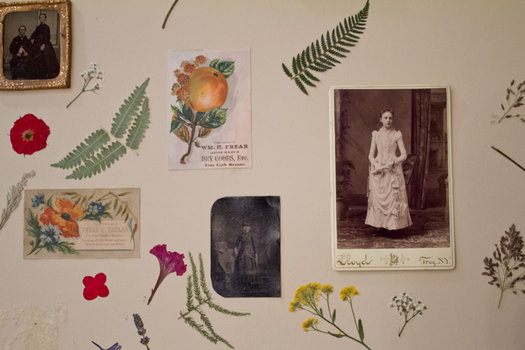 This place was really created to be a welcoming place that people could have conversation.
So speaking of your background, this is a pretty big career change for you. What made you decide to switch tracks and open up your own business?
So, there were a lot of things I liked about academia, and there were a lot of things I didn't like about academia. What I love is solving big problems, doing big research -- like having big research questions and solving big problems.
This [the oyster bar] is one big problem. (laughs) I don't mean problem, but it is one big research question. It is trying to figure out how exactly do the pieces fit together. So today, you know, you have someone who is doing a [kitchen vent] hood, but then you have someone who's coming in and framing after them, and figuring out how that works together is really -- I find it really exciting and fun.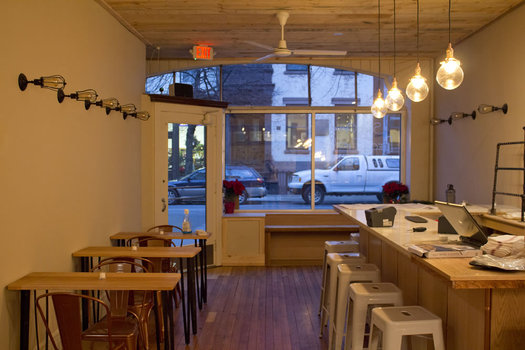 After you open, are you still going to have as many puzzles to solve?
Of course! Neverending puzzles, I think. I like to create puzzles, but in a good way, you know. Always picking up a new one and spreading the pieces around.
Why open in Troy?
Just because, we wanted to be upstate. We really like Troy. I've always loved Troy; always been drawn to it. When I went to Emma Willard -- it sounds very corny, but I remember the first time pulling up, and granted that is a very grandiose campus, but I remember the first time pulling up and just getting a swell of emotion. I think I've had that for Troy for, since I was 14 years old.
This morning I woke up and I was even telling John [Stahl, bar manager], today is a great day to open an oyster bar. It was a little warm, it is really exciting, and there is a lot going on, but I wouldn't have it any other way.
What can customers expect? You touched on the ambiance a little, but in terms of menu?
The oysters change every day. Every single day. So like, for instance, we're doing a soft opening special for a dozen oysters and a prosecco for $32.
I could tell you; I could go on and on about these oysters, but it would be very boring for you. All of these have obviously different flavors, they come from different places. The ones from Prince Edward Island are more expensive than the ones from New York.
We run specials. The happy hour special is you're going to get 4 oysters and a prosecco for $10, which is a steal. We hope to do those. I think rotating the oysters is what we're about.
To have something new and fresh to keep people coming in.
Always. Oh yeah, and also like the experience of having oysters, that's what this place is all about.
If people don't eat oysters?
Then, you've got all of that. My wonderful employee Nora has modified this spicy Seoul, that's the Korean BBQ pork belly sandwich, you can also get that with tofu. So that's a vegetarian option too, and then we're going to have gluten-free bread. That's not publicized on the menu, it's mostly when people come in and ask for that sort of thing. My sister is gluten free, and so she made me promise to make sure there was gluten free bread, and I was like OK, absolutely.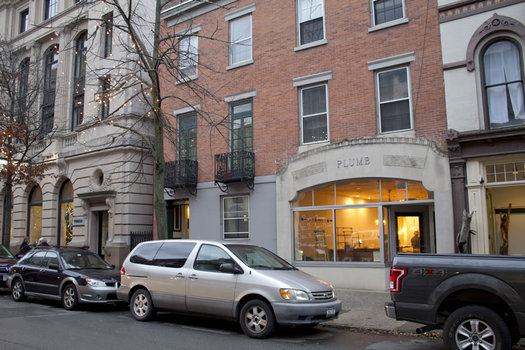 Is there anything else that I should know?
Scott Baggott is the kitchen manager, and then John Stahl is the bar manager. I couldn't have done this without them, by any stretch of the imagination.
Are they coming from other places?
John came from Lake Placid, he was at the White Face Lodge up there. Scott came over from Whistling Kettle, so just across the street, and we've been having a blast doing this. They're incredible, look at this [place].
That's the only way to keep your sanity, hire people you can trust!
Exactly, but also, like, creating that, it's all about not only with the customers, right, I hope to, and I imagine, being, standing behind this oyster bar, and having regular conversations with people who come in twice a week.
It's the same thing with the staff, it's like creating a family here.
This interview has been condensed and lightly edited.
----
The official opening is Tuesday, December 6. Hours:
Tuesday-Thursday 3-10 pm
Friday-Saturday 3 pm-12 am
Opening for brunch on January 1 for a traditional oyster stew.
Lauren Hittinger Hodgson is a freelance writer and contributor to AOA. She lives in Troy with her husband, baby, and dozen almost-dead houseplants.
Find It
Plumb Oyster Bar
15 2nd Street
Troy, NY 12180
Say Something!
We'd really like you to take part in the conversation here at All Over Albany. But we do have a few rules here. Don't worry, they're easy. The first: be kind. The second: treat everyone else with the same respect you'd like to see in return. Cool? Great, post away. Comments are moderated so it might take a little while for your comment to show up. Thanks for being patient.