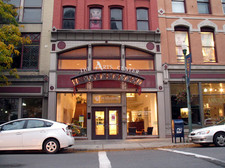 he Arts Center of the Capital Region is extending its popular "Social Media" drinks-and-art series with a new schedule of dates in the next year. Topics range from jewelry making to brewing to collage.
Series blurbage:
Visit the Arts Center on the third Tuesday of every month to meet new people and try making art in a different medium. Every event starts with an hour-long workshop designed for everyone to enjoy - from beginners to life - long artists - and ends with a specialty prepared cocktail or seasonal beverage that has been paired with the art form we'll be experimenting with. Please bring your ID - we'll also be serving beer, wine and soft drinks!
Many of the dates so far have sold out, so if you're interested in going, it's a good idea to claim your spot earlier rather than later. Tickets are $35 and include materials and snacks. Drinks are extra.
Here's the upcoming schedule for the new year...
All blurbage via the Arts Center.
January 17 - Salsa & Sangria
Spice things up with this introduction to Salsa dancing! Sip on sangria and pretend you're dancing with the stars rather than watching them. You'll take home the skills to wow your friends!
February 21 - Jewelry & Moscow Mules
Hope to "Cu" at the Arts Center! You'll learn how to make stamped and textured copper jewelry while enjoying a Moscow Mule. At the end of the night, you'll bring home your custom creation to show off your new DIY skills.
March 21 - Brewing Night
Take a break from the brackets and learn about the history of beer! Craig Gravina, author of Upper Hudson Valley Beer, will be guiding you through the many different styles of beer there are. Come ready to sample!
April 18 - Cake Decorating & Cake Batter Martinis
Make your Food Network dreams a reality and learn basic cake decorating skills while enjoying cake batter martinis! Even if your dreams become nightmares, you can have your cake and eat it too!
May 16 - Pottery & Mudslides II
Channel your inner Patrick Swayze (again) and learn how to throw on the potter's wheel. The only mudslide you'll be experiencing is the one in your glass.
June 20 - Tom Collins & Collage
Channel the "Mad Men" as you flip through early 1960's Life and Look Magazine issues. Led by Caroline Corrigan and Ira Marks of Upstate Collage Night, sip on a classic Tom Collins cocktail while you create your own throwback advertising masterpiece.