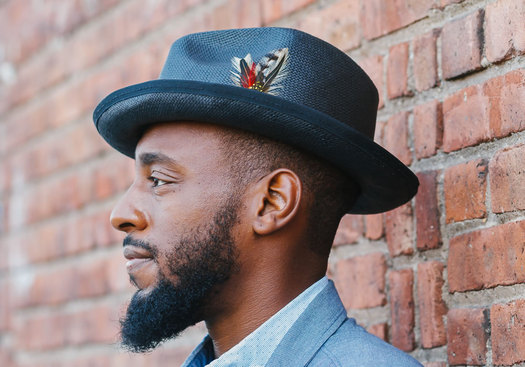 Gifts and giving are on most everyone's mind this month. So we're asking people to share some thoughts on presents, past and present, charities, and wishes for the next year.
First up: Jamel Mosely -- creative director of Mel eMedia, a multimedia company he started in 2012. He's an entrepreneur, filmmaker, and foodie...
What gifts would you like to get this year?
Often, most of my day is spent editing photos, videos, graphics, and text on a computer, so I like to be able to escape the digital realm for a while. A nice gift would be more books, vinyl records, and maybe some candles to put me in a pensive mood.
Also, I love to cook and I can never have enough interesting food items for my pantry, like rare, interesting hot sauces, oils, or even a very specialized appliance that you know I wouldn't have. Even if I don't use it, I'd love to just have it.
What gifts would you like to give this year?
Anything handmade. I love supporting local craftspersons, artists, and businesses. In the past I've bought soaps and smell goods from Black Kettle Soap Company and Mariaville Goat Farm, prints and paintings from my artist friends, like Tony Iadicicco or Emily Dorr.
What charity would you like to support?
Tru Heart, Inc., Albany Barn, and Youth FX. I've loved these organizations way before I became involved. The thing I love most is that they each help fulfill such a diverse set of needs in their communities, while also getting the community members involved in their purpose and mission.
What is your most memorable gift?
My favorite title of all is Uncle Mel Mel. So much so that I encourage almost anyone to call me this, haha. I'm a proud uncle.
Becoming an uncle to my first niece around this time of year almost nine years ago is my most memorable gift. This was different than my first-born nephew because I was still in high school when he came around. As an adult, it's easier for me to be more of an additional father figure to my niece who was born after I graduated from RPI.
What is your wish for the New Year?
Every year I pick a theme or mantra to live by for the entire year. One year, it was to "say yes to things that scare me" and the next year was to "learn to say no," while another was to "work on nurturing my relationships."
I think this year I'll go with "helping myself so I can help others." I volunteer a lot of my time to others; sometimes to my detriment. If I can focus more on keeping myself in shape, on schedule, and well rested, I can in turn run my business and continue to volunteer more efficiently.
____
Compiled by Deanna Fox.
photo: Lesley Adeyemi