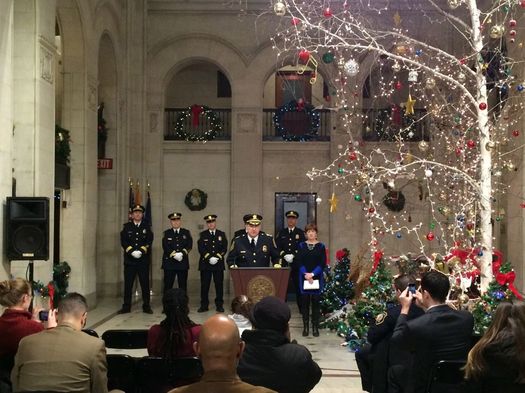 The city of Albany officially announced Monday morning that police chief Brendan Cox will be leaving in January to take a job with a national organization focused on diverting low-level offenders suffering from drug addiction or mental illness from jail. (The Albany Police Department was one of the first departments to participate in this program, called LEAD.)
Mayor Kathy Sheehan said current deputy chief Robert Sears will take over as interim chief, and the city will start a national search for Cox's replacement.
Here's what a handful of elected and community leaders in the city say they'll be looking for in the next chief...
Mayor Kathy Sheehan
Kathy Sheehan on priorities for the police chief search during Monday's press conference:
[Setting priorities] will be done in cooperation with those who have been working with the police department very closely. We have community members who volunteered hundreds of hours of their time -- whether it's on ACPAC or through collaborating with the police department on a lot of the outreach that has happened throughout the community -- so I want to get their input.
I certainly have as priorities continuing the implementation of the 21st Century Policing strategies and LEAD, Those are things that are critically important to this department. And the level of neighborhood engagement and how we do that in the city of Albany is critically important. So those are things that we will be looking at as we think about the search.
Sheehan said the search is still in the early stages, and the department has a good command staff in place.
We asked each of the next group of people: "What attributes, or skills, or ideas are you looking for in the next police chief?" The audio clips include their full answers, with excerpts in the text...
"I want the same command staff that we have here. I'm scared of a national search ... I know where we've been. I know where we are. And it's the future that I'm trying to look out for. And we can't go backwards. And if we go out of this city we don't know what we're going to get. And with the new president-elect, we don't even know if [the federal program] 21st Century Policing is going to remain intact -- because he's the one for getting them outta here, and beating them in the head, and dragging them... and we don't want to go back to that."
Green pointed to a set of goals developed during the 2010 search for a police chief: "On top of that list was a police chief who can provide leadership in the area of community policing. Because the community still feels very strongly that we have to have an equal partnership to move the city forward. So, I think that's a major characteristic. Also I think the people in the community wanted to make sure the department was transparent and open. And I think Chief Cox has done a lot to make that happen, but that has to continue. We wanted someone who understood the history of policing and why it was necessary to change it. Because we came out of an era when there was a force that was abusive and controlling. And we're going to keep our eyes on those kinds of issues."
Mark Robinson - Albany Common Council, Ward 5 (Arbor Hill, West Hill, West End)
Robinson said first and foremost it's important to focus on not repeating what happened to Dontay Ivy, the man suffering from mental illness who died after being stopped -- and chased -- by Albany police on the street in Arbor Hill in 2015: "Just because a person may live in a drug-infested area does not make them a drug dealer. So for out police force to say they can stop and detain and harass, and possibly arrest, somebody just from the neighborhood where they live... We have to make sure that our officers do not have that outlook. Community policing I'm firm on. I believe that our officers need to actually live in the communities where they serve."
Leah Golby - Albany Common Council, Ward 10 (Pine Hills and Park South)
"I certainly want someone who has an understanding of the implicit biases that we all carry. I think the implicit bias training that the police department has started to carry out really takes our community policing philosophy even further than it had previously been."
Vivian Kornegay - Albany Common Council, Ward 2 (Mansion Neighborhood and South End)
"This community policing, definitely. The LEAD program, we want to see continued. Just the way this department is a great department with a great vision, and we want to continue this vision going forward. We have taken, I believe, some great steps forward in trying to diversify the department more. And as the chief said, we're trying to reach another generation."
Georgette Steffens - Downtown Albany BID
"I think a lot of what Chief Cox has already implemented -- that idea of partnership -- is critical. ... I think the ability to communicate, to continue that transparency, and working together, that's where we've seen the most success. Chief Cox joined our board maybe a year or two ago, and that was really an added benefit for our stakeholders. The communication channels are a lot quicker and more open."
Anthony Capece - Central Ave BID
"For me, it's the continuation of the neighborhood engagement unit and the value of community policing. There is no doubt in my mind that neighborhood policing is part of economic development. If you have that connection to the businesses, you immediately identify when there's a problem. And when you identify problems, they're solved much quicker."
On policing and listening
Talk to people involved with city government or community groups around Albany, and there's a good chance they'll have praise for Brendan Cox and his work with the police department. He is, based on our observation, respected by a wide variety of people around the city.
Why the praise? This answer from Monday's press conference -- about taking a step back and thinking about why people feel the way they do about the police, about the historical context in which policing happens, and about how to listen -- gives some indication.
Earlier on AOA:
+ Albany moves toward police body cameras
+ Scenes from the Dontay Ivy rally, and ideas for change
Hi there. Comments have been closed for this item. Still have something to say? Contact us.