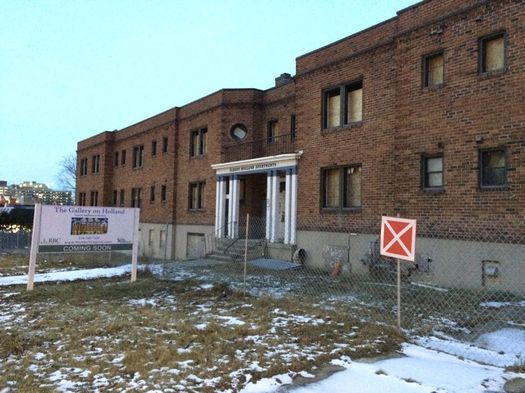 A quick update on the The Gallery on Holland project in Albany, which we've gotten some questions about because the building that's long been slated for demolition there stills stands.
"We've abated the whole building and we're hoping to demo that thing early next year," William Hoblock, of the development company Richbell Capital (RBC) told us last week of the project, acknowledging the unusually long delay. "It's driving us crazy."
Hoblock said the project -- on Holland Ave, just around the corner from Delaware Ave, near the VA and Albany Med -- hit a snag when it was discovered the site includes 50 feet of soil fill, which complicates what can be built there.
"We have final soil tests coming out, hopefully, in a week or two. And that's going to determine what exactly we have to do, if anything, to change," he said. "Hopefully not, because we love that project."
The project has been in stasis so long that RBC had to go back before the Albany planning board this year to get its site plan approval re-upped. Hoblock said they're hoping whatever design changes the soil tests might prompt -- if any -- won't require going back to the board.
The project, as currently proposed, is for a 7-story, 125-unit apartment building with 160 interior parking spaces. The roots of the project stretch all the way back to 2013. When we last talked with Hoblock about it in 2014, he was hoping the project could be completed in 2016.
The state of the old structure that currently stands is noticeably rundown, and it's marked with the "do not enter" X-signs for emergency responders.
"It breaks our heart to have it sit there because that's not the way we operate, but sometimes you have delays in projects," said Hoblock. "But we'll get over those hurdles."
RBC is the developer behind projects such as the Paddocks of Saratoga and the Adelphi Hotel renovation in downtown Albany. Last week it publicly floated a general plan for the First Prize Center site on the Albany/Colonie line.
Hi there. Comments have been closed for this item. Still have something to say? Contact us.