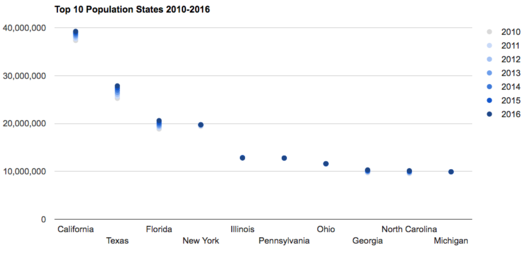 New York State's population was 19,745,289 on July 1 of this year, according to new Census Bureau estimates out this week.
That total still ranks the Empire State fourth in the nation -- but it's down by 1,894 (.01 percent) compared to 2015. It's the first decline in the state's annual population estimate since 2006. (The state had a streak of three years of estimated population declines from 2004-2006 in which it lost almost .4 percent of its population compared to 2003.)
Florida passed New York for the #3 spot in the population rankings in 2014. And the gap has now grown to more than 867,000 people. The Sunshine State's population was up 1.8 percent compared to 2015, according to the estimates.
And from a population perspective, that's one of the things that sets New York apart from the other large states: slow (or no) growth. Between 2010 and 2016, California (#1 in population) is up more than 5 percent, Texas (#2) is up more than 10 percent, and Florida is up more than 9 percent. New York? Not quite 1.8 percent.
The continuing drag on New York's population total is that people are leaving for other states. Between 2010 and 2016, New York has lost almost a net 850,000 people to domestic migration. (Florida has gained about the same number of people from domestic migration.) And the Census Bureau estimates indicate New York lost about 191,000 people net between 2015 and 2016 this way.
Two things are continuing to prop up New York population: babies are being born here faster than people die, and migration from outside the country. Between 2010 and 2016, New York gained almost 550,000 people from "natural increase" (that is, babies born minus people dying). And it gained almost 700,000 from international migration.
Whenever the estimates come out, there's usually some talk about the reasons New York is losing people to other states. Is it taxes, jobs, regulation, climate? Maybe it's all of those things.
But having a better sense of exactly why would be helpful. Stuff like taxes and regulations are something that government can address. Jobs are harder, but again, it's something that the state (generally and the government itself) can work on. If it's climate... well, there's not much that can be done about that (though it is changing...).
Maps above
Look up: A few clickable maps are in large format at the top -- click or scroll all the way up.

Hi there. Comments have been closed for this item. Still have something to say? Contact us.