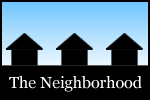 Among the topics in this most recent spin around the Capital Region's online neighborhood: the weight of words, being a bad mom, beautiful ice, no bad weather, hiking gifts, Christmas trees, a fable involving Albany, the Plane Boys, races run, opening and closings, hush puppies and an exhortation, a heavy sandwich, and an exit.

Amy responded the current rhetorical environment: "Words matter. Words are real. Words have weight."
Silvia on being a bad mom.
Jackie admired the beautiful ice on Moreau Lake.
The Bee Balm Gal bake bread and considered the idea that there's no bad weather -- just bad clothes.
Jen put together a big list of Adirondack hiker gift ideas.
Katie's family got a Christmas tree at Bob's Trees this year.
The Friends of Albany History shared a Christmas fable involving Albany (and counting).
Carl recalled the Plane Boys stores.
Chris listed all the races she ran this year.
Steve posted his annual list of local restaurant opening and closings.
Chuck stopped for fried shrimp and hushpuppies -- which were served with an exhortation.
Daniel got a delicious, heavy sandwich from Capri Imports.
And Sandy is on his way out.